Thanksgiving is just around the corner and I'm so excited for this year! We are hosting Thanksgiving and I can't wait to create a beautiful tablescape for my family! My mom, sister, and brother are making the drive down to Southern California to be with us and it means the world to me. Most of the time… actually all of the time we are the ones who are packing and driving to see everyone or living in a different country and it gets expensive to fly/travel with three kids to spend the holidays with family. After years of living abroad, we are back in the US and ready to spend some quality time with family. I love hosting dinners! It's a way for me to share my creations with others! Talking about creating… today I'm sharing with you a simple Dried Orange Thanksgiving Place Card DIY!
If you love making a simple DIY's this one is for you!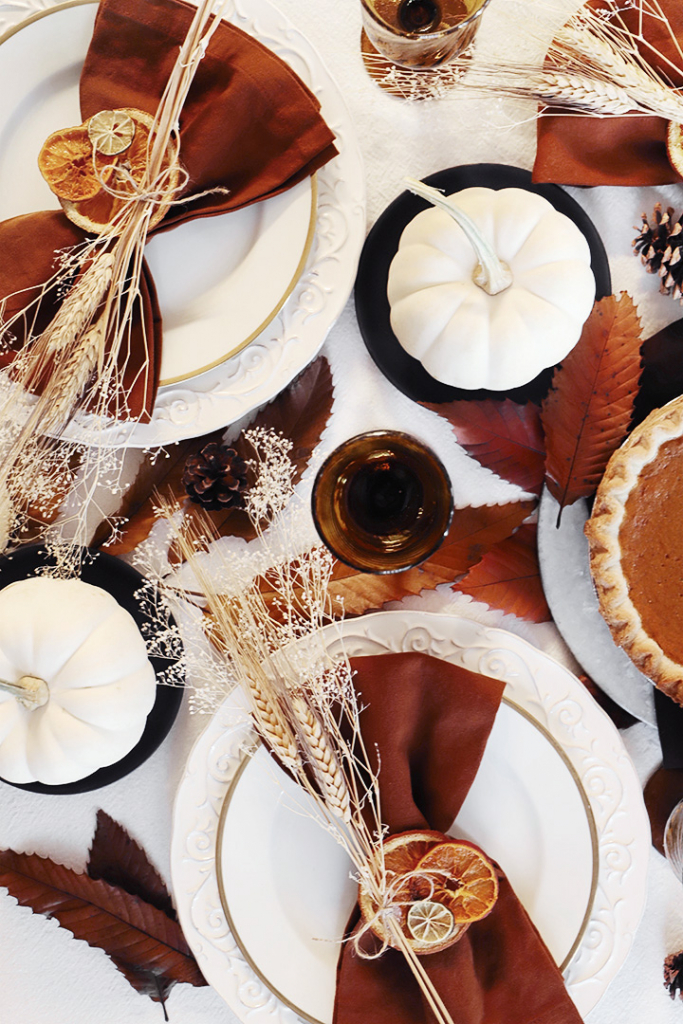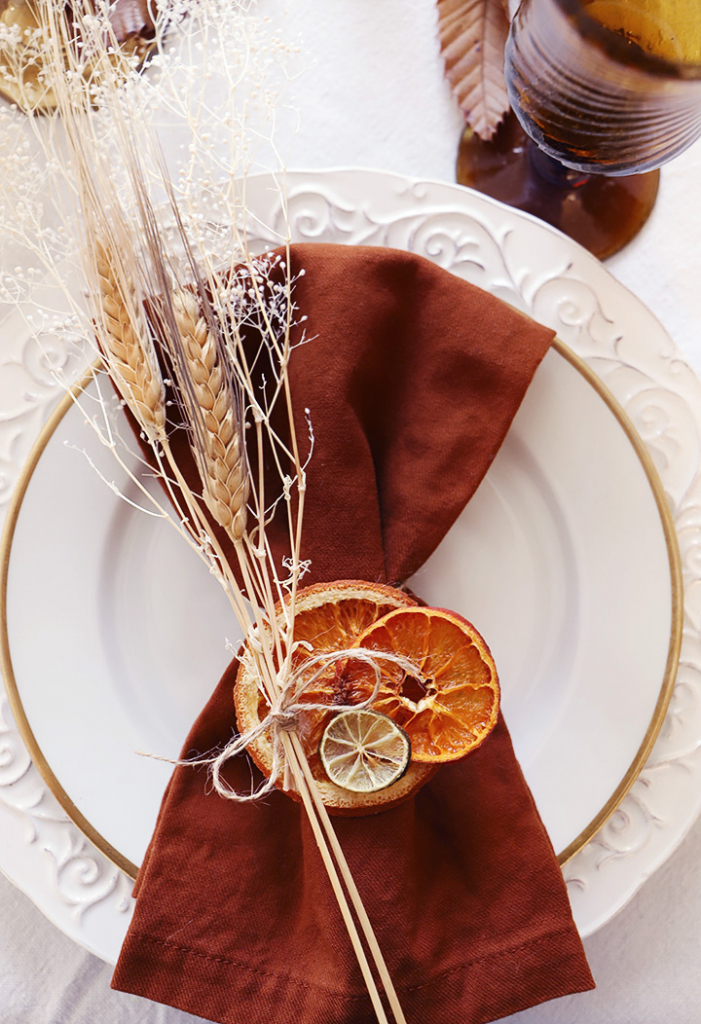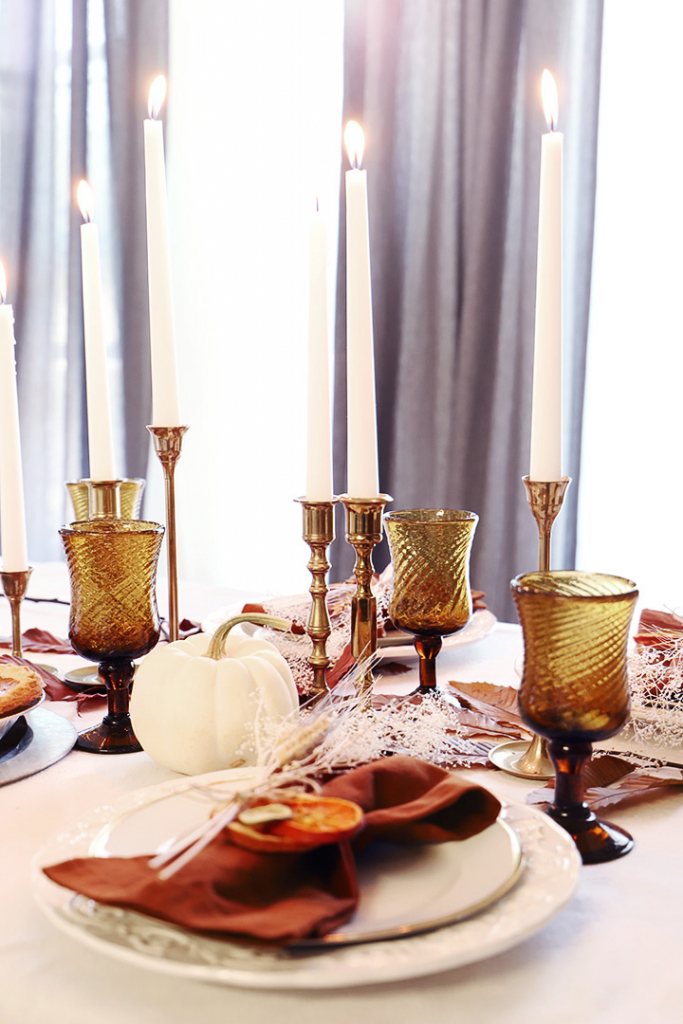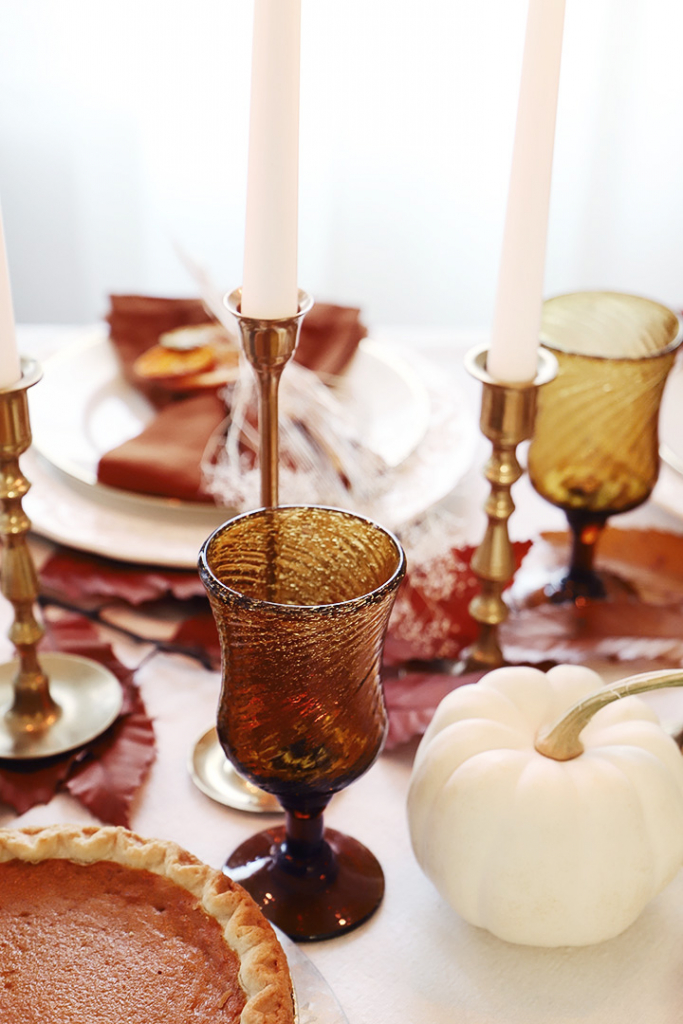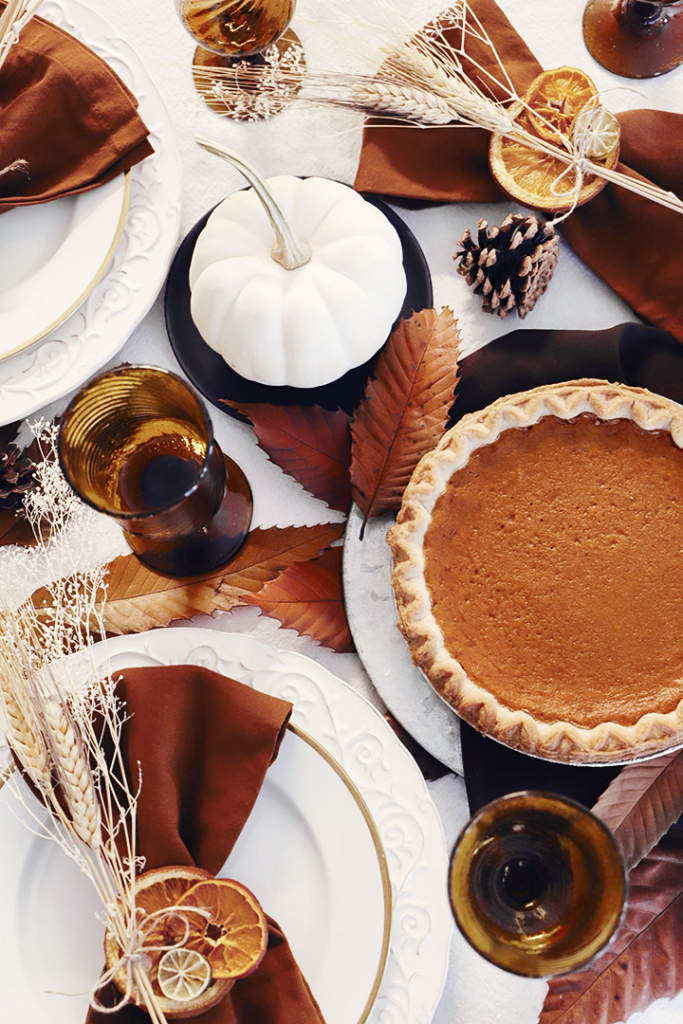 Materials:
Twill
Dried Orange Slices  (homemade or bought)
Dried Cuties Slices
Dried mini Lemon Slices
Hot Glue Gun and Glue Sticks
Directions:
1. Cut 10 inch long twill strans and set aside. Cut a piece of the stardust gypsum stem and place two stems of the dried wheat over it. Tie them together using the twill.
2. I made my own dried orange slices by baking them.
How to make Dried Orange Slices:
Preheat oven to 200 degrees. Slice oranges, cuties, and mini lemons fairly thin. I sliced mine 1/8 of an inch. The thinker they are the longer they take to bake and dry. Place oranges on a parchment-lined baking sheet and bake for 3 hours, flipping them every hour. When they are dried and golden amber color, cool on a cooling rack.
3. Arrange orange slices from biggest to smallest and hot glue them by overlapping each one.
4. Hot glue the wheat bundle on the side of the large orange slice and that's it! Easy right?!
If you get the chance to make these place cards tag me on Instagram @paintmepinkblog! I would love to see them!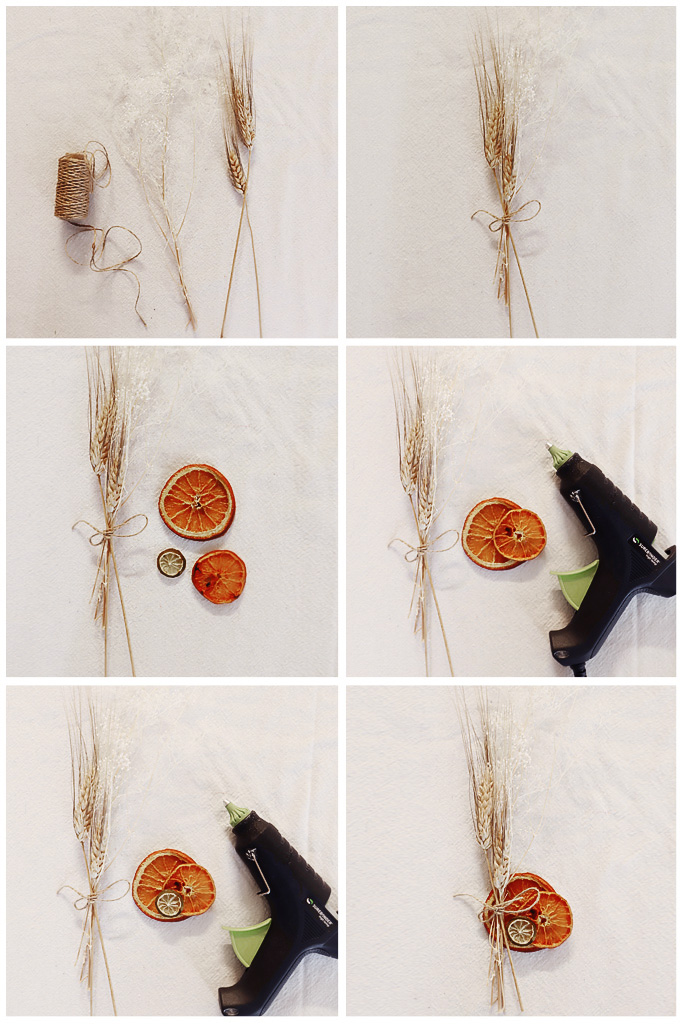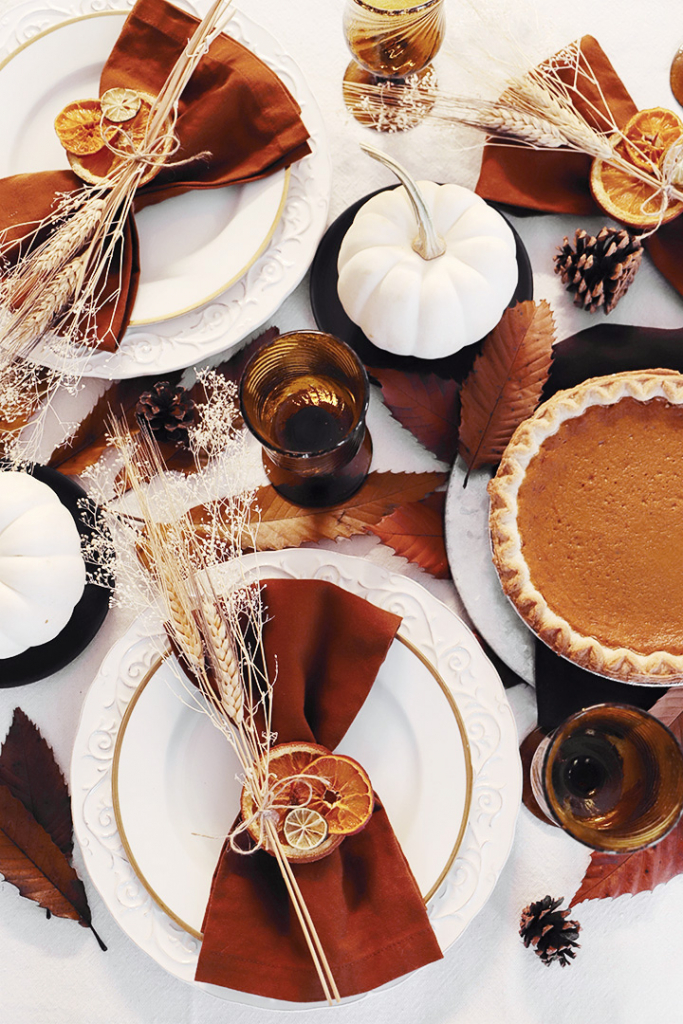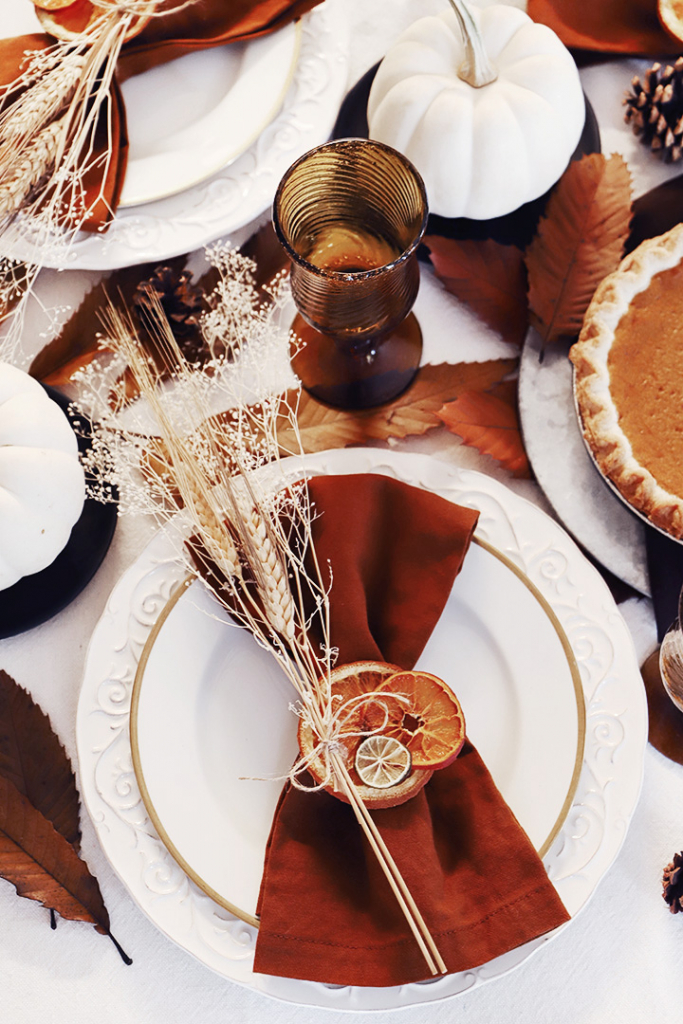 There's so much to be thankful for and I truly can't wait to spend this Thanksgiving with family.
Thank you to Janine and Ashley for putting together this amazing Thanksgiving Place Card hop! Don't forget to check out more DIY's below!
Xo, Norma
11 Beautiful Place Cards For Thanksgiving

Thanksgiving Place Card Printables // Modern Glam
Dried Orange Thanksgiving Place Cards // Paint Me Pink
Dinner Place Cards Tutorial – Mini Wreaths // Happy Happy Nester
Printable Thanksgiving Place Cards & Gift Tags // The Ginger Home

How to Use Place Cards to Set a Thanksgiving Table // My 100 Year Old Home
DIY Painted Leaf Place Cards // Lolly Jane
Easy Thanksgiving Place Cards // Rooms For Rent

Gold Leaf Thanksgiving Place Cards // Jennifer Maune
Cookie Thanksgiving Place Cards // Twelve On Main
Thanksgiving Treat Bag Place Cards // Tatertots & Jello
DIY Stay Warm & Cozy Pinecone Fire Starters // My Sweet Savannah