It's been a spooktacular week for us! Every October 1st, we start our Fall traditions and the kids are in full Halloween mode! We started decorating the house, baked some spooky treats, the house dinner menu has changed to soups and stews, bought pumpkins and started watching our favorite (kid-friendly) Halloween movies! During October we watch 31 days of Halloween movies/episodes with our kids and it sounds crazy, I know… But it brings us together and into the spirit of All Hallows Eve. Plus, there's no better way to celebrate the arrival of Halloween than a family movie night and baked goodies, right?!
One of the first movies we start with is Hocus Pocus and these pies remind me of the Sanderson sisters "BooOOOook!" with the sleepy little eyeballs. These mini pies were scrumptious and ohh so spooktacular! They were the perfect treat to kick off our Halloween traditions.
Today I'm sharing with you these mini Spooky Eye Pies with Blueberry Apple filling! It's the perfect recipe trick, to treat yourself, this Halloween!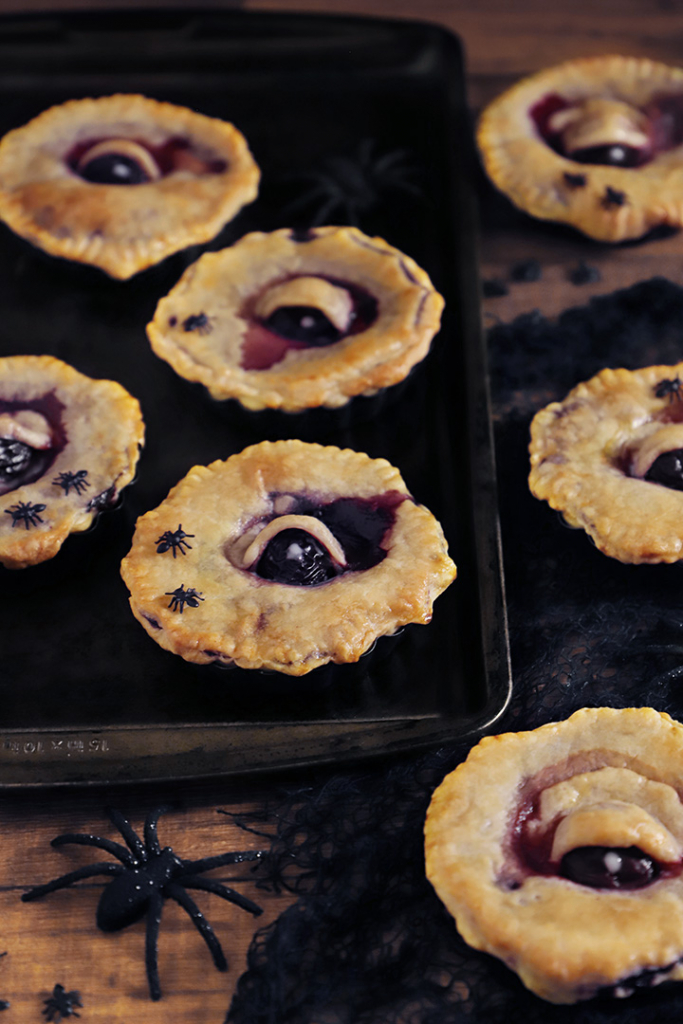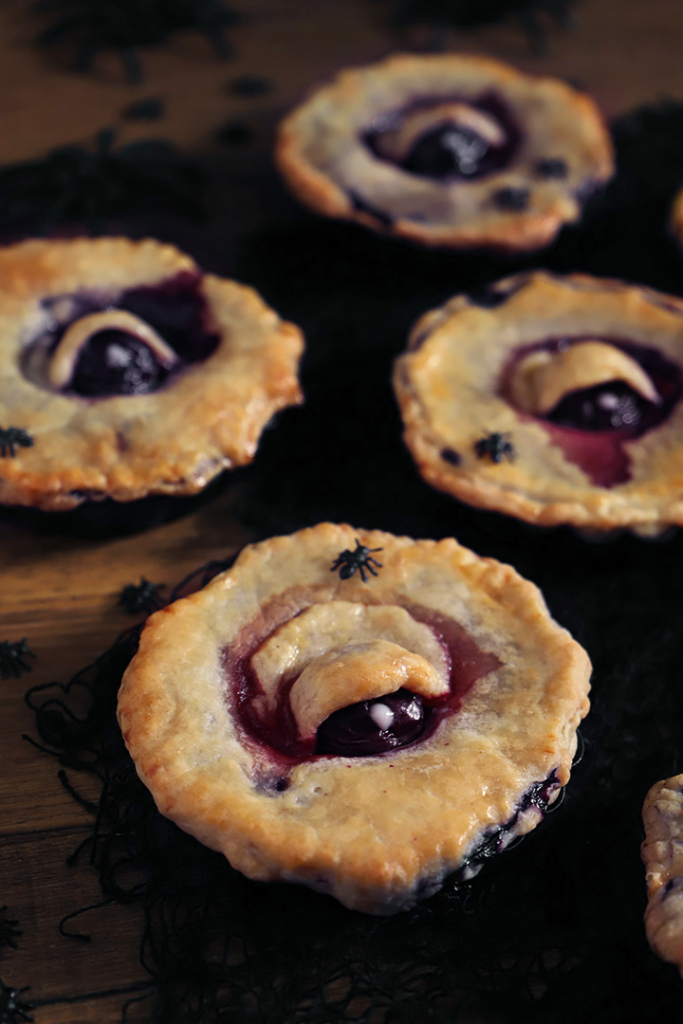 "It's just a bunch of Hocus Pocus"
I love how these spooky little pies turned out! To be honest, I wasn't sure how much of the filling was going to ooze out. It ended up spilling out the right amount to give the eye a more haunting look.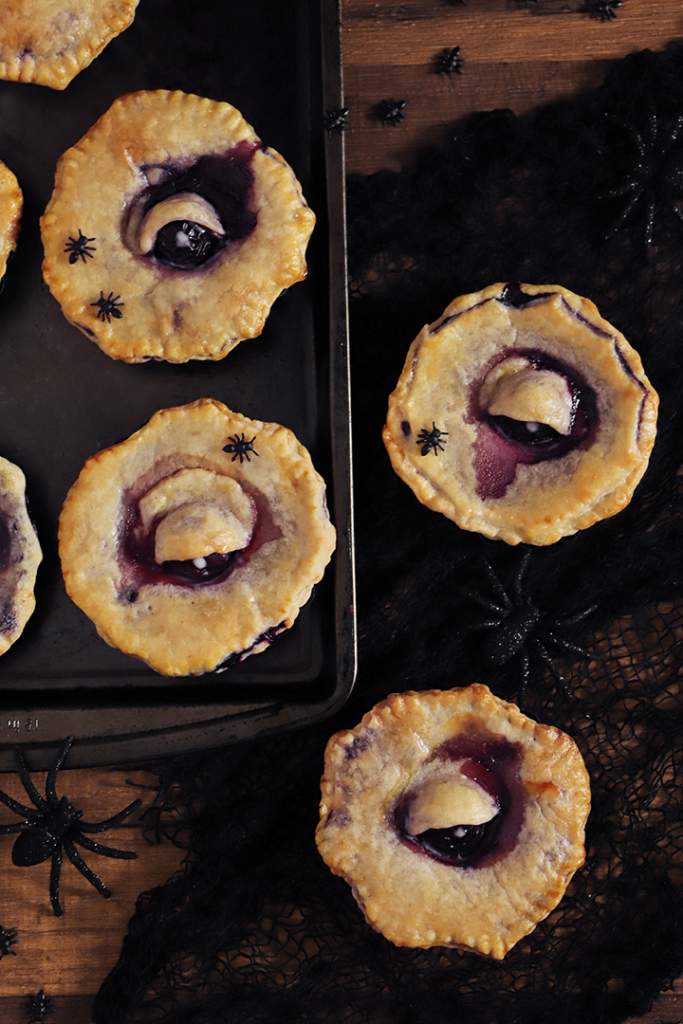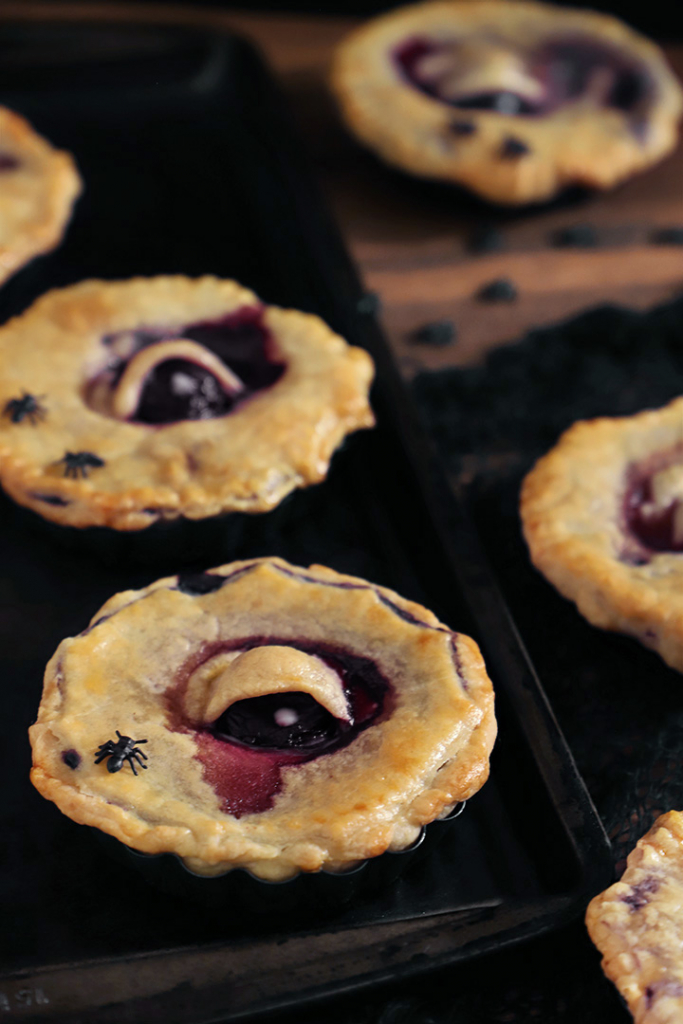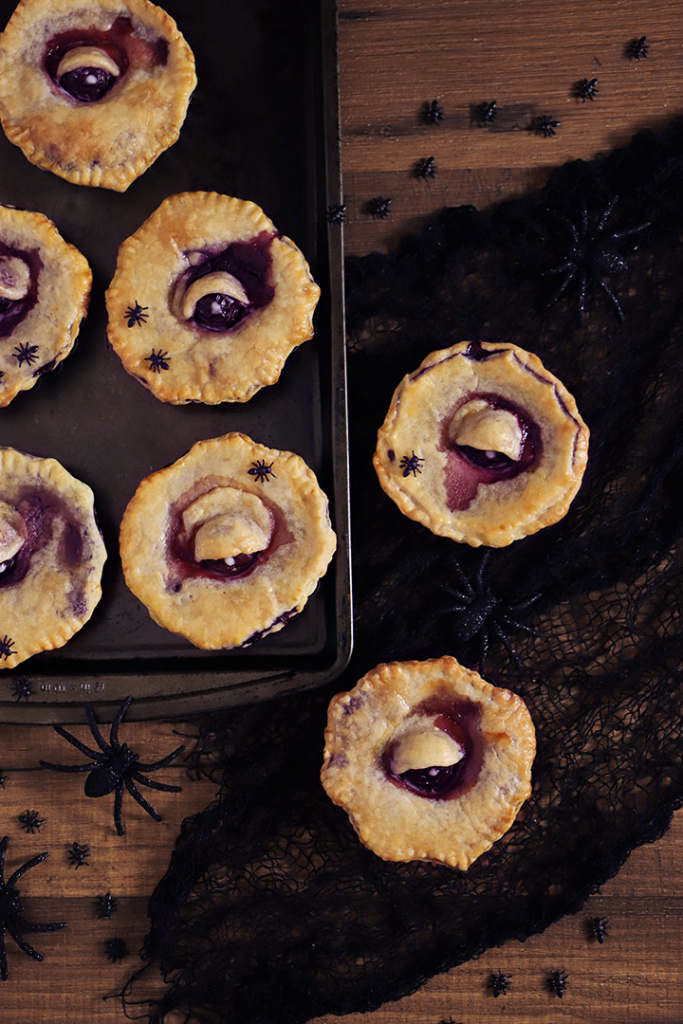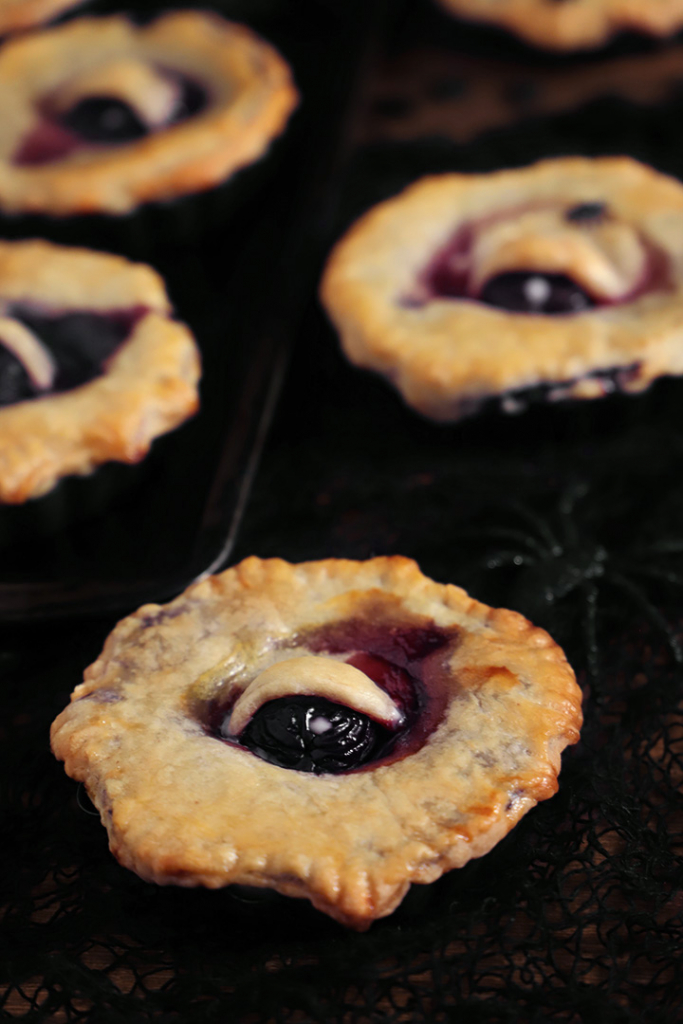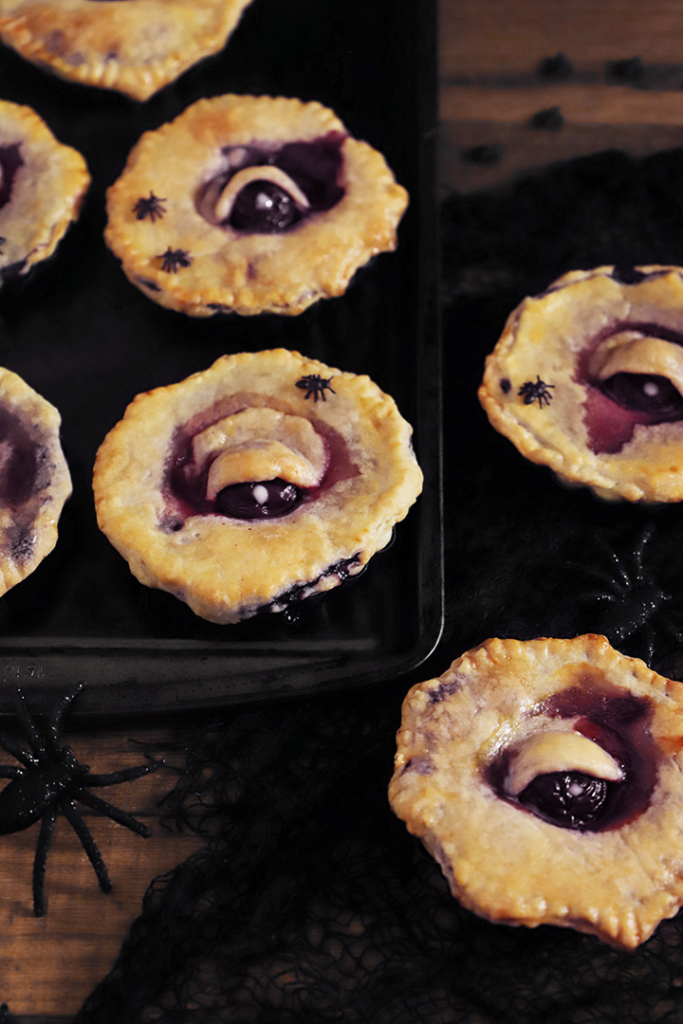 I would recommend making the mini pies a day before or get an early start in the morning because the dough needs to chill for 2 hours and the pies need to cool completly before adding details with the white writing gel. I wanted to make a step by step tutorial, but I didn't have the time, instead, you can head over to my Instagram @paintmepinkblog where I made a quick video showing you how to create the spooky eyes. I will also add the video to my storyboards on Instagram under recipes.
Spooky Eye Pies with Blueberry Apple filling
Ingredients:
Pie Crust Dough (I used this recipe from Martha Stewart )
Flour for rolling dough
1 large egg, lightly beaten with 1 tsp of water (for egg wash)
Frozen bag of cherries pitted (do not thaw)
4 cups of blueberries
2 small Granny Smith apples, peeled – 1 shredded and 1 diced
3/4 cup sugar
2 teaspoons lemon juice
Pinch table salt
2 tablespoons unsalted butter, diced into small pieces
White writting get and a fine paintbrush
(In this recipe makes 7 mini pies)
Directions:
1. Make pie crust dough using Martha Stewart recipe and refrigerate until chilled, about 2 hours.
2. In a small bowl, whisk together egg and water, set aside.
3. Place 3 cups blueberries in a medium saucepan and set over medium heat. Using a potato masher, mash blueberries several times to release juice. Continue to cook, stirring often and mashing occasionally, until blueberries have broken down and mixture is thickened and reduced about 8 minutes; let cool slightly.
4. Peel apples and transfer shredded apple to a large bowl. Stir in sugar, lemon juice, salt, and cooked blueberries until combined.
5. Roll pie crust dough 1/4 inch thick. Using a 4 inch biscuit cutter or round, cut 14 circles of dough. Put one circle in the bottom, making sure it covers the inside of each 5-inch mini pie pans.
6. Fill the pies with blueberry apple filling and scatter small diced pieces of butter, leftover blueberries, and diced pieces of apples on top of the mixture.
7. Top the filling with a circle of dough. Use a fork to seal the edges of the top dough to the bottom dough.
8. Making the Eyelids: Cut out small round circles that are big enough to wrap around the frozen cherry and cut the round circle in half to form a half-moon or "eyelid". Place the frozen cherry on top of the pie and cover half of it. Then gently press the "eyelid" into place.
9. Brush the tops of the pies with egg wash and bake at 425º for 15 minutes. Reduce temperature to 375º and continue baking for and additional 5 minutes until the pies are golden and bubbly.
10. When pies are cool,  you can draw a white line under the cherry eye and a tiny dot using a brush and writting gel.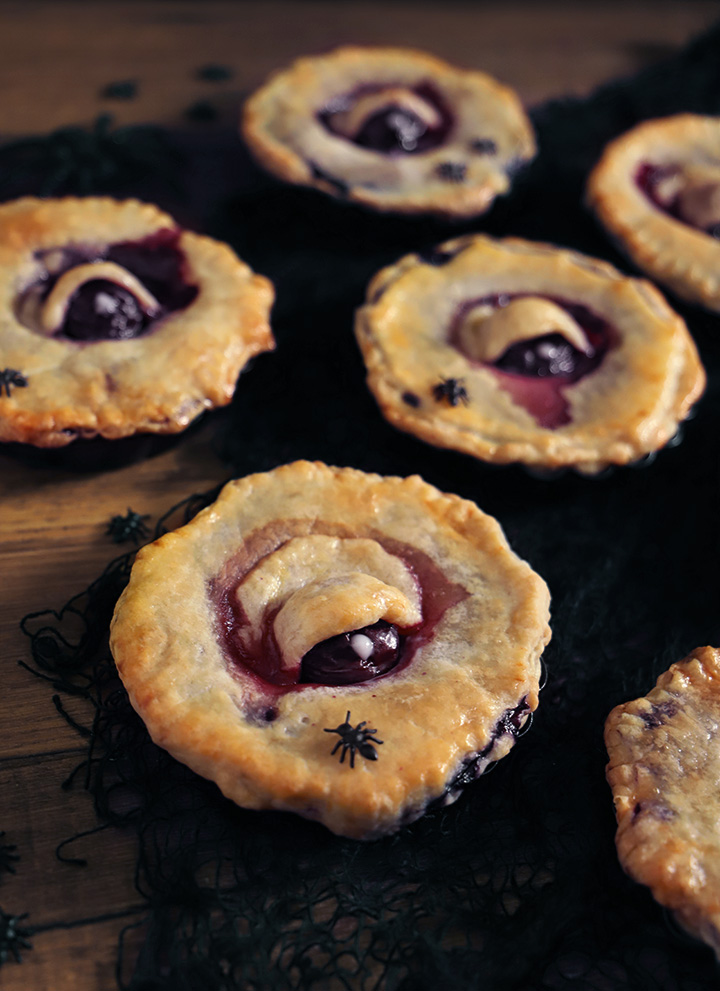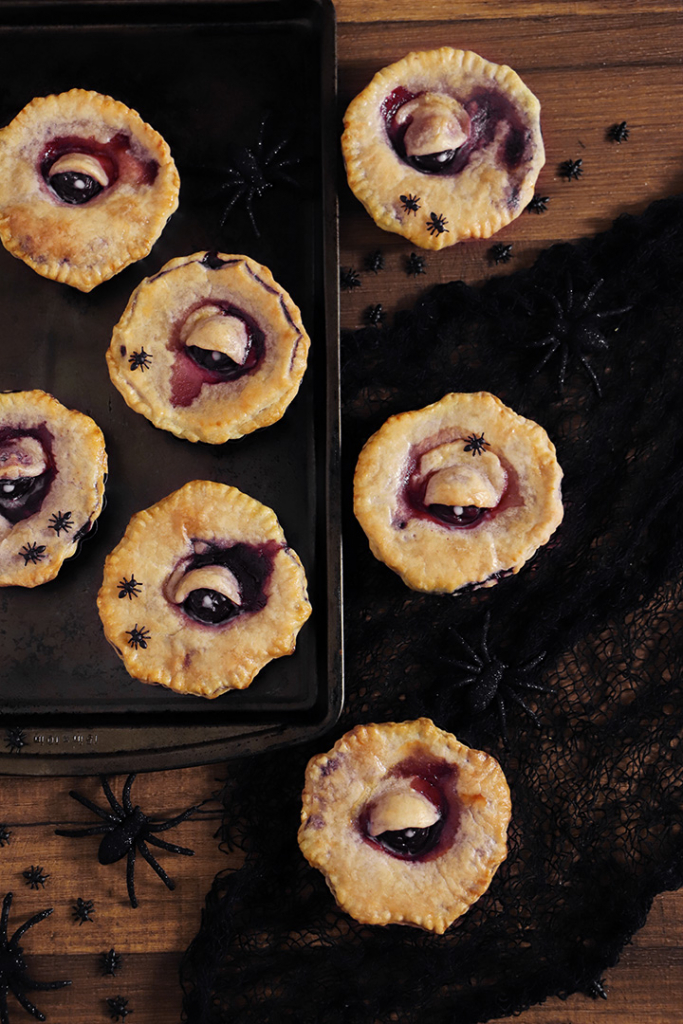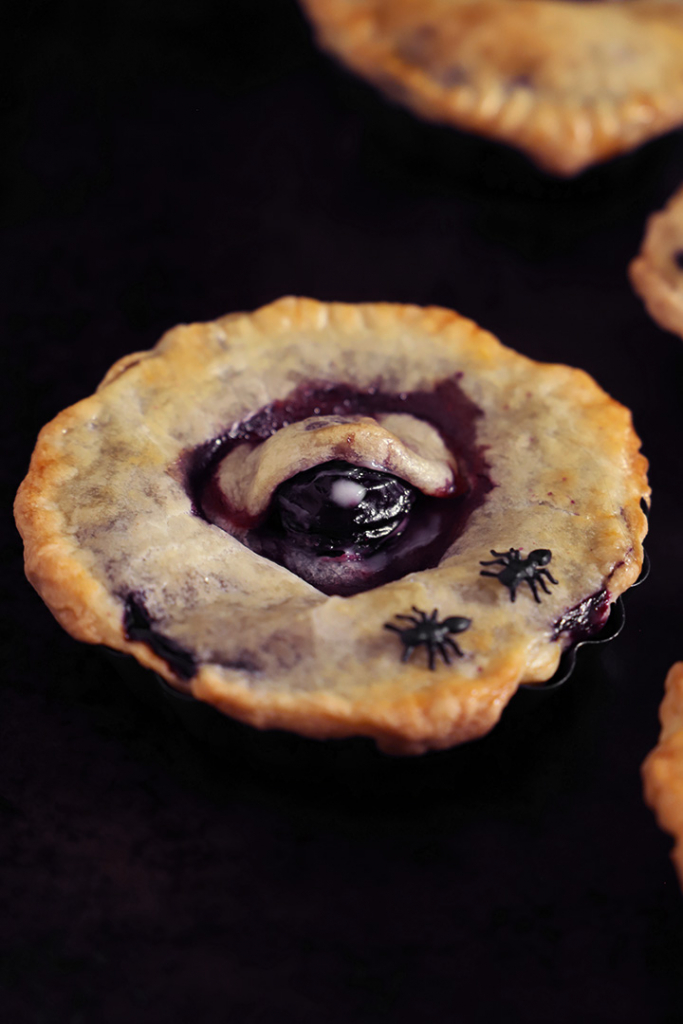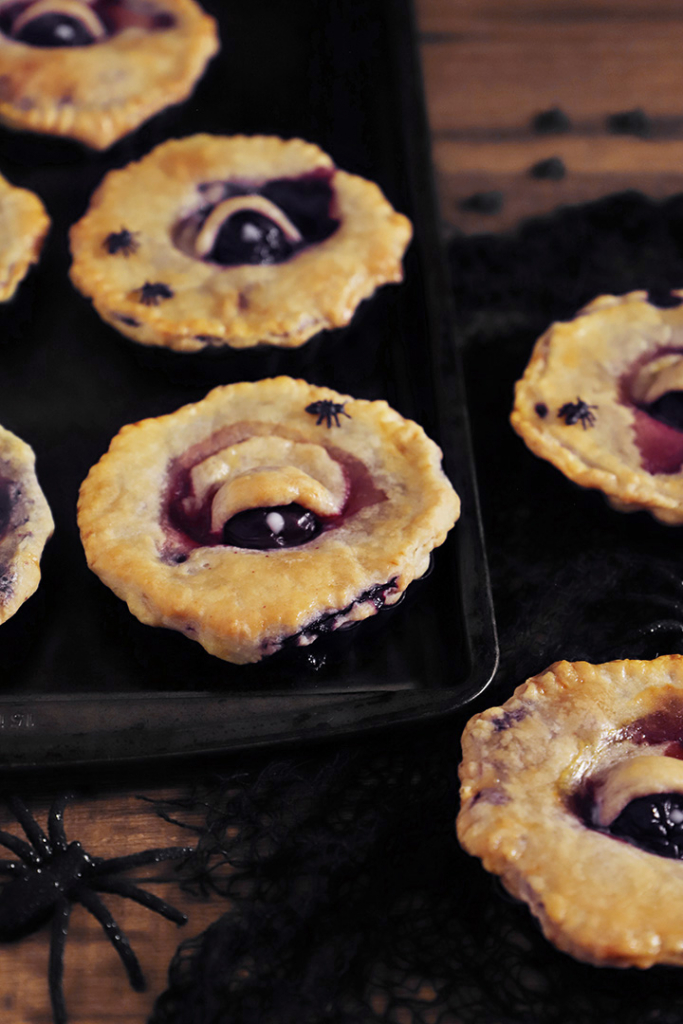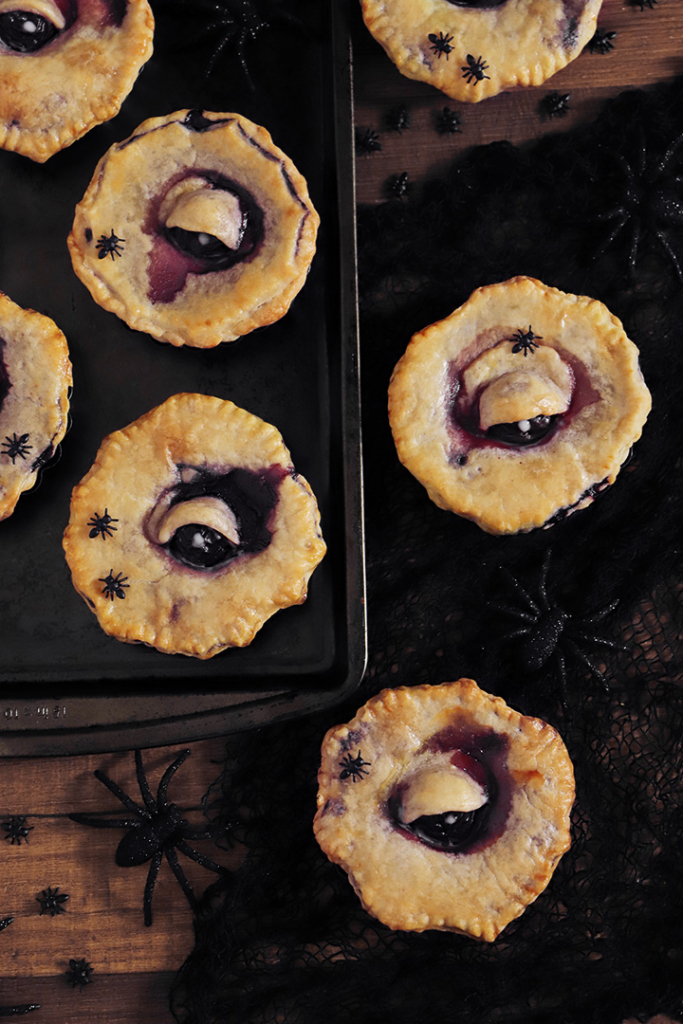 I hope you get the chance to make these Spooky Little Eye Pies!
A huge thanks to Krista of The Happy Housie for hosting this wonderful Seasonal Simplicity Fall Series! Make sure to check out more Halloween recipes below!!
xo, Norma

And today I've joined some of my talented blogging friends who are also sharing their fun Halloween Recipe ideas with you! Just click on the links below the images to be taken directly to their posts.
Worms & Dirt Halloween Cupcakes with Printable Gravestone Markers at The Happy Housie
Cinderella Pumpkin Peanut Butter Balls at Cassie Bustamante
Black Cat Skeleton Cookies at Modern Glam
Ghost Sugar Cookies with 3 Minute Icing at Tatertots and Jello
Reese's Pieces Cookies at Finding Silver Pennies
Spooky Eye Pies at Paint Me Pink
Chocolate Fudge Halloween Spider and Pumpkin Treats at Zevy Joy
Spooky Halloween Scream Raspberry Pie at A Pretty Life
Candy Corn Veggie Pizza at Clean & Scentsible
Halloween Monster Marshmallow Pops at Nick + Alicia
Kid Friendly Halloween Cheesecake Treats at She Gave it a Go
Oreo Cookie Spiders at This is Our Bliss
Spooky Halloween Snack Mix at The Handmade Home
Pink Candy Apples at Life is a Party
How to Decorate a Store Bought Cake for Halloween at My Sweet Savannah
Halloween Mini Pumpkin Tarts at Jennifer Maune