Summer has finally arrived here in Japan and lets just say that I've been switching things around trying to make our home more summer ready without spending tons of money on summer decor. I'm a big believer in shopping your house, I'm constantly rearranging my decor around to give the illusion that it's brand new because it's in a new spot. For example, sometimes you'll see all my baskets in one spot and sometimes they will be scattered or in pairs. With my summer mantel, I simply used things I had already to make a new summer vignette.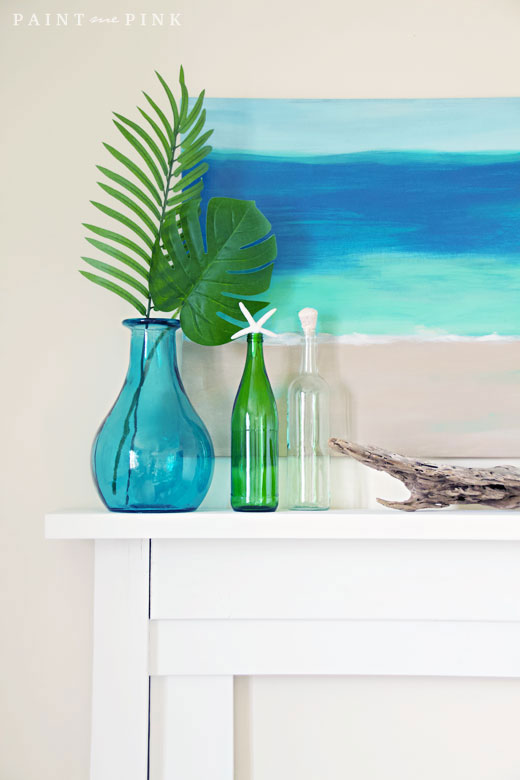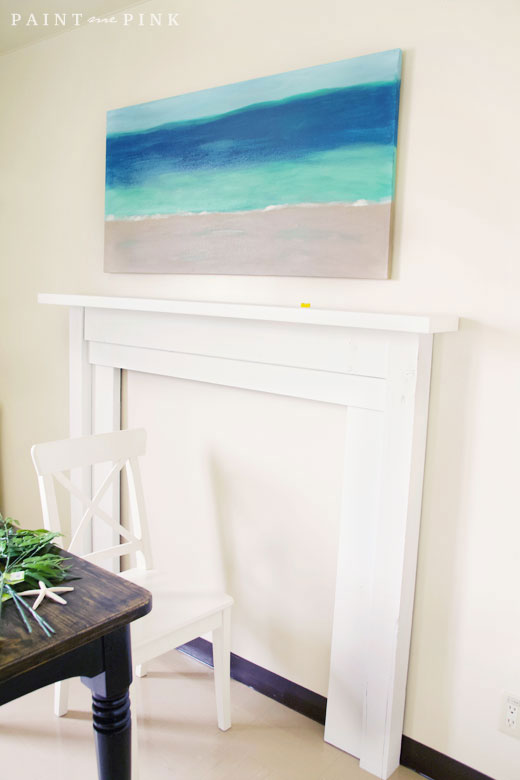 I wanted to share a behind the scenes on how I start placing things together and create a vignette.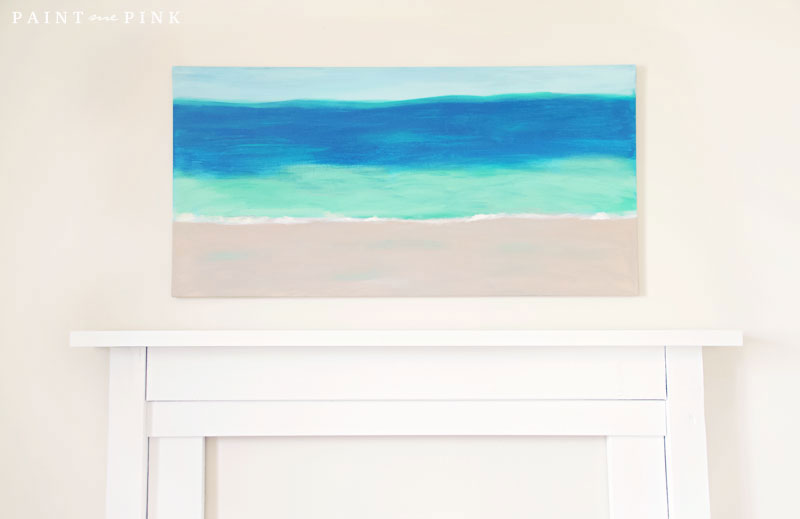 I always start with a clear space and a main focal point, in this case, the painting.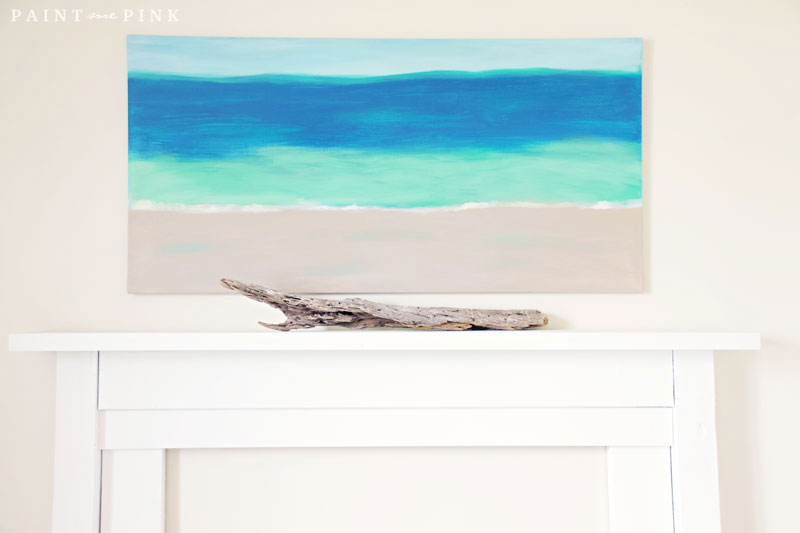 Last summer I found this beautiful piece of driftwood on the beach and it's been on the coffee table, our dresser, entryway table, hutch and now it's on the mantel. Since it's a fairly large piece of wood I decided to place it in the middle of the mantel.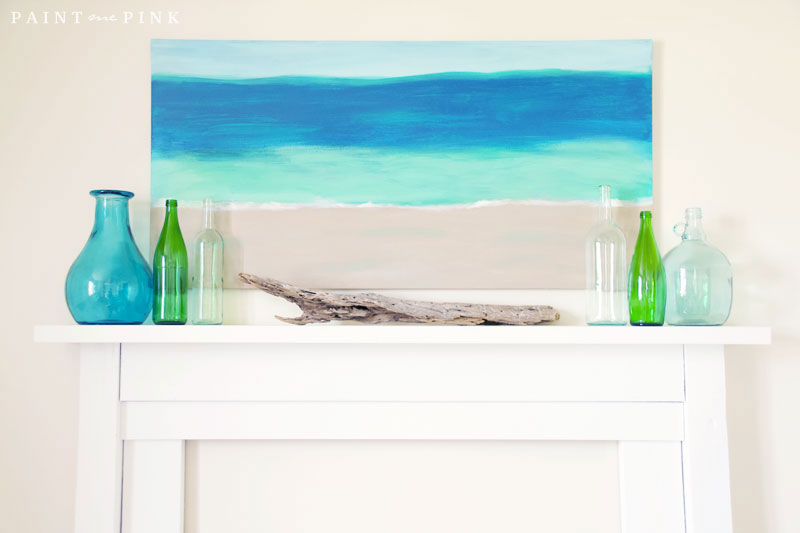 I then went around the house and gathered some jars/bottles I wanted to use and placed them on each end. Remember, always work in pairs or sets. In this case, I evened out each side with 3 jars/bottles.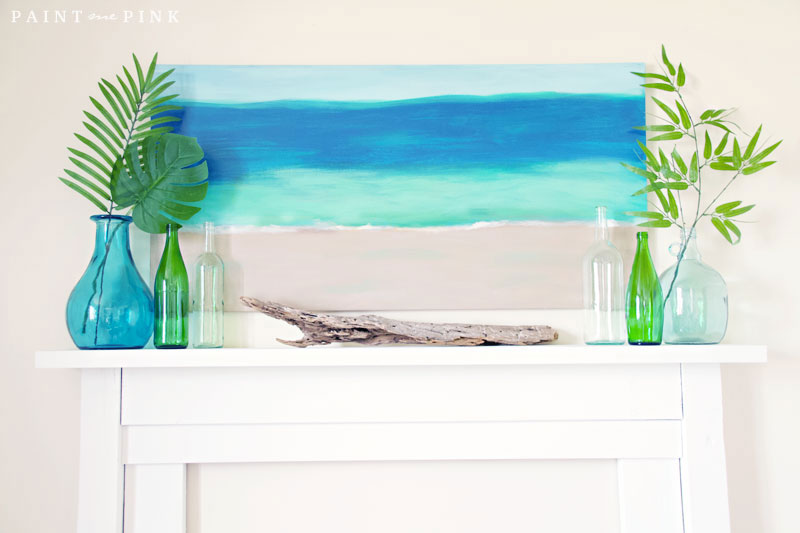 Now, that the jars are in place, I added a few tall artificial greenery stems to bring the gaze back up to the painting.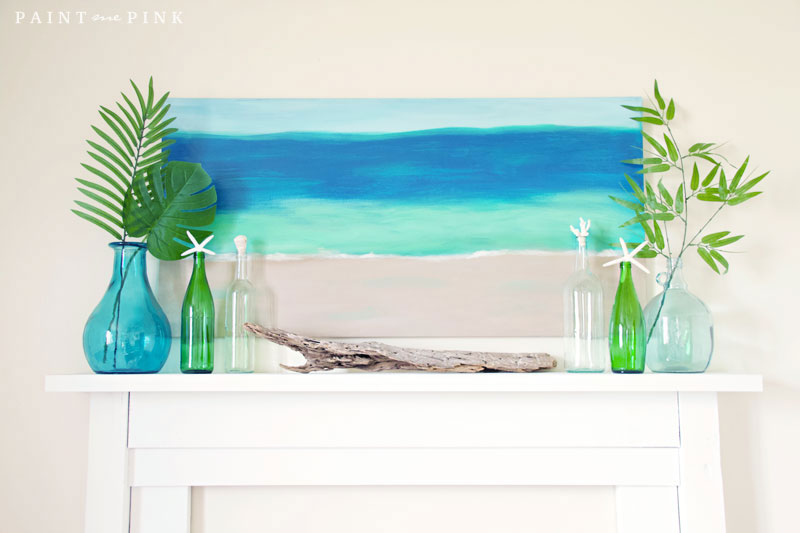 To finish the look, I simply added seashells as a decorative piece on each bottle. I think it gives the bottles character without overdoing it.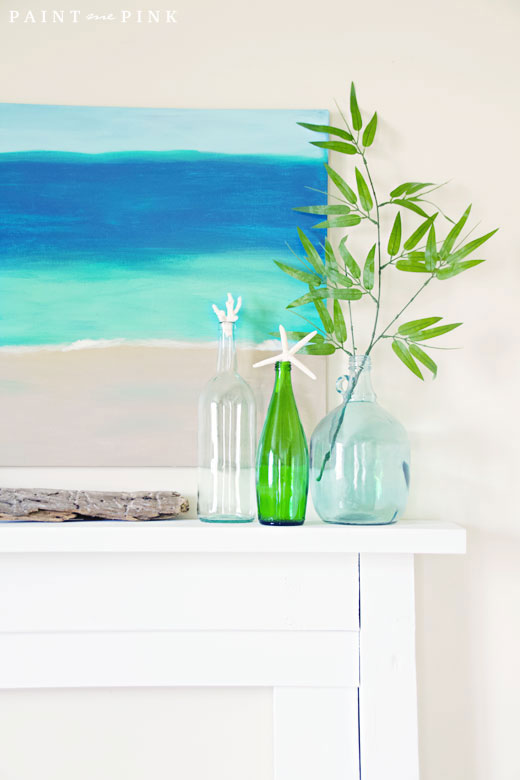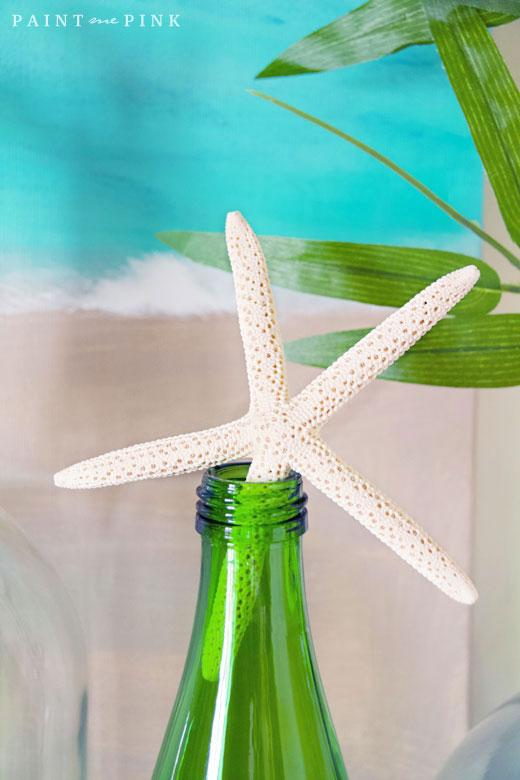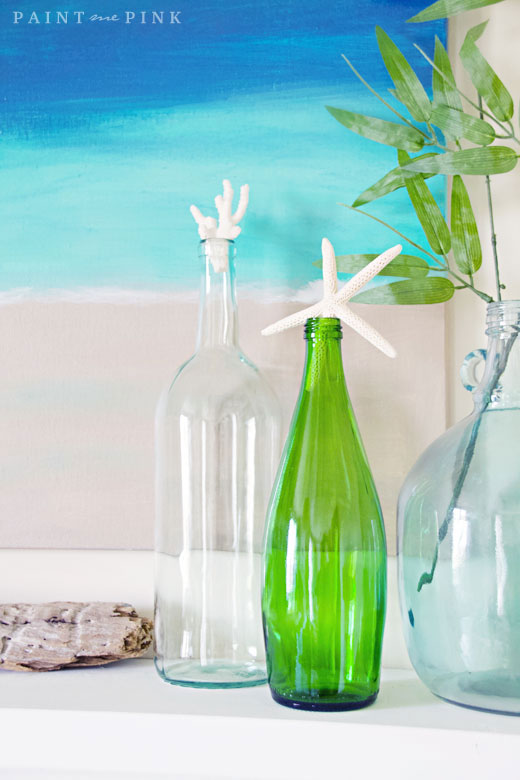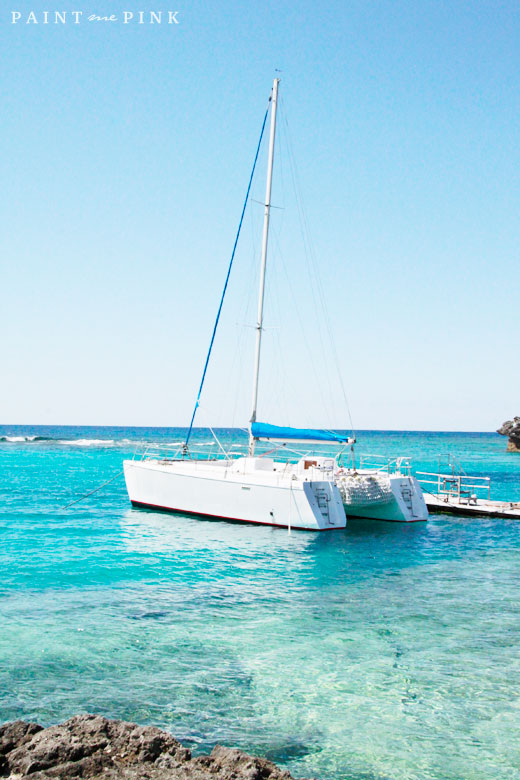 Now, that I've shown you my decorating process. I wanted to share a simple DIY painting with you! Yes, it's so simple that you really don't need to be artistic to create this beach inspired canvas.
For the longest time, I've had this 48″ x 24″ blank canvas. I've covered it with fabric, used it as a photo prop, sadly I've been afraid to paint it… until now. I think it's time to get over my fear of painting it and just do it. My inspiration came from this photo I took last month, the colors of the water here are so magical. The way that the turquoise goes from blue to green, light and dark it's something I've never seen before.
I decided to paint with flat latex paint, instead of acrylics since it's a huge canvas… it's almost as big as our dining room table!
1. Start painting the bottom mixing portion of the canvas with a light brown. I mixed in a little white to make it look like sand.
2. To create the next couple layers start blending (your desired) light blues, dark blues, and aqua greens. You want to work quickly so the colors blend together and create a nice gradation from one color to the next. All you're doing is blending some colors and painting horizontal lines.
3. Layer some white to make it look like waves and dabbed some of the areas to further emphasize them.
The key thing to remember is that you really can't mess it up! Just have fun painting.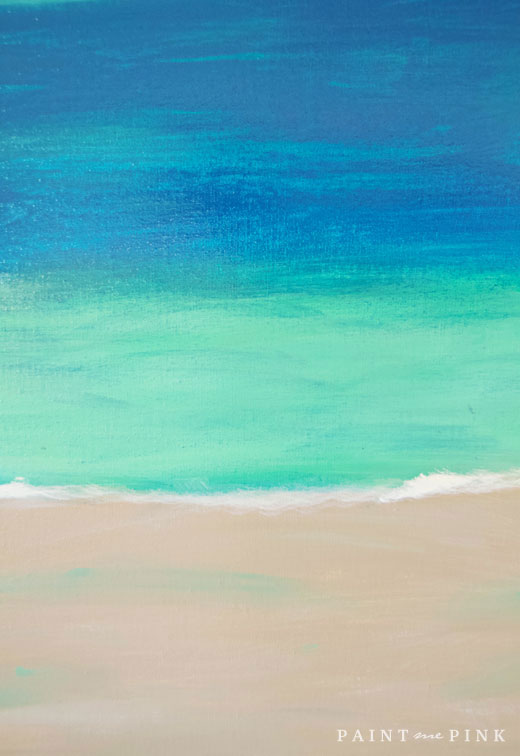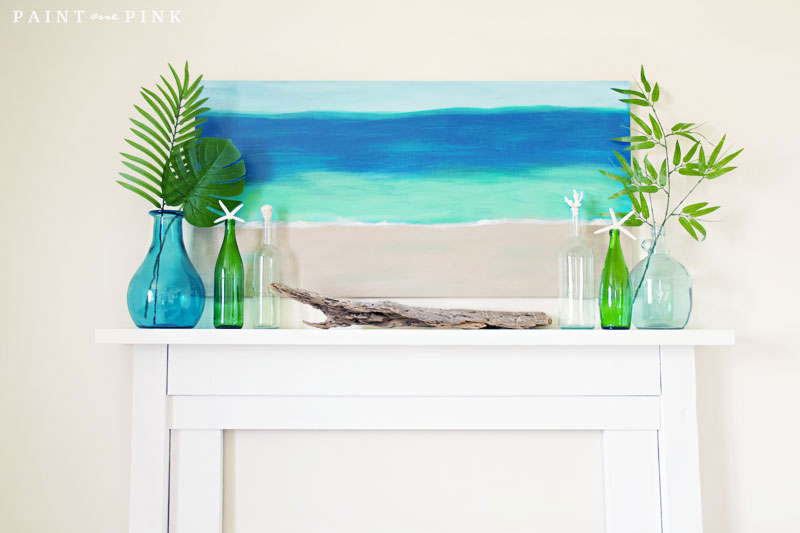 Don't forget to check out more Summer Mantel inspirations below!!
A huge thank you to Krista of The Happy Housie for hosting this wonderful Seasonal Simplicity Summer Series!
xoxo, Norma
I'm so excited that the Seasonal Simplicity series is back again; and this time it's to celebrate Summer! Today I've joined up with a talented group of bloggers to share our simple and beautiful summer mantel {or summer vignette} ideas with you! Enjoy the inspiration…
The Happy Housie // Home Made Lovely // House by Hoff // The DIY Mommy
Zevy Joy // Town and Country Living // A Pretty Life // Rooms for Rent // So Much Better With Age
Finding Silver Pennies // Vinyet Etc. // This is Our Bliss // Rambling Renovators
Paint Me Pink // Just a Girl and Her Blog // Jamie Costiglio // Newly Woodwards