When I think of summer, I think of strawberries. I think of the sweet scent that only really ripe strawberries give off. Every year, right around this time, we take the kids to the strawberry fields. When we arrive, we do our best to avoid the crowds. By now, we know that too many feet trampling the ground only leads to too many squished berries. So instead, we walk deep into the fields, as far as we can, until the people and noise fades behind us. Only then, do we begin our annual strawberry hunt.
With all the freshly picked strawberries, we've been making strawberry jam, strawberry fruit bowls and now I'm sharing with you a Strawberry Mousse Tart recipe. If you love strawberries this recipe is for you!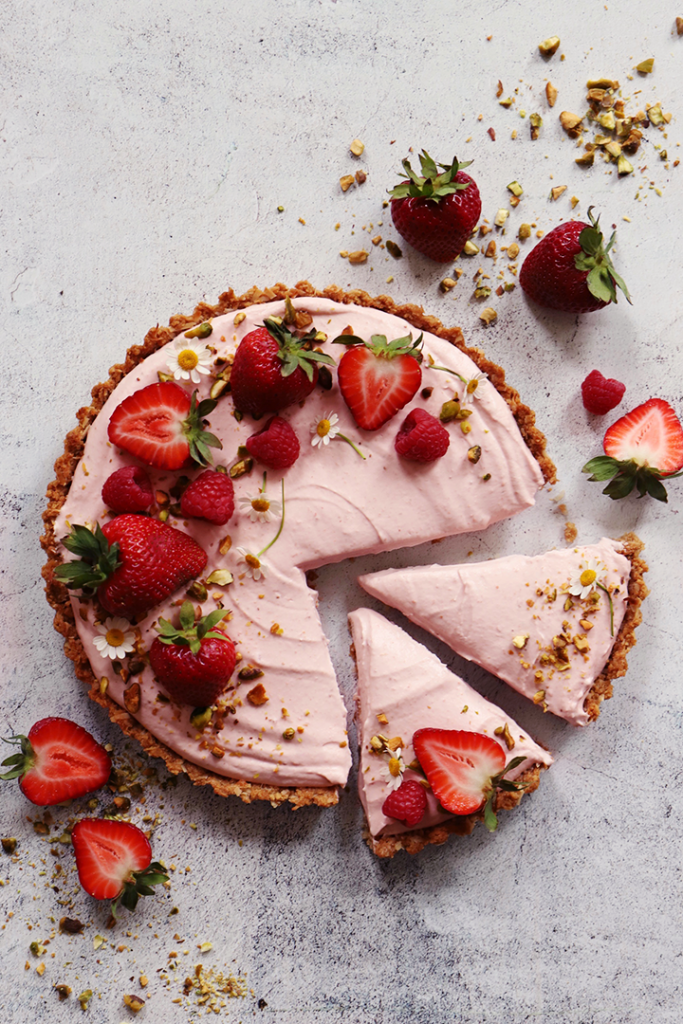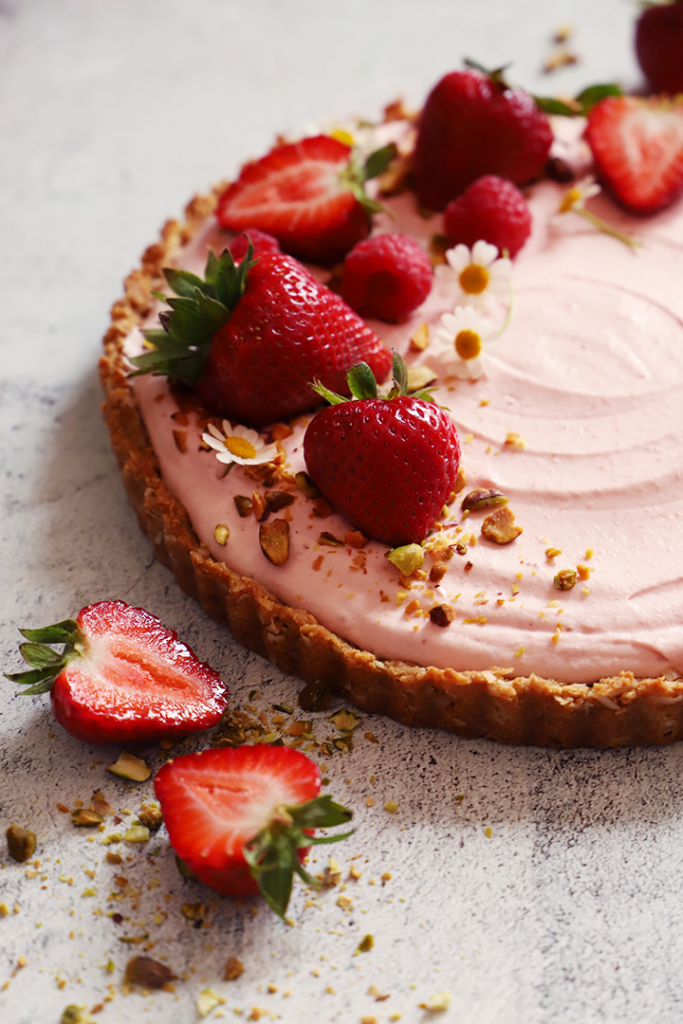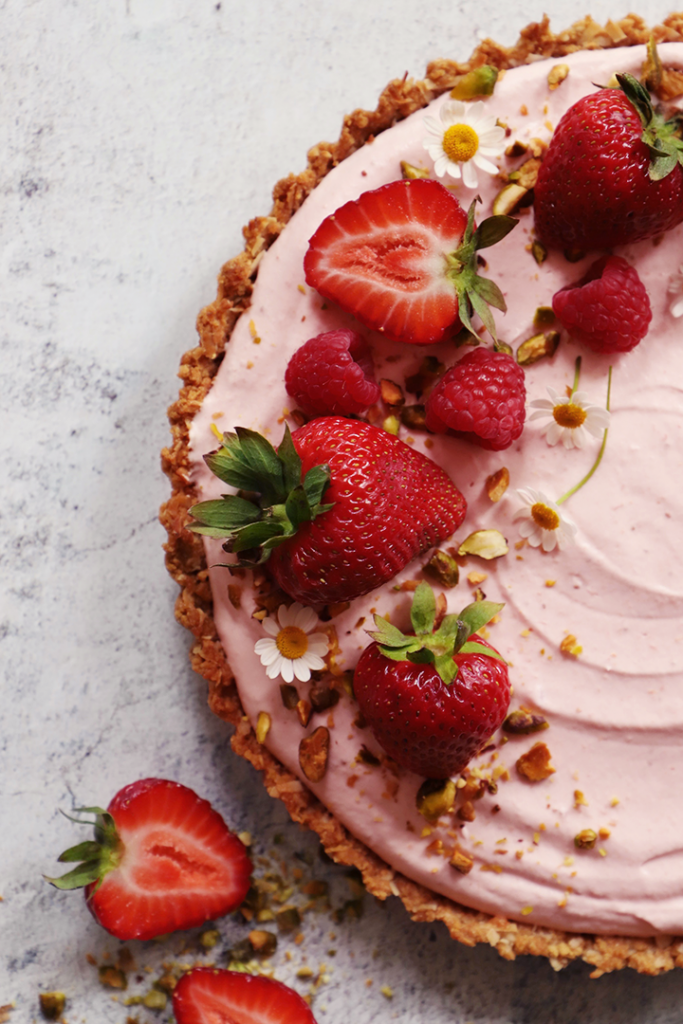 This tart has a strawberry mousse that is soft and silky, with a crisp tart shell and is topped with fresh strawberries and pistachios. Yum! It truly is a delicious summertime dessert.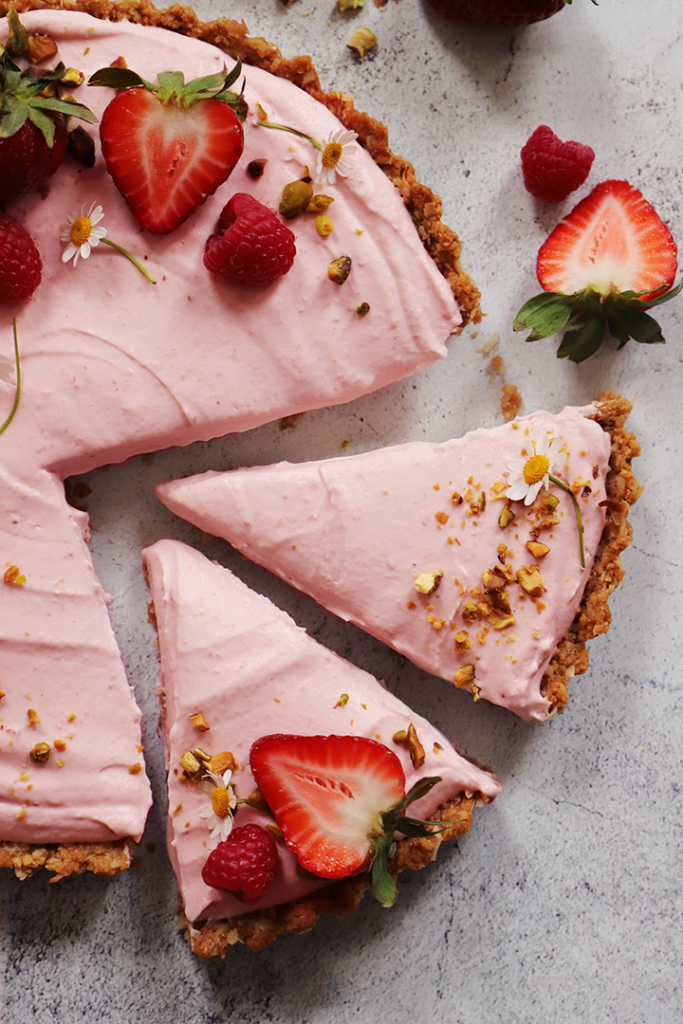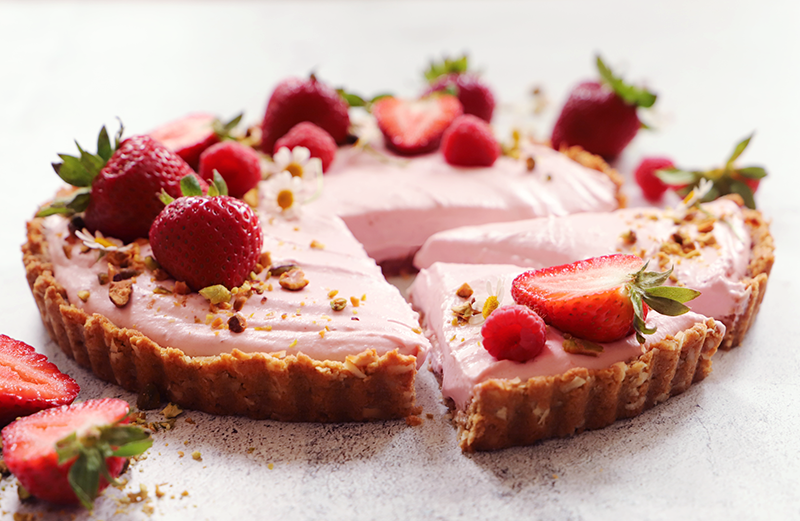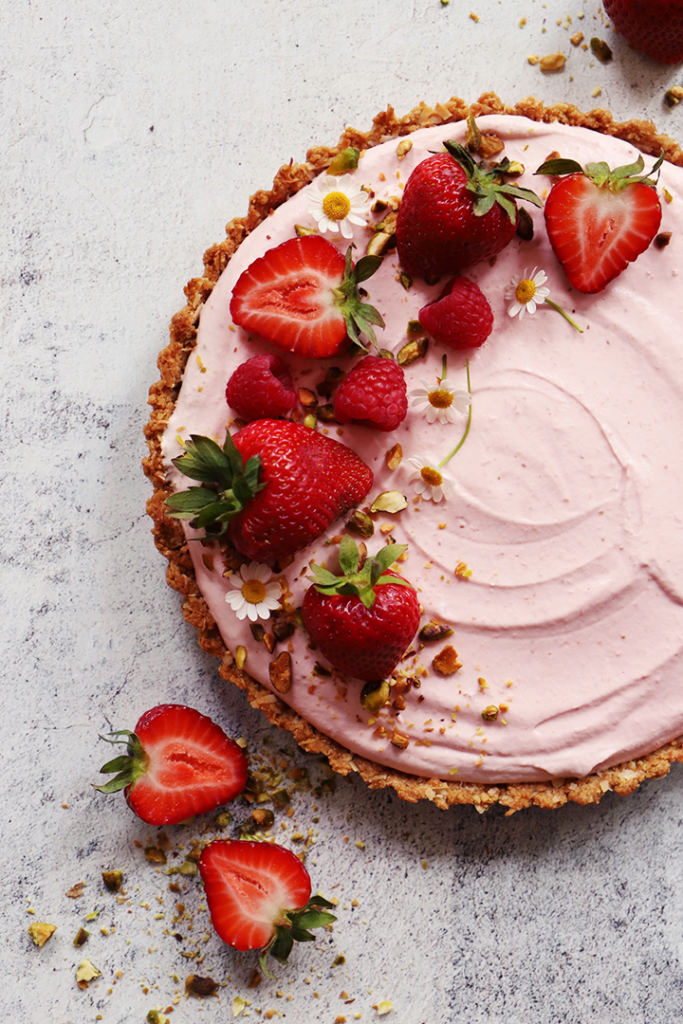 INGREDIENTS
For the crust:
2 cups crushed Graham crackers
3/4 cup shredded coconut
2 tablespoons sugar
1/2 cup butter, melted
For the filling:
3 cups (425 g) fresh chopped strawberries
1/2 cup of water
1 ¾ cups (420 ml) heavy whipping cream
4 ounces (113 g) cream cheese
1 cup (120 g) confectioners' sugar, sifted
1 tablespoon vanilla extract
½ teaspoon salt
1 package or 4 teaspoons of unflavored gelatin powder
4 tablespoons cold water
Garnish:
Fresh strawberries
Pistachio nuts, crushed
Edible flowers
METHOD
Pie Crust:
Preheat oven to 180C / 350F. Prepare an 11 inch tart pan with a removable base, by greasing well with butter or spraying with cooking oil. Line the base of  tart pan with parchment paper.
 In a food processor add graham crackers and pulse for about 20 seconds until it starts to look like breadcrumbs. In a medium bowl, combine the graham cracker crumbs, coconut, sugar and melted butter. Stir until the butter is completely incorporated.
Press the breadcrumb mixture firmly into the tart pan to form a flat, even crust. Make sure you gently press the mixture into all the corners and make sure the top edges are even.
Place the tart pan on a baking tray. Bake for 10-15 minutes or until light golden brown. Once cooked, set crust aside and allow to cool completely before adding the filling (you can place the tart crust in the refrigerator to speed up the process).
Mousse Filling:
For the mousse filling, puree the fresh strawberries with a 1/2 cup of water in a blender or food processor until smooth. Run the puree through a fine mesh sieve and discard the seeds. Set aside.
In a large bowl, combine the heavy cream, cream cheese, confectioners' sugar, vanilla, and salt. Beat on medium speed until whipped and fluffy; about 5 minutes.
In a small bowl add 4 tablespoons of water and gelatin powder. Mix until combined. Then add 2 tablespoons of the strawberry puree and mix together. Microwave gelatin mixture for 12 seconds and set aside.
Gently fold the strawberry puree and gelatin mixture into the cream until well blended, being careful not to over mix.

Gently spread the mixture over the tart base. Place in the fridge immediately for at least 4 hours to set.

Remove the tart from the refrigerator and top with the fresh strawberries, pistachios and edible flowers. Serve and enjoy!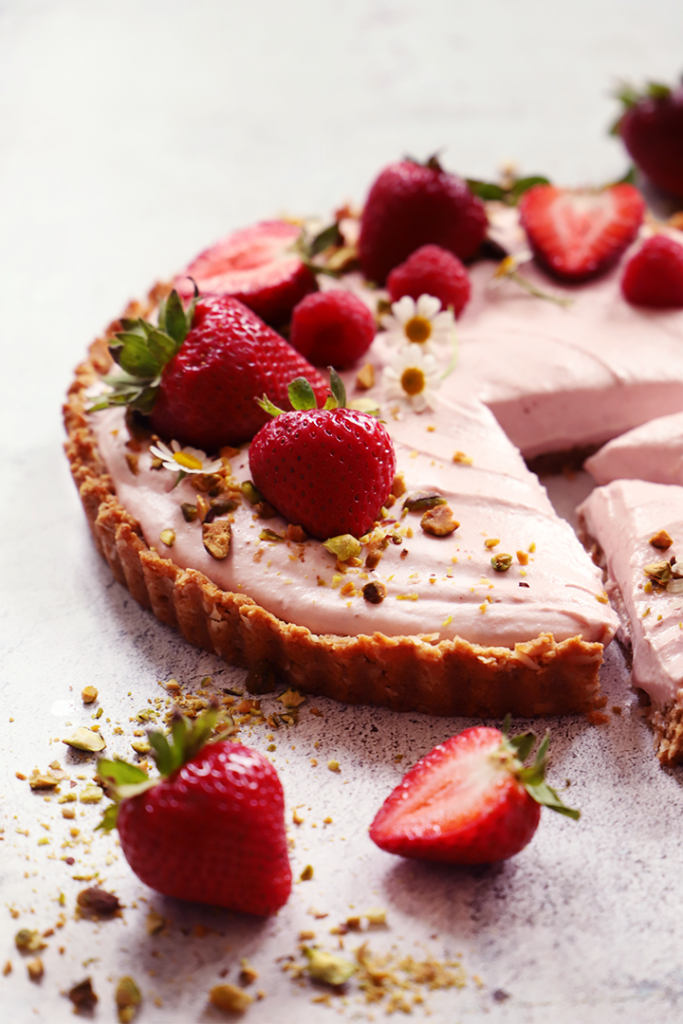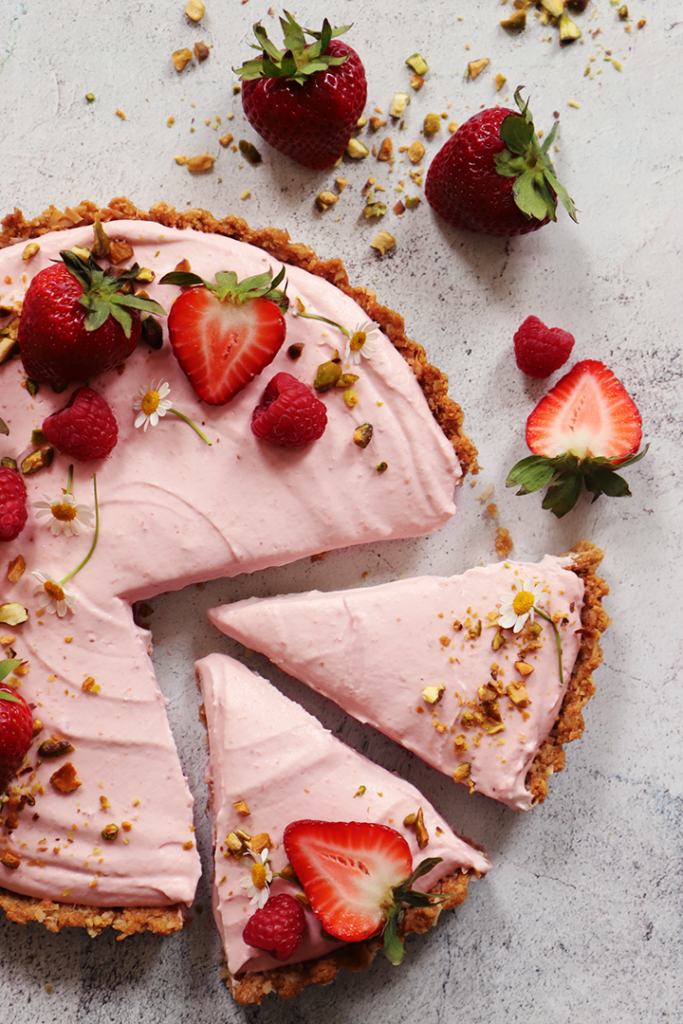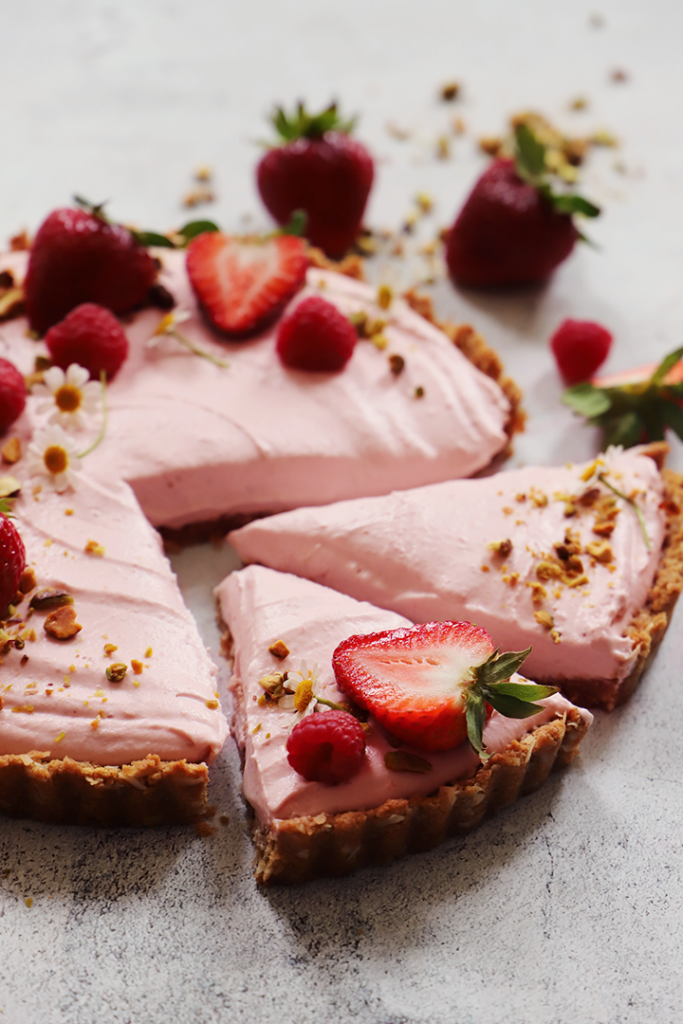 Below are some AMAZING strawberry recipes! Make sure to check them out or Pin for later!
xoxo -Norma
13 Summer Strawberry Recipes

Fresh Strawberry Pie // Happy Happy Nester
Strawberry Shortcake Cupcakes // Inspiration For Moms
Strawberry Tart // Paint Me Pink

Muddled Strawberry Basil Cocktail // Modern Glam
Strawberry Cocktail // Craftberry Bush
Refreshing Strawberry Cocktail // Maison De Cinq

Strawberry Shortcake Ice Cream Sandwiches // My 100 Year Old Home
Strawberry Basil Ice Cream // Most Lovely Things
Keto Strawberry Shortcake In A Jar // The Happy Housie

Strawberry Spinach Salad with Quinoa // Satori Design For Living
Glazed Strawberry Sweet Bread // Sincerely, Marie Designs
Breakfast Granola Tart // My Sweet Savannah
Easy Strawberry Banana Cheesecake Salad // Twelve on Main