Don't like chocolate? Not a fan of vanilla? Maybe you're not that into fruit-flavored ice cream? No matter what you like, there's an ice cream flavor out there for you. There are so many options! From sherbet to bacon and everything in between, anything you could possibly want in your ice cream, you can have. There's no right or wrong flavor out there.
Where are my Mango lovers at?! Today, I'm sharing a homemade mango ice cream recipe with you! Can I tell you a secret? This is my first time making homemade ice cream and I can't believe I've waited this long to make it! It's so easy and it tastes so much better than store-bought ice cream. I could have picked a classic flavor but, mangos and I go way back and it activates a wonderful feeling of nostalgia. It instantly reminds me of how delicious it was eating it and getting it all over my clothes and making sticky messes because it melted faster than I could eat it.
Don't let this summer pass you by without eating at least 100 million pounds of ice cream. Grab your ice cream spoons and enjoy your frozen treats! BTW there are 10 Summer Frozen Dessert Recipes at the end of this post that you don't want to miss, don't forget to check those out!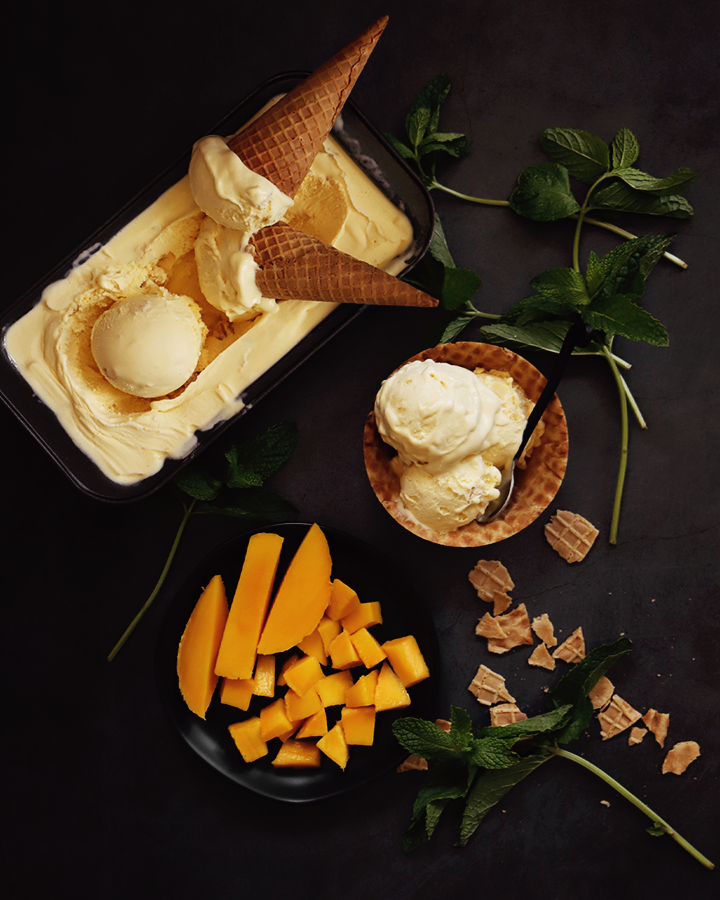 This recipe is made without an ice cream maker! How amazing is that! All you need are mangos, heavy cream or whipping cream, and granulated white sugar to make this homemade Mango Ice Cream recipe that is creamy and full of delicious mango flavor.
You won't believe it until you try it. This really is a creamy ice cream made without an ice cream machine.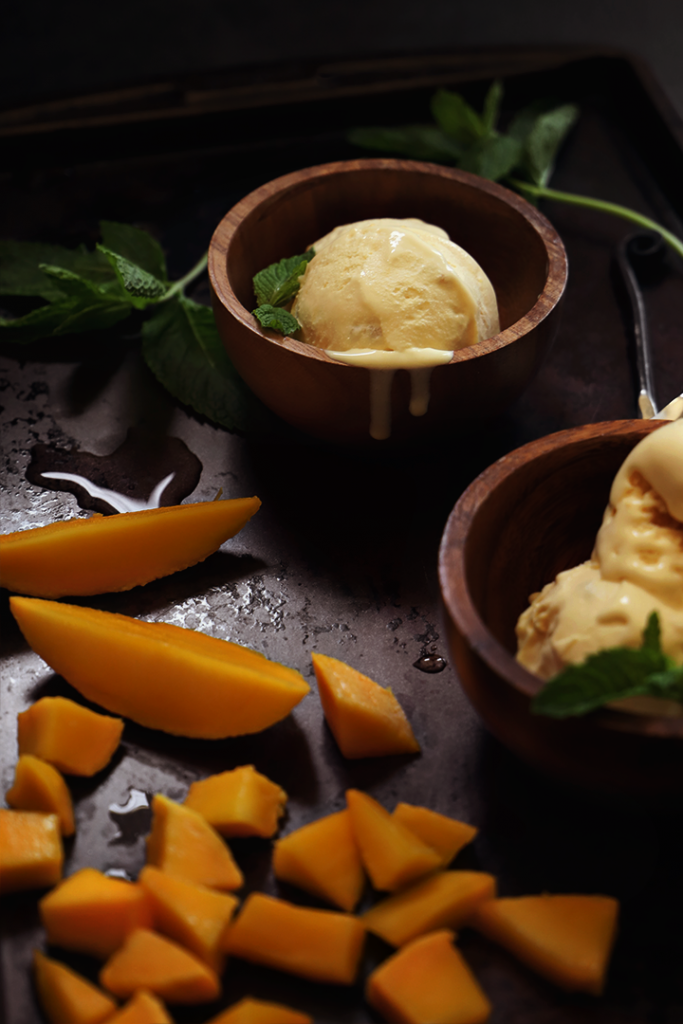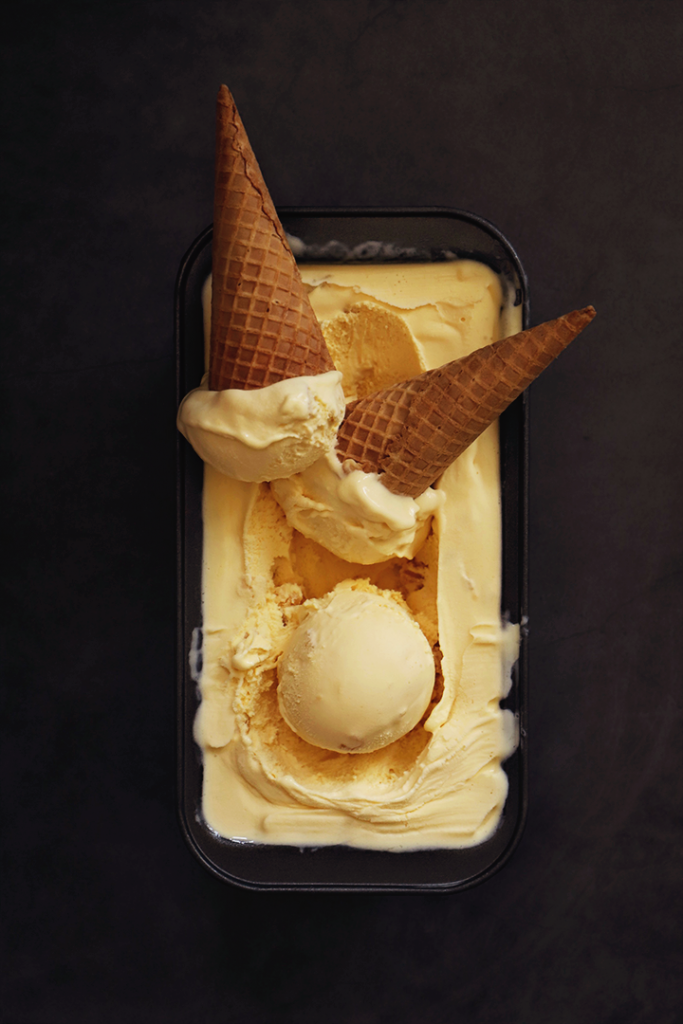 Mango Ice Cream Recipe
Ingredients
200

gram

heavy cream or whipping cream

4

Cup

ripe mango puree

1/2

Cup

granulated white sugar

1 1/2 Cup mango cut into small chuncks
Instructions
Mango puree: Dice the pulp of fresh mango into chunks. In a food processor blend mango chunks and sugar into a smooth puree.

Whip the cream using a hand mixer till soft peaks form.

Add mango puree and mango chuncks to the whipped cream. Whisk using the hand blender or spatula for 1 – 2 minutes or until well combined. Do not over mix. Taste and if required add more sugar accordingly.

Pour the ice cream into a freezer-friendly container with a lid. Freeze for 5 – 6 hours or until set.

Let it stand for a few minutes until it soften slightly, then scoop, serve and enjoy!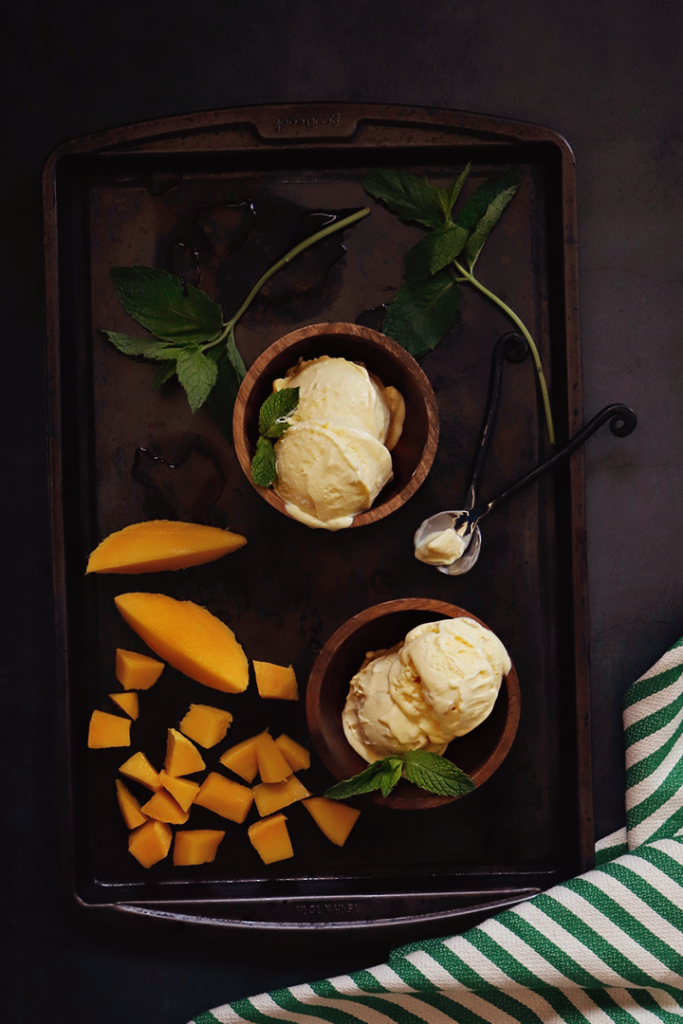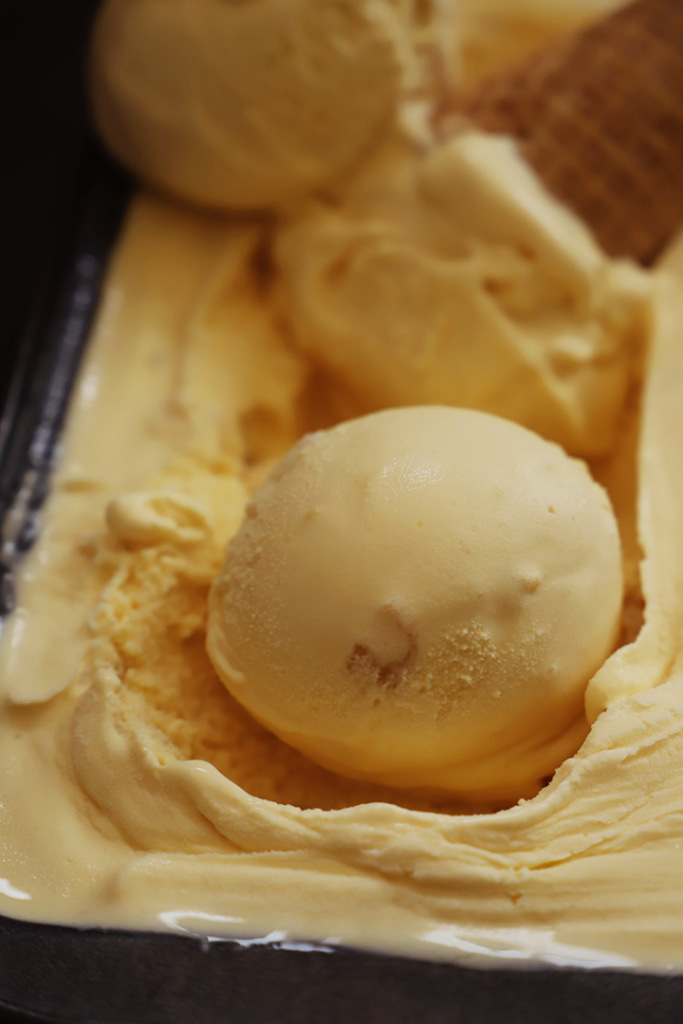 I have another confession to make… I was having a real hard time photographing this ice cream! It melted so fast and I couldn't figure out how to keep it frozen long enough for me to take pictures. I had so many fun ideas but, with this Southern California heat and melting ice cream I couldn't photography fast enough or switch angles and displays before I had a puddle of melted ice cream. If you have any tips or tricks on how to photograph ice cream please leave them on the comments below! I would greatly appreciate it!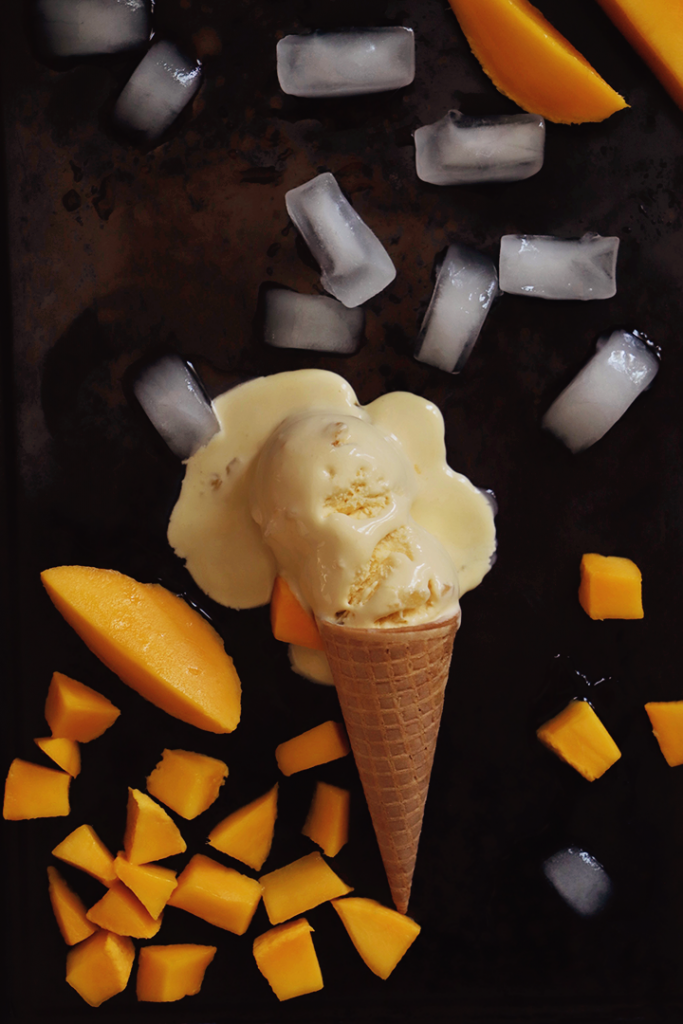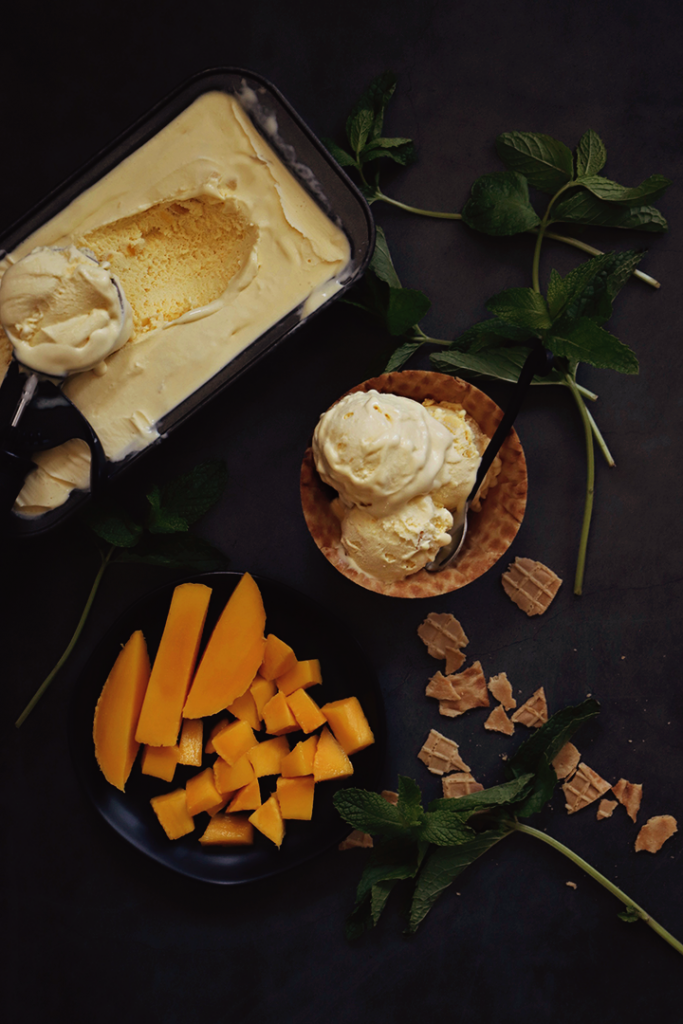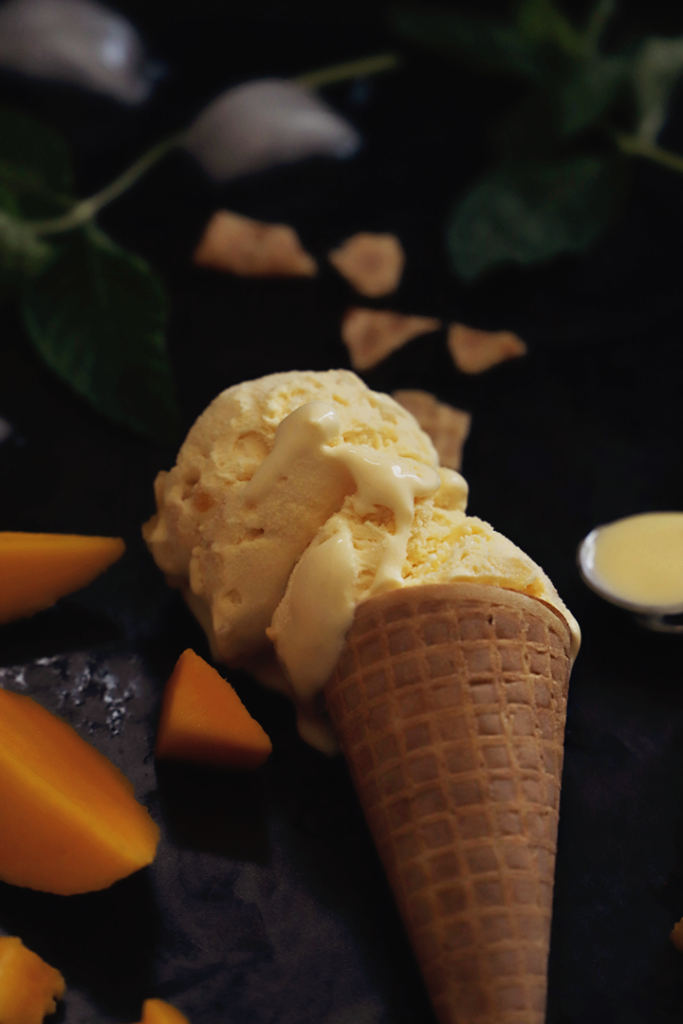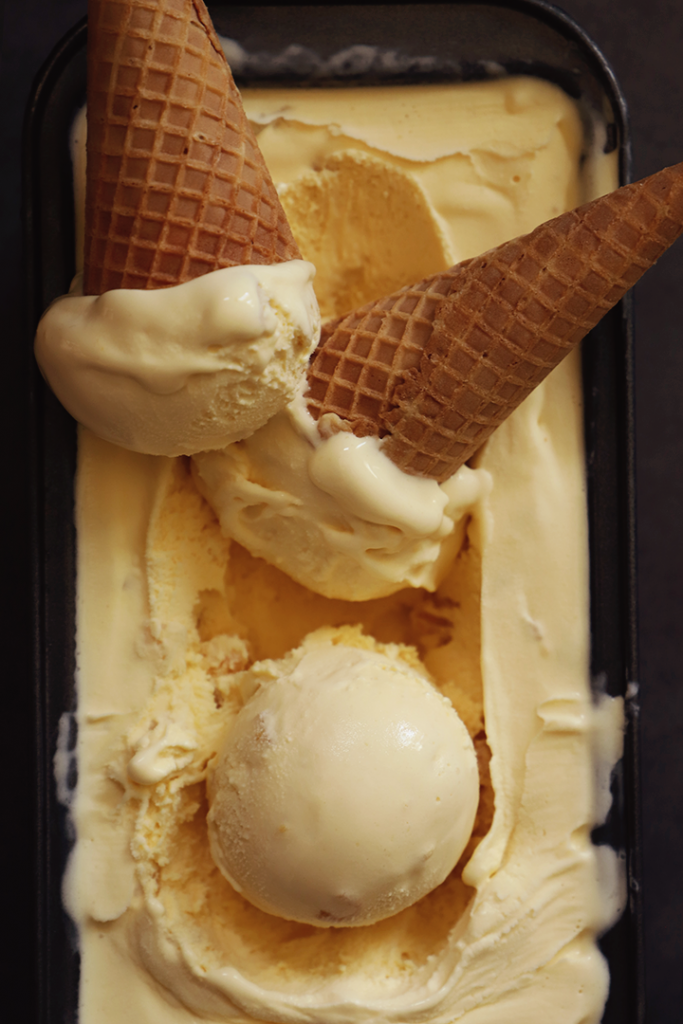 These summer months we should enjoy the nice weather, all the summer activities, and indulging in as much ice cream as humanly possible!
xoxo – Norma
10 Summery Frozen Dessert Recipes

3-Ingredient Keto Strawberry Creamsicle Popsicles // Tatertots & Jello
Easy Strawberry Cheesecake Ice Cream Recipe // Twelve On Main
Mochi Ice Cream Recipe // Happy Happy Nester
Easy Ice Cream Cupcakes // My 100 Year Old Home

Homemade Ice Cream Cookie Sandwiches // Modern Glam
Homemade Mango Ice Cream Recipe // Paint Me Pink
Biscoff Ice Box Cake // Most Lovely Things

Frozen Mini Key Lime Pies // Life Is Better At Home
Frozen S'mores Bars // My Sweet Savannah
Best Ever Chocolate Hazelnut Gelato // Maison De Cinq