There's something very special in the air at this time of the year. A crisp autumn breeze, crackling log fires and bristling leaves, floating delicately towards the ground, inspire many people to cozy-up during this season. I hope you know how I feel about Fall by now… I absolutely adore it! I could live in Fall weather all year round if I could. In the spirit of everything pumpkin spice today I'm sharing with you a Pumpkin Pastry Twist! You could say it's the perfect pastry to pair up with a good cup of coffee!
This pastry reminds me of Italy (oh how I miss Itay…) My husband and I would have cappuccinos and fresh croissants for breakfast. Breakfast in Italy just isn't like here in America. Being in Italy has inspired me to combine my deepened love for croissants with pumpkin! Just look at those crispy buttery layers with swirls of sweet spiced pumpkin… YUM! Did I mention that they are easy to make too!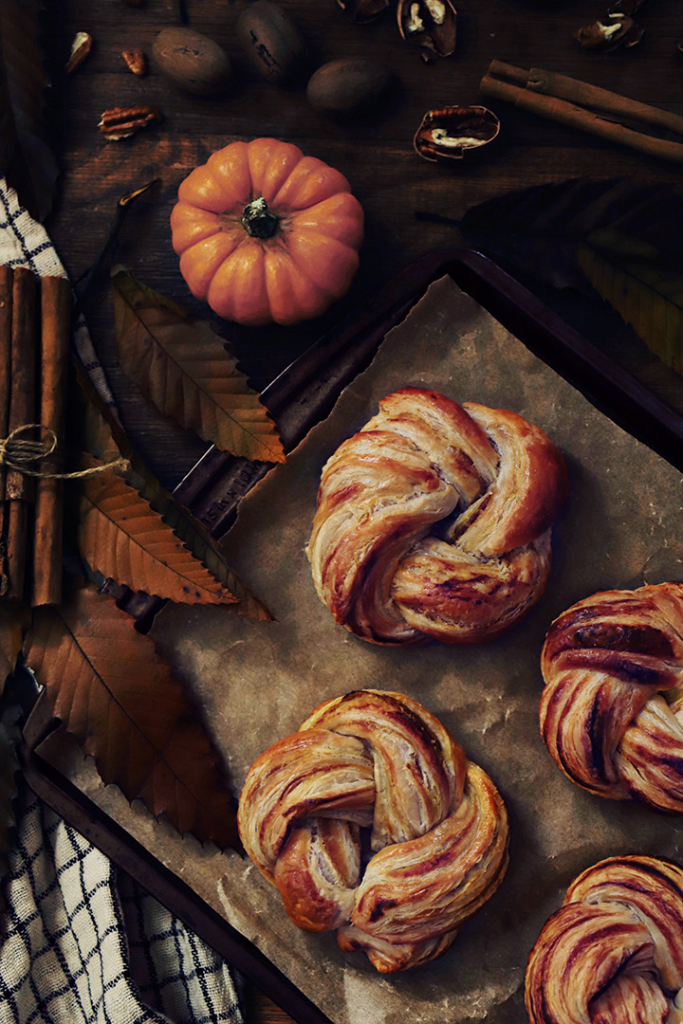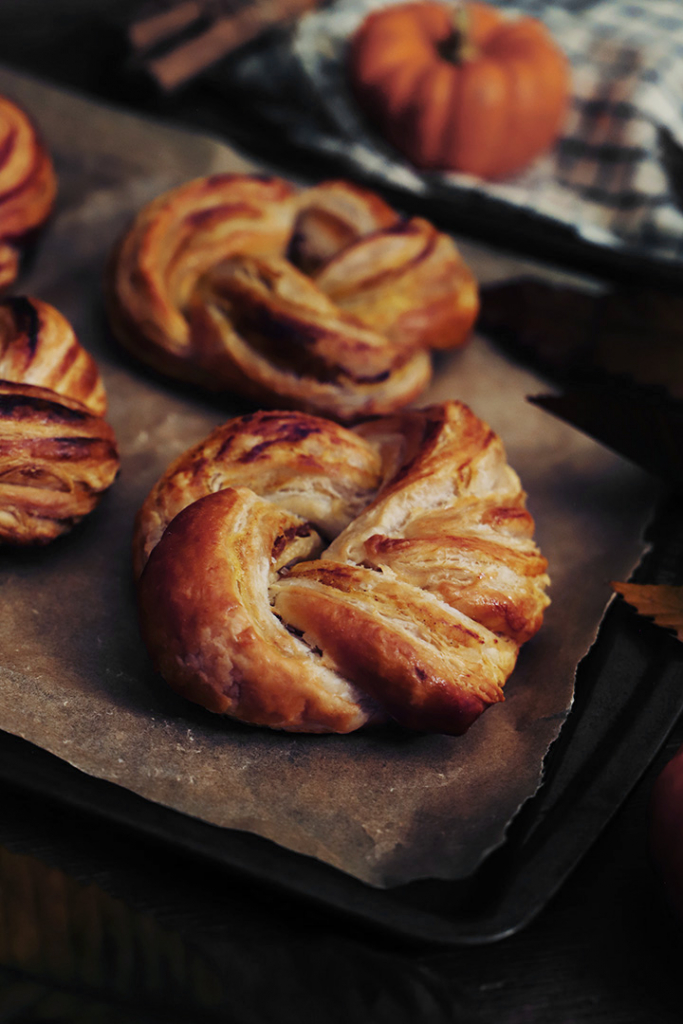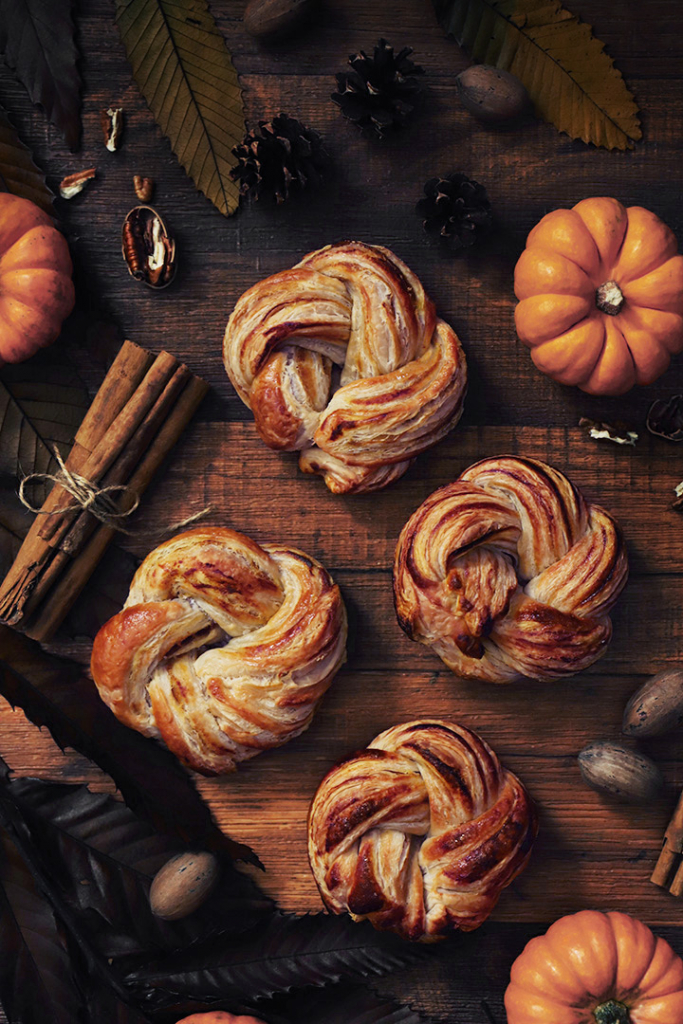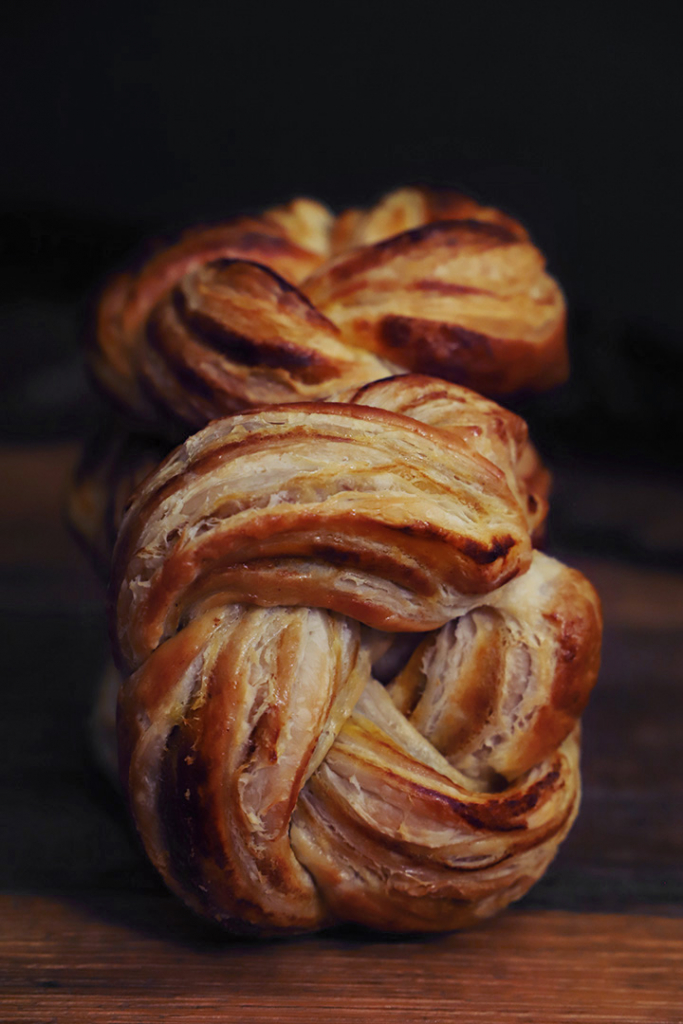 Pumpkin Pastry Twists
Ingredients:
1 large egg
2 teaspoons water
4 sheets puff pastry
1 cup canned plain pumpkin
1/2 cup granulated sugar
1 teaspoon pumpkin pie spice
(In this recipe makes 4 pastry rolls)
Directions:
1. Preheat oven to 400°F. Line a baking sheet with parchment paper or nonstick baking spray, set aside.
2. In a small bowl, whisk together egg and water, set aside.
3. In a medium bowl, whisk together pumpkin, sugar and pumpkin pie spice.
4. Roll out your premade puff pastry and cut out a squares roughly 8″ x 8″. Then divide pumpkin mixture evenly on each piece. Spread a thin layer of pumpkin into an even layer.
5. Starting at one end, roll the pastry over the pumpkin mixture.
6. Using a sharp knife, slice down the center each roll but leave 1 inch at the top of the pastry connected. Twist the two pieces together, making sure to keep the pumpkin filling sides facing up.
7. Form the pastry into a circle by pulling the two ends together and pressing together. Place pastry on prepared baking sheet leaving room for spreading. Continue until all pieces of puff pastry have been completed.
8. Brush the pastries lightly with the egg wash you made earlier.
Bake for 30-35 minutes, or until golden brown. Remove from oven and let cool for 5 minutes. Eat and enjoy!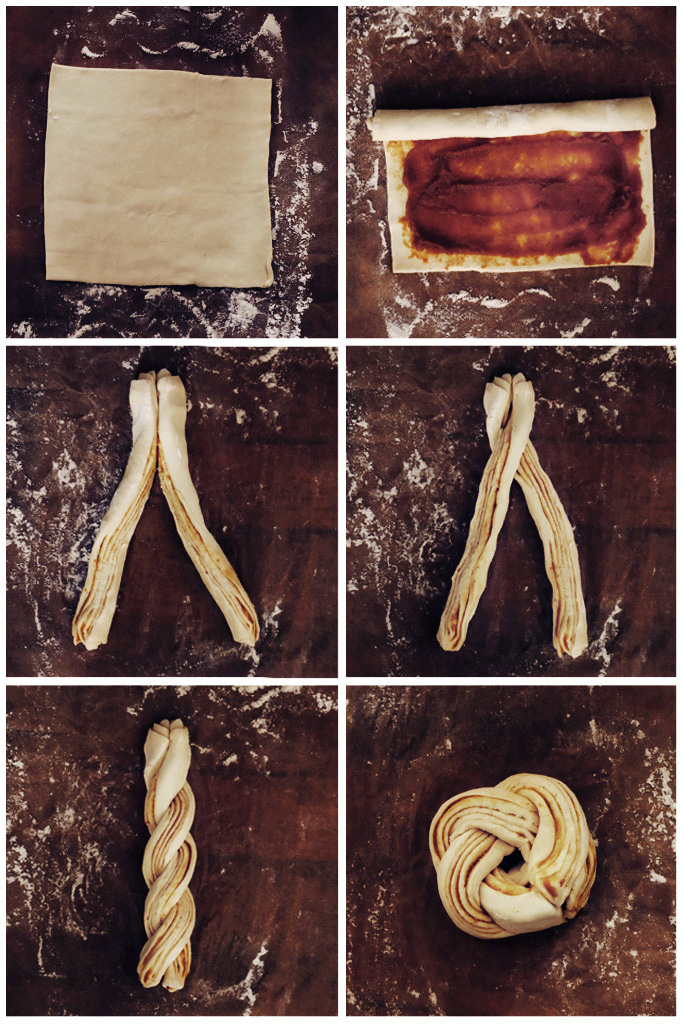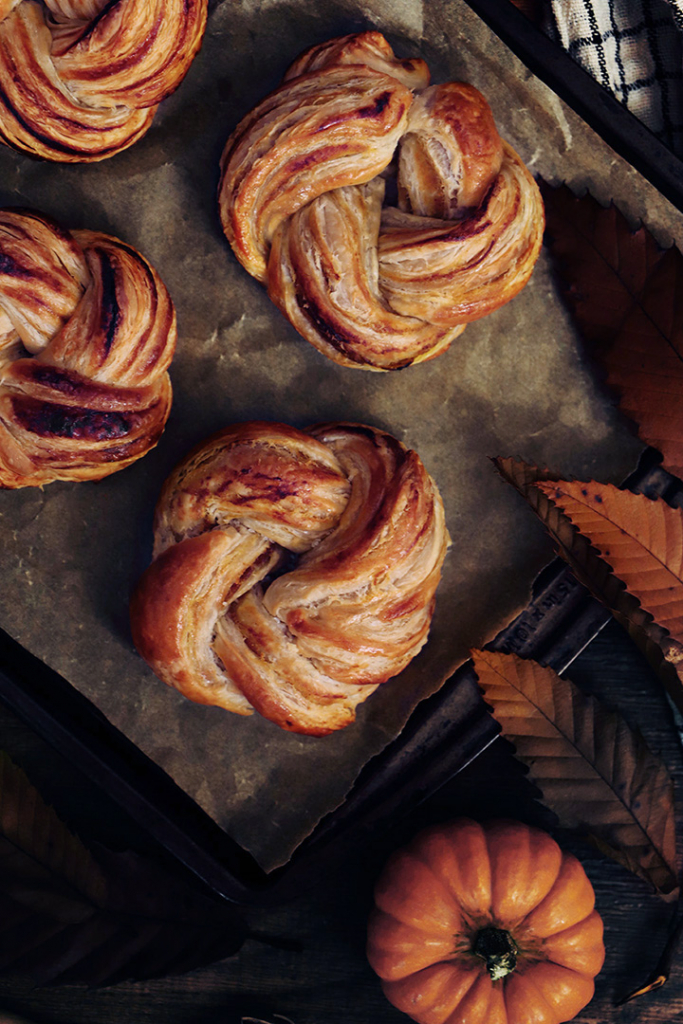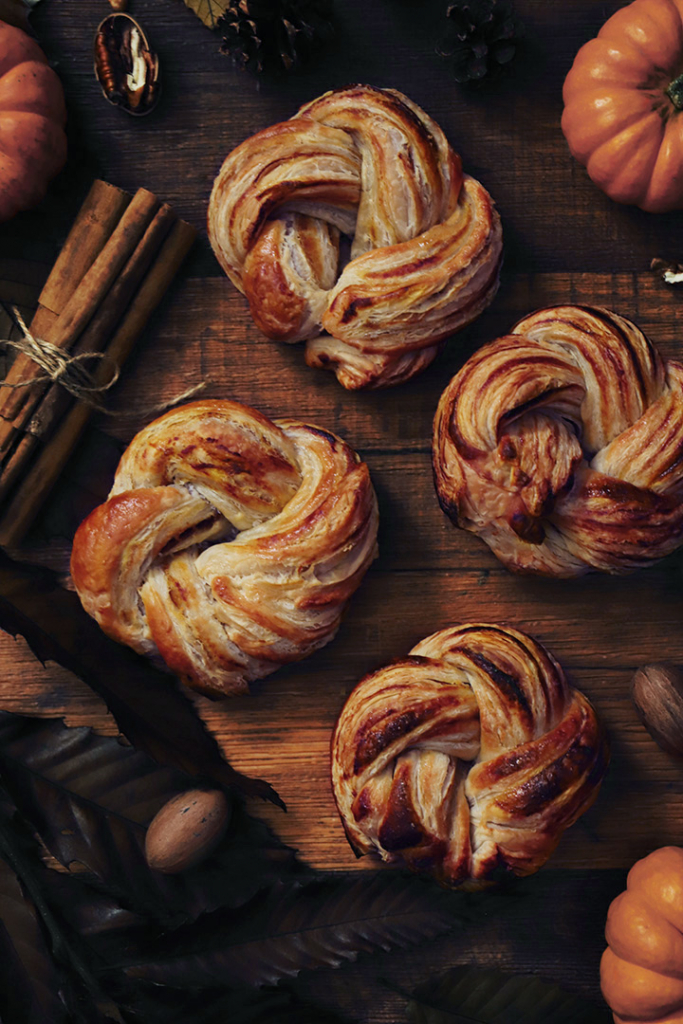 Thank you to Janine and Ashley for putting together this pumpkin spice and everything nice recipe hop! Don't forget to check out more pumpkin recipes below!
Xo, Norma
17 Sweet Pumpkin Recipes

Pumpkin Banana Bread or Pumpkin Apple Bread? – My 100 Year Old Home
Spiced Pumpkin Cake with Espresso Frosting – Finding Lovely
Creamy Pumpkin Spice Latte – Satori Design For Living
Pumpkin Pie Muffins – Lemon Grove Lane

Pumpkin Muffins with My Secret Crumb Topping– Happy Happy Nester
Easy Pumpkin Roll Recipe – Jennifer Maune
Pumpkin Pecan Cobbler – Sincerely, Marie Designs
Pumpkin Pie Bars – My Sweet Savannah

One Bowl Pumpkin Olive Oil Cake – Modern Glam
Copycat Starbucks Keto Pumpkin Cream Cheese Muffins – The Happy Housie
Dairy Free Pumpkin Ice-Cream – Zevy Joy
Pumpkin Pastry Twists – Paint Me Pink

Low Carb Keto Caramel Pumpkin Cheesecakes – Tatertots & Jello
Pumpkin Madeleines – Most Lovely Things
Baked Pumpkin Cake Donuts – Inspiration For Moms
Easy Mini Pumpkin Pie – Dreaming of Homemaking
Pumpkin Cinnamon Rolls – Twelve on Main