Hello sweet friends, this week I've been sick with a cold and it seems like it's getting worse everyday. So what do I do when I'm sick.. I bake.. just kidding! I really don't bake when I'm sick, but for the longest time I've been wanting to make my own pies and this week I decided to go for it. I researched (which means hours on Pinterest) for a easy and delicious pie crust and after many pins I found a winner!
Before I continue on with these delicious mini pies, I want to share a little about my baking journey. I've never been a strong baker, I can tell you right now that I've had so many baking fails than successes. Even though I've failed so many times.. more than I can count, I haven't given up on it! If you first don't succeed then try, try, try, try, try… again! and boy, have a tried. I get anxiety just thinking about it -lol- 4 years ago I was invited to a cookie party exchange, the invitation said that all cookies had to be homemade.. no store bought cookies. I was excited and terrified all at the same time. I kid you not, I went and bought cookie magazines, baking books, and all the baking things I needed.. I was on a mission to make the best cookies ever!
I took over all the kitchen counters and dinning table, there was flour, sugar, food coloring and baking supplies everywhere! Let's just say my lemon cookies didn't come out like I had hoped for. After trying 3 different cookie recipes and all 3 failed, I was defeated. The kitchen looked like it was hit by a tornado and I broke down into tears. I had been in the kitchen for 8 hours with no cookies. Then my husband stepped in and I remember him telling me.. "we will make 3 dozen lemon cookies even if we stay up all night". I couldn't help but smile, he started by throwing away all the bad, burnt, and non edible cookies. Then to lighten the mood he started cracking jokes about baking and how horrible I was at it -lol- We ended up making the lemon cookies, they weren't the greatest but we had made them together and that meant a lot to me.
From that day on, I knew baking was going to be a challenge for me, but I wasn't going to give it up just because I wasn't good at it. Four years later, I still struggle but I'm finally starting to understand the world of baking.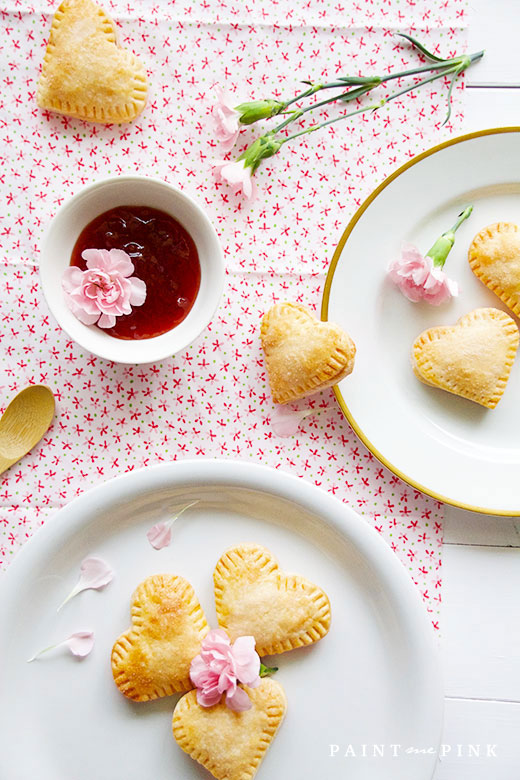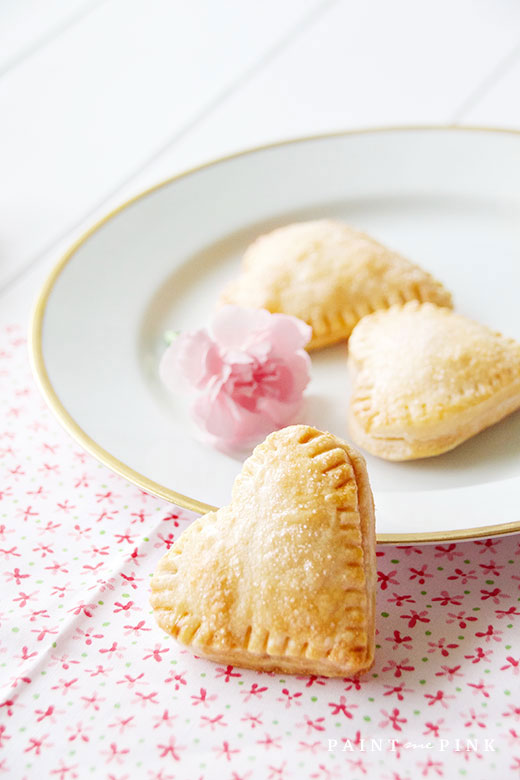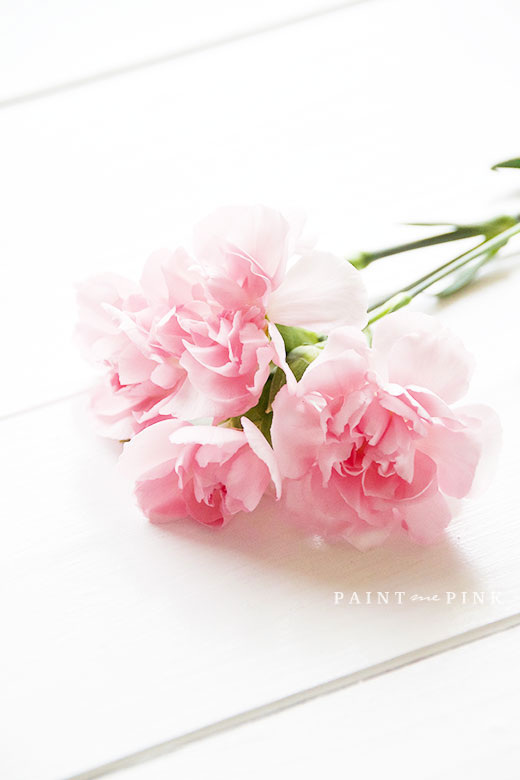 Ingredients
Pie dough (I used this recipe from Martha Stewart )
Flour for rolling dough
White sugar
1 large egg, with 1 tsp of water
Strawberry jam (or other filling of your choice)
Heart cookie cutter
Instructions
Make your pie dough and refrigerate until chilled, about 1 hour.
Preheat oven to 350 degrees.
Roll out your dough until it's smooth and even. Once your dough is rolled out, use your cookie cutter and cut out your hearts. Remember that you will use 2 hearts for 1 pie.
Place a small amount of strawberry jam or your filling of choice in the center of the heart.
Place another heart on top of each filled heart and press and crimp edges.
Beat the egg with water and brush the egg wash along the border of the heart. This will seal the pie then sparkling sugar on top.
Bake for 25 – 30 minutes until they're golden.
Enjoy!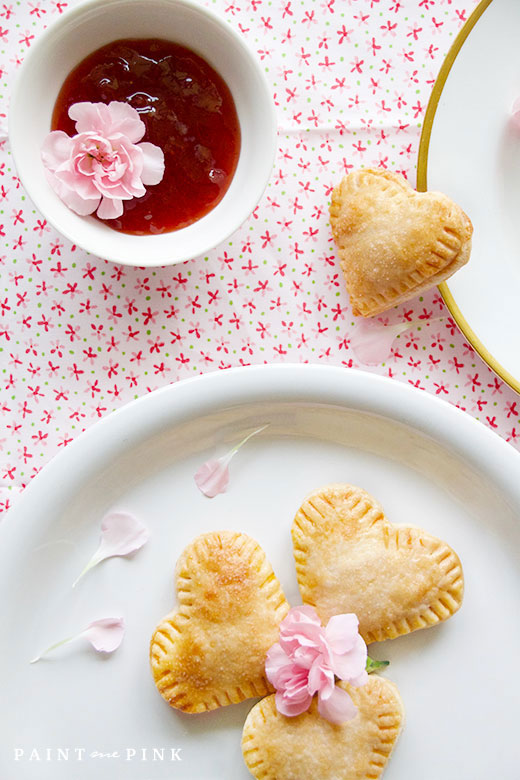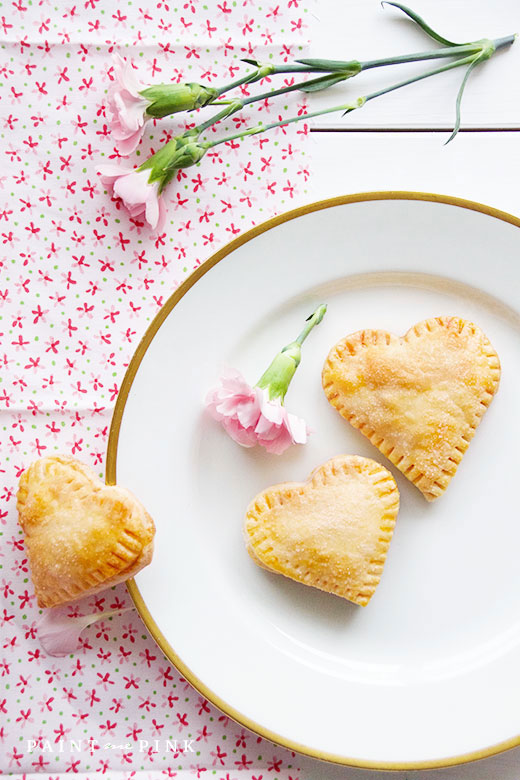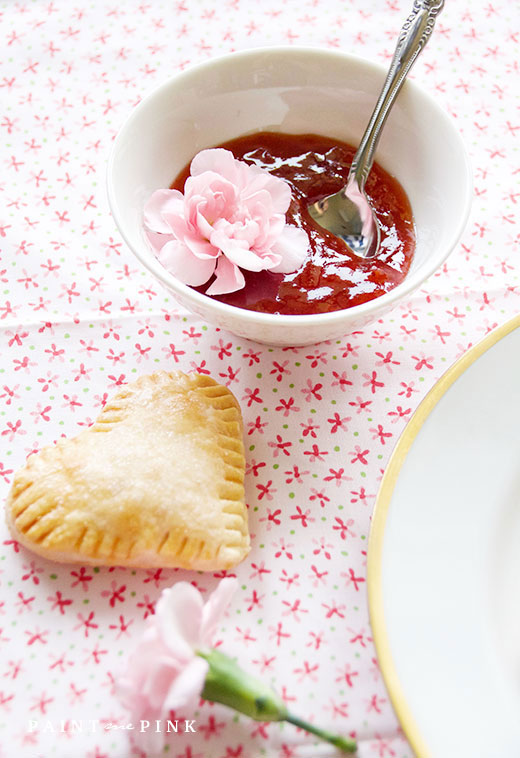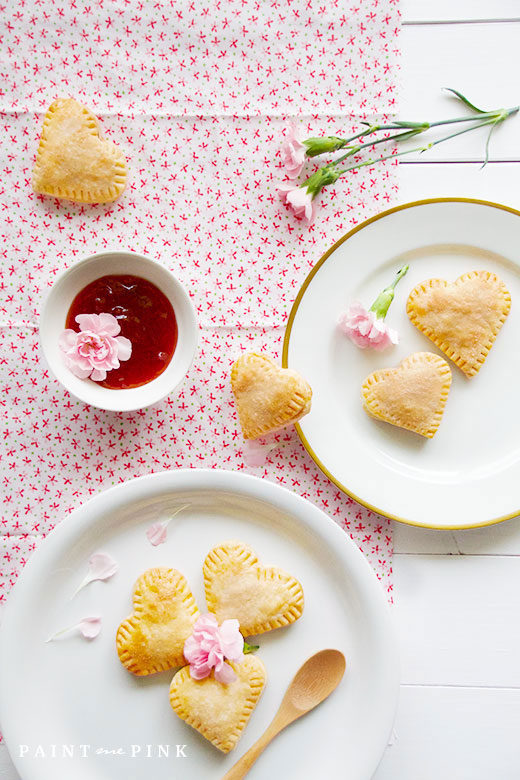 I couldn't be more happy with these little pies, if I can make them.. you can too!
xoxo,
Norma