I'm so excited to finally reveal Juliet's Beach inspired bedroom. We first started with a light blue vintage inspired coastal bedroom, but the room really wasn't Juliet and the light blue just wasn't working out. Although I love vintage things, I felt like her room needed to be a bit more modern while keeping some cottage elements. My goal for her room was to keep it simple, bright, and with a beach vibe! After all she's been raised in such beautiful beaches around the world 🙂
I really want to let you guys know, that we are living in a military base in Japan. Military housing rooms are small and they are even smaller in Japan! Japanese homes and furniture are made smaller so bringing large US furnishings overseas can be overwhelming and quite sadly they may not fit in your home. Smaller is better here. To me I feel like I hit the jackpot because I love working with small spaces, I enjoy the challenge that a small space brings.
The key to small space is finding the proper furniture, not any nightstand will work and sometimes you will have to sacrifice a dresser or a piece of furniture that you think you need. I hope that this small bedroom inspires others who also live in military housing or those who have a small space to not be afraid but to embrace it.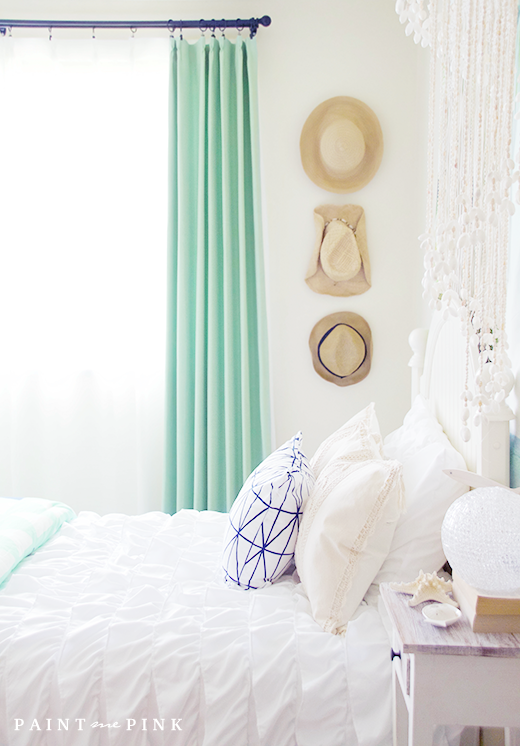 Juliet and Scarlet shared a room back in Southern California (you can see their pink bedroom here) and when we were offered a four bedroom home I was really excited for Juliet to have her own bedroom again. Since they shared a room all the pretty pink things went to Scarlet's room and Juliet was left with a bed. So her bed became my starting point. Juliet and I talked about colors and what she wanted in her room. All she wanted was a desk a reading nook and seashells on the wall.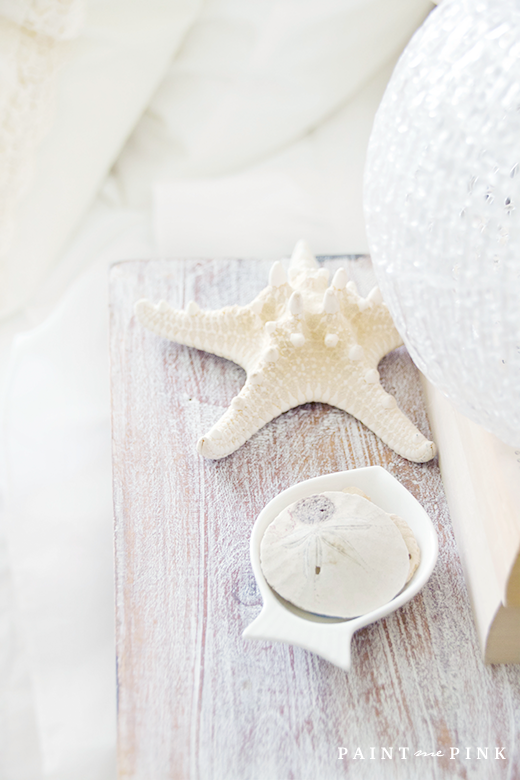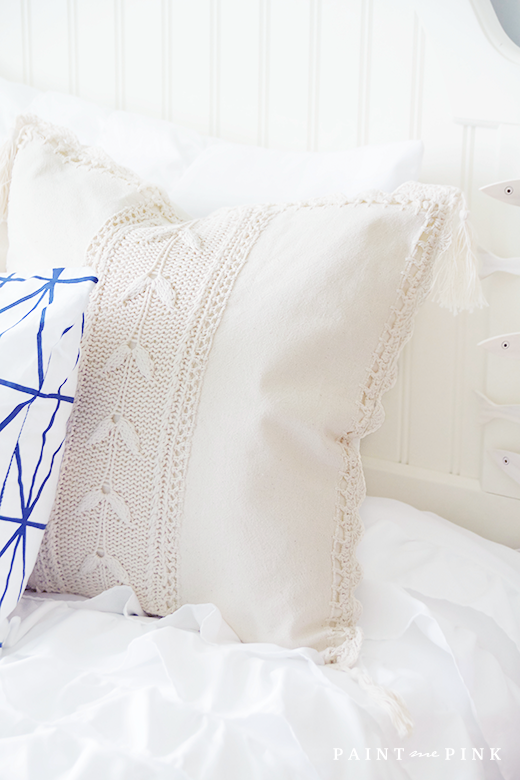 Although she didn't get seashells on the wall I added this large seashell chandelier right next to her nightstand. It looks so pretty in person that these pictures really don't do it justice. There's a lot of royal blues throughout our home and I wanted to add just a few touches of it in her room, to tie it in with the rest of the house. The macrame wall hanging and tapestry added a fun beach vibe to her space.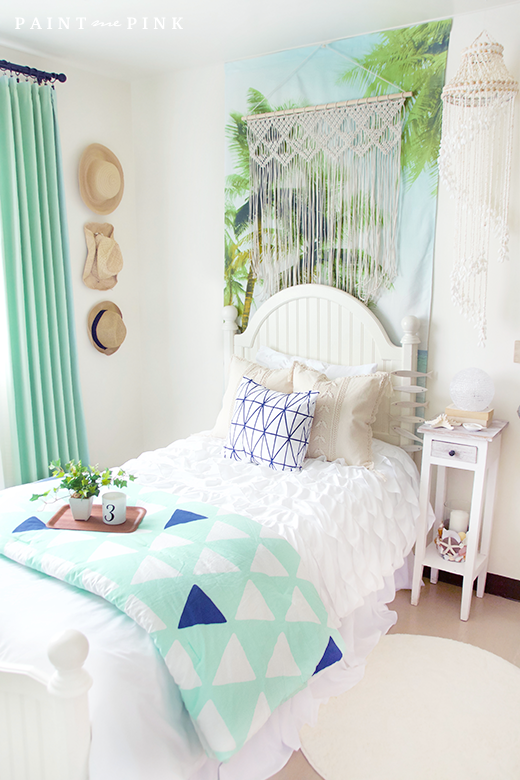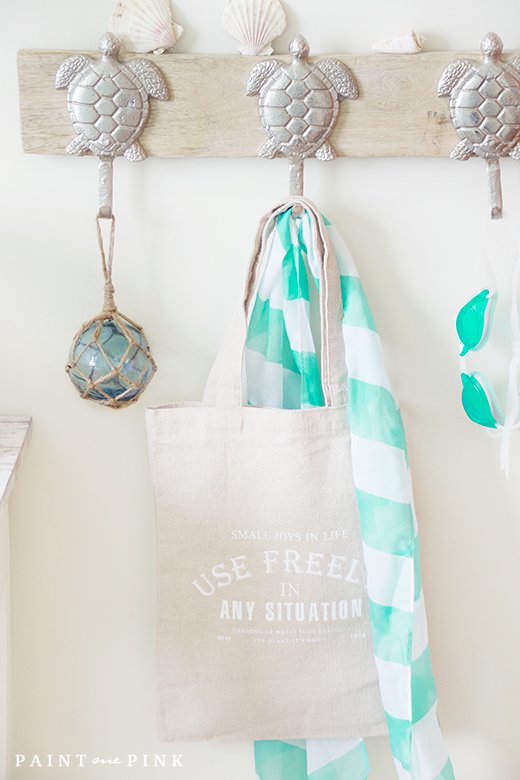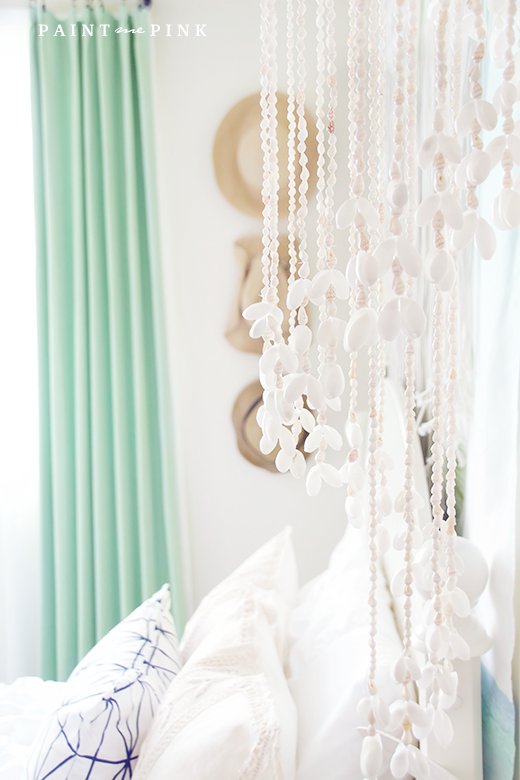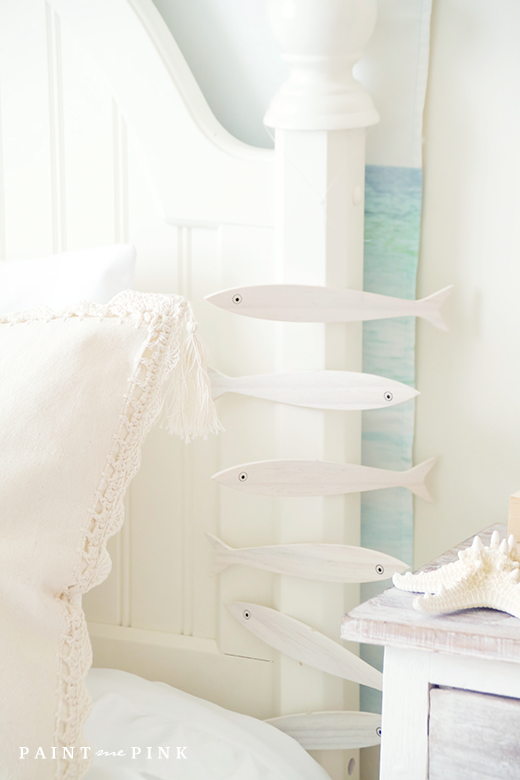 Small details like seashells on her nightstand and this darling fish garland bring more coastal fun to the room.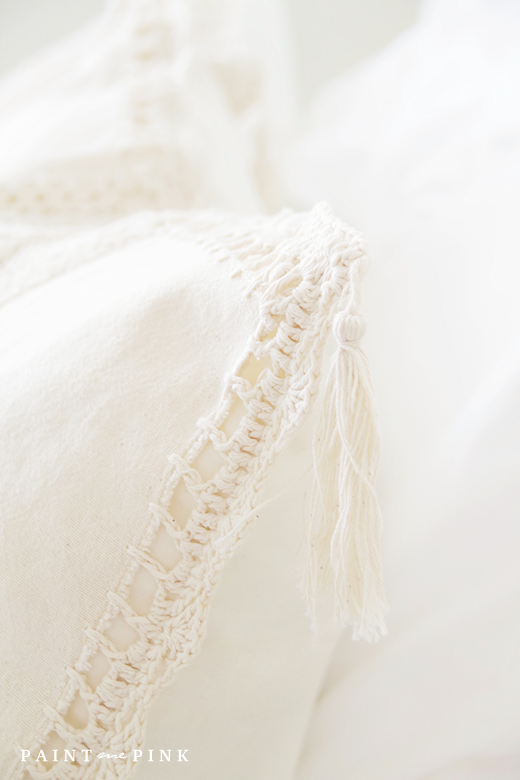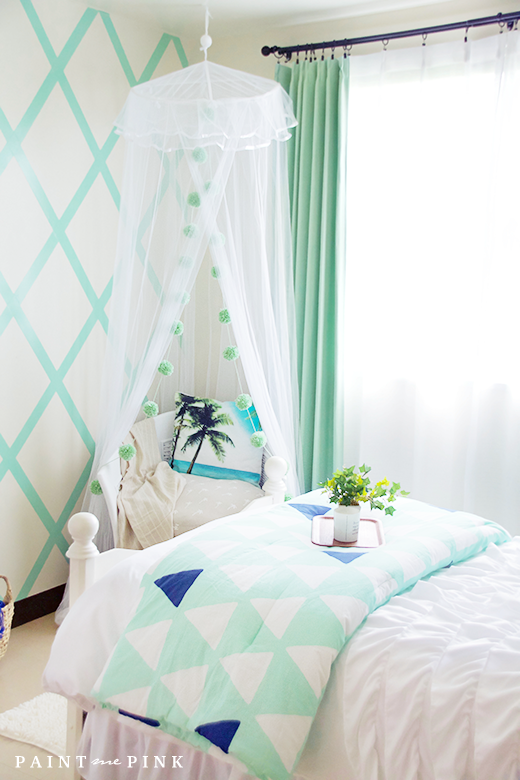 As for the reading nook she requested, I was a bit scared that I wasn't going to be able to pull it off because her room is so small! But I think this oversize chair and canopy did the trick for her own personal read space, she can snuggle up with a blanket and read away. What about that duct tape wall pattern I made! When they say I can't paint the walls.. well I get creative.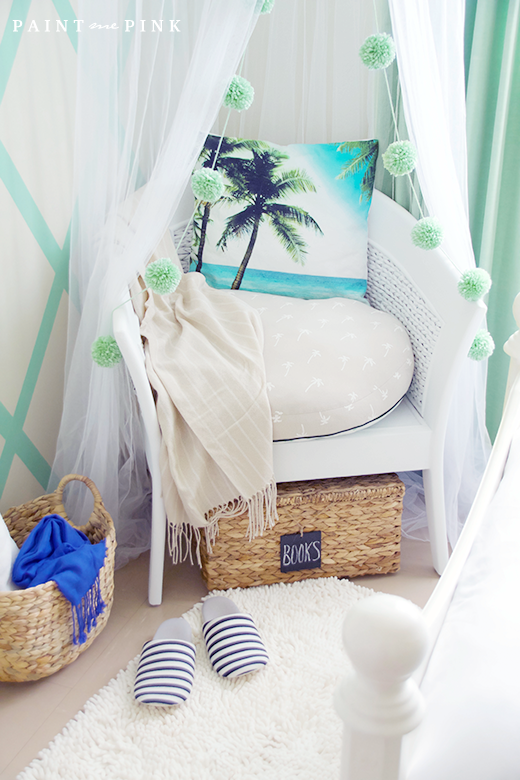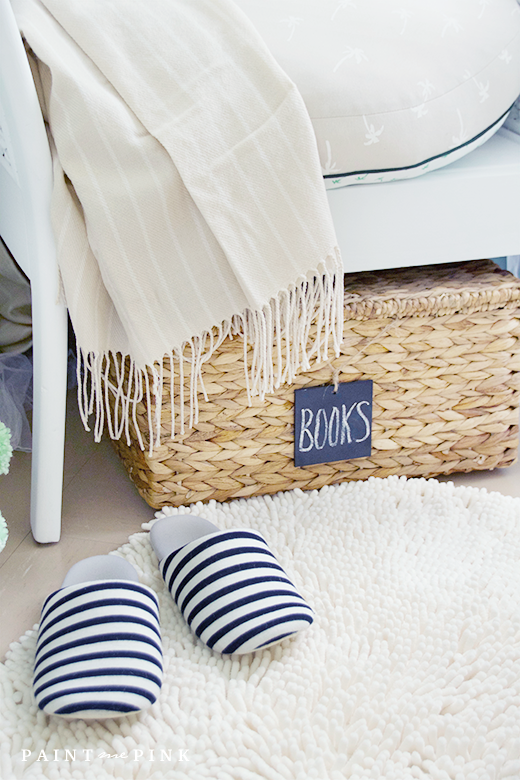 I added a basket underneath the chair to store her books and save more room for walking.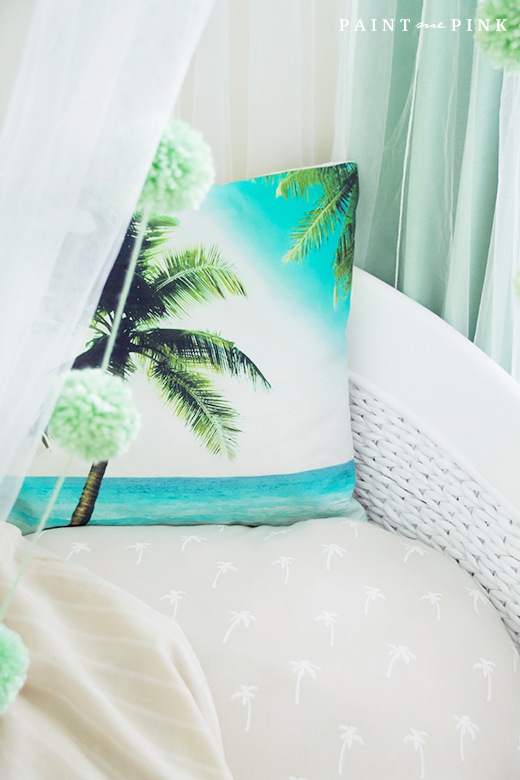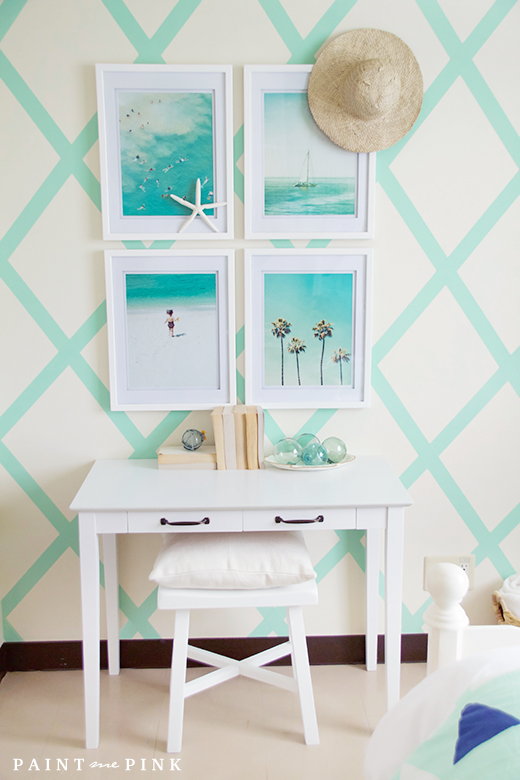 I kept her desk area very simply and clean. I decided not to add a regular desk chair because it would take up way to much space and ruin the flow of the room. Instead I repainted her old foot stool white to match the desk and added a fluffy pillow. This way she can push the stool underneath the desk and have plenty of room to walk around without having a regular size chair in the way.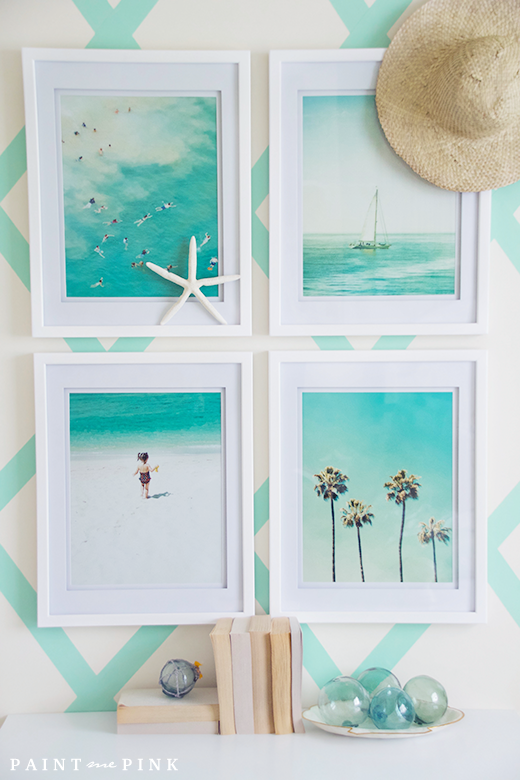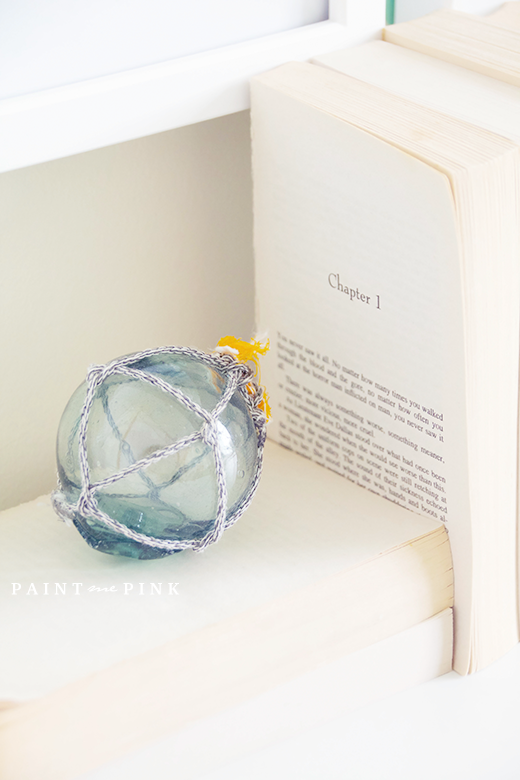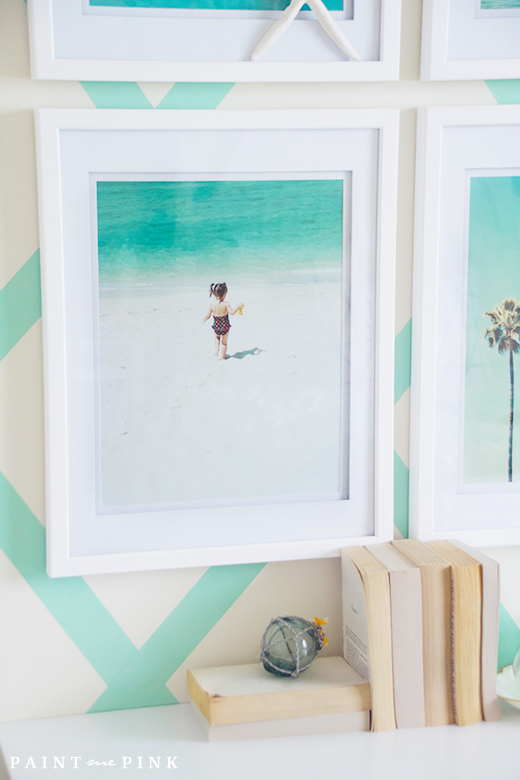 Juliet was only 3 years old in this picture and it's one of my favorites memories I have of her. I still remember the day when we first moved to Guam and instantly fell in love with it's gorgeous beaches! She used to carry her little yellow beach bucket and collect the smallest seashells and hermit crabs. I also added removable wallpaper to the closet doors to brighten the room up more.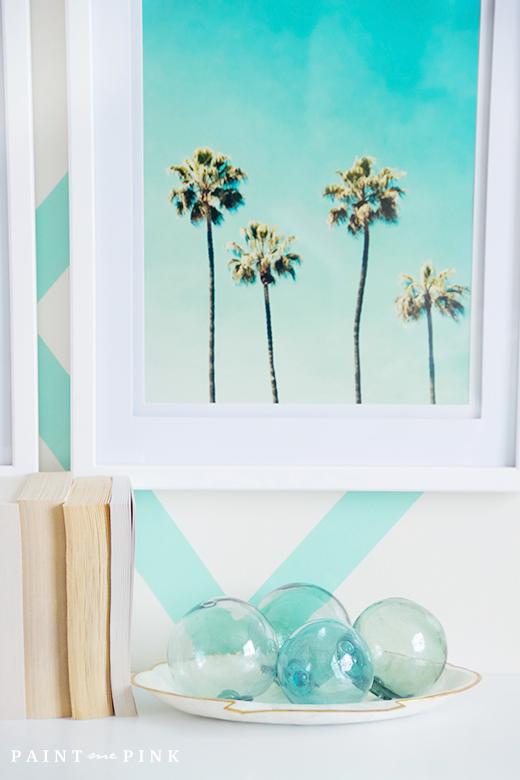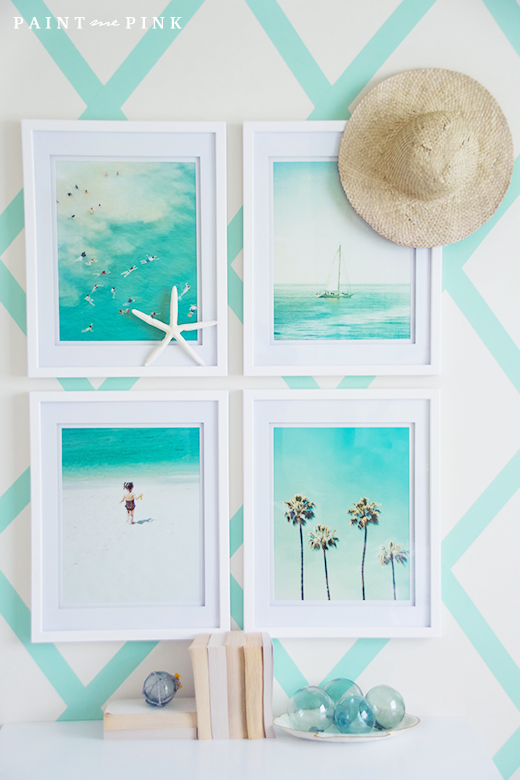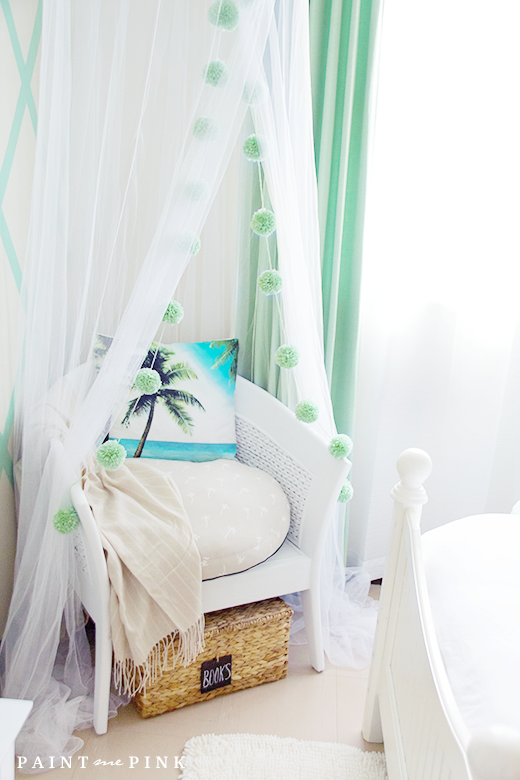 Here's the BEFORE AND AFTER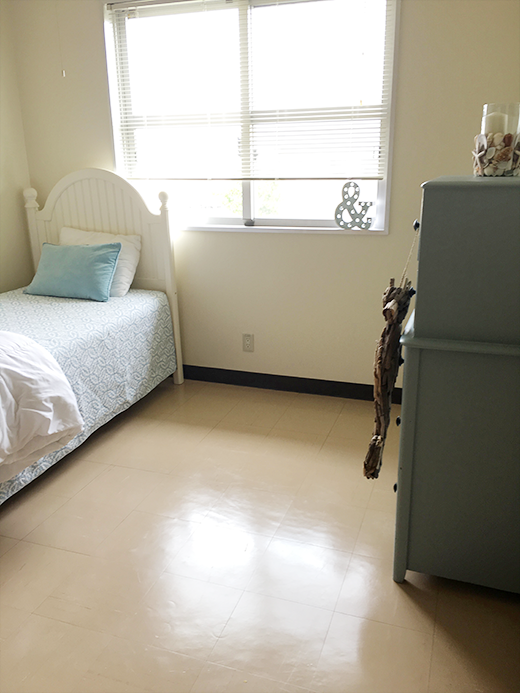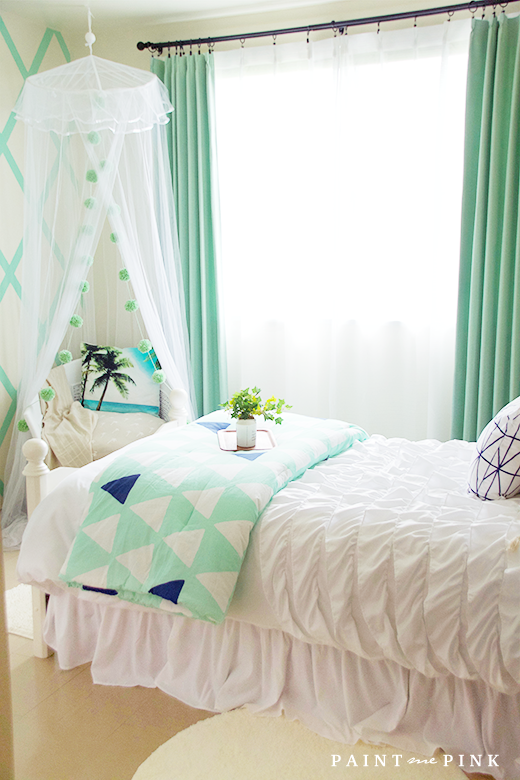 It's important to me to have my kids feel like they are home no matter where we move. Especially since we move every three years, having that foundation I feel that it helps them enjoy their new home more.
xoxo, -Norma