Homemade Strawberry Shortcake
This Spring weather has had me craving strawberries. Strawberries are my to go fruit, I serve them in breakfast fruit bowls, on top of pancakes, in a bowl of oatmeal and I even put them in my kids cereal… and that's only breakfast! Since strawberries have become part of our daily diet, I thought I would share with you my strawberry shortcake recipe. It's one of my favorites and easy to make. 
As a mother of three I love quick and easy desserts. Specially when all I have to do is buy store bought pound cake and whipped cream. But nothing is better than Homemade. And my favorite part about this Homemade Strawberry Shortcake, is that it can easily be used as a dessert OR a breakfast!
I hope you get a chance to make these. You won't regret it!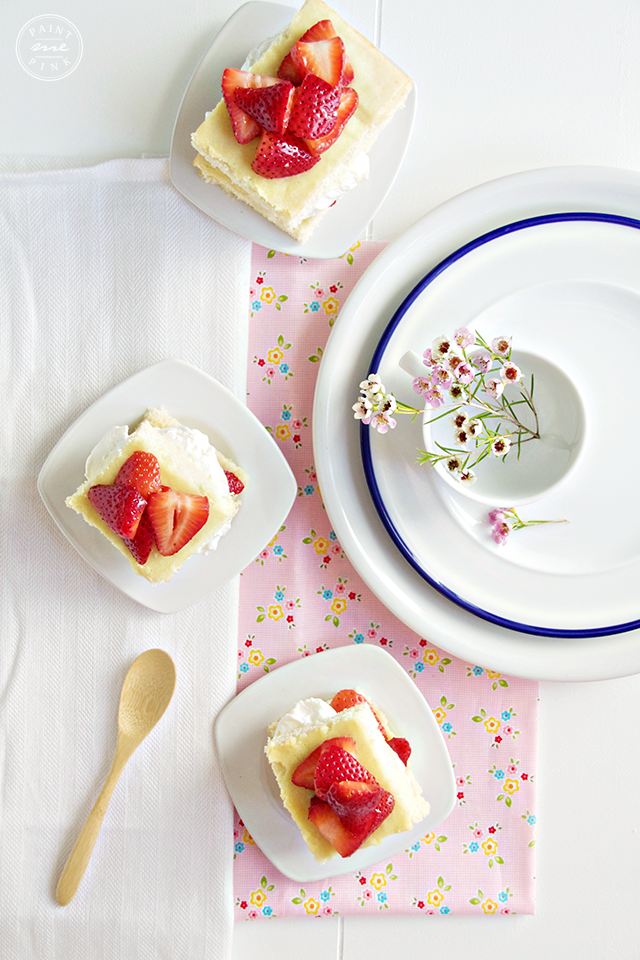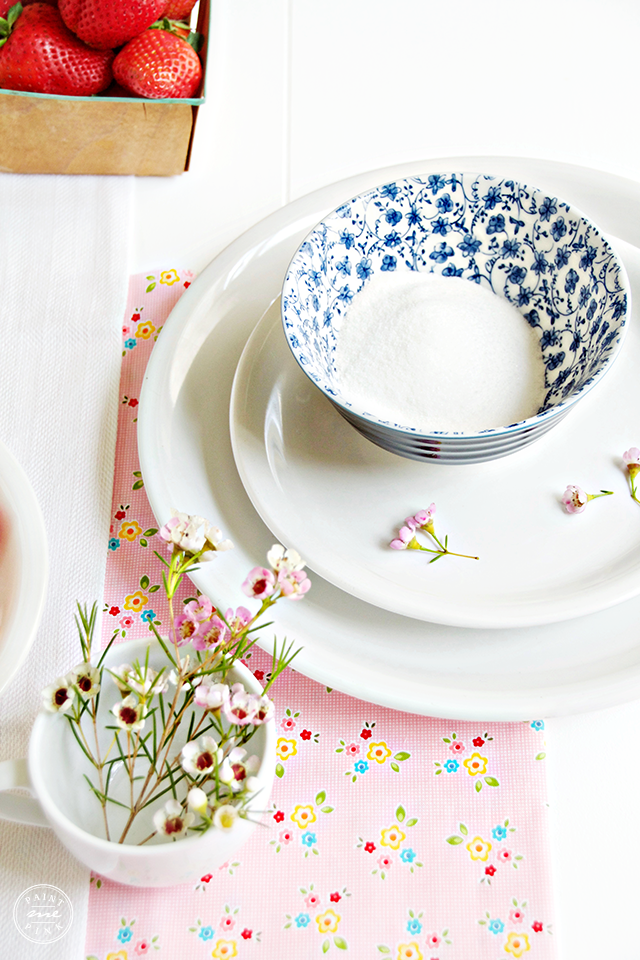 Strawberry Shortcake Recipe
Ingredients:
Strawberries:
4-6 cups sliced strawberries
2 tablespoons granulated sugar
1/8 teaspoon vanilla extract
Shortcake: 
1/2 cup granulated sugar
6 tablespoons butter, softened
1 large egg
1 teaspoon vanilla extract
1 1/2 cups all-purpose flour
2 teaspoons baking powder
1/8 teaspoon salt
1/2 cup milk
Whipped Cream: 
2 cups heavy whipping cream
3 tablespoons powdered sugar
1/2 teaspoon vanilla extract
Directions:
Preheat the oven to 350°. Lightly grease a 8- or 9-inch square baking pan with cooking spray and set aside.
Cut strawberries and combine them with the sugar and vanilla. Cover and refrigerate for at least 30 minutes.
For the shortcake: In a medium bowl cream together the sugar and butter for 1-2 minutes with mixer. Add the egg and vanilla.
In a separate bowl, whisk together flour, baking powder and salt.
Add 1/3 of the dry ingredients to the batter and mix. Pour half the milk and mix again. Then add another 1/3 of the dry ingredients and mix followed by the rest of the milk. Mix in the milk and add the remaining dry ingredients. Mix until batter is combined.
Spread the batter evenly in the prepared pan. Bake for 20 minutes, until a toothpick inserted in the middle comes out clean (don't over bake or it will be dry).
Let the shortcake cool.
For the whipped cream, beat the cream, powdered sugar and vanilla together until it's thick, creamy and smooth. Refrigerate until ready to use.
Cut shortcake into squares, place the bottom half on a plate, top with a spoonful of strawberries and whipped cream. Top with the other half of shortcake and top with additional strawberries and whipped cream.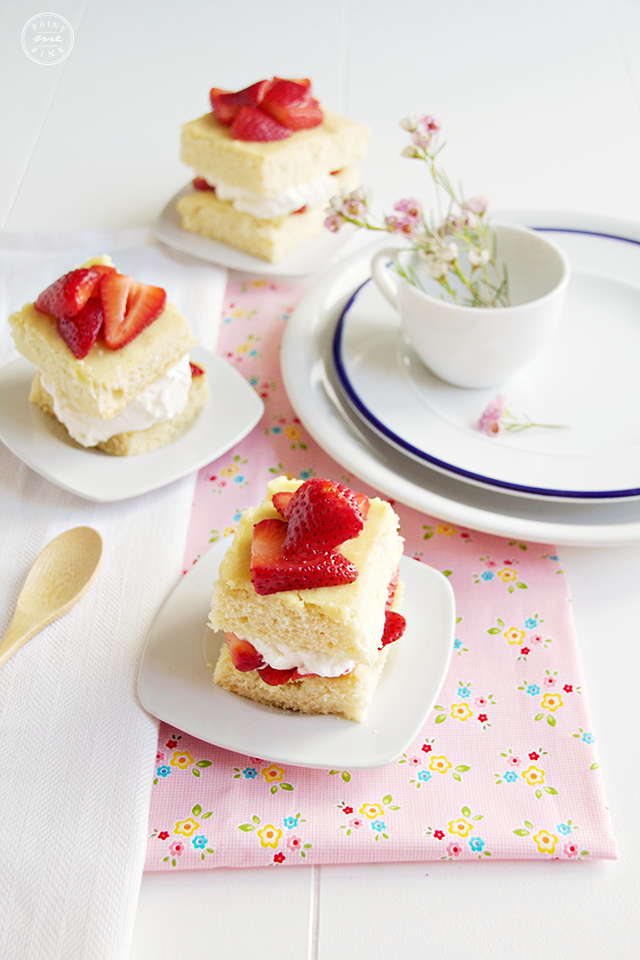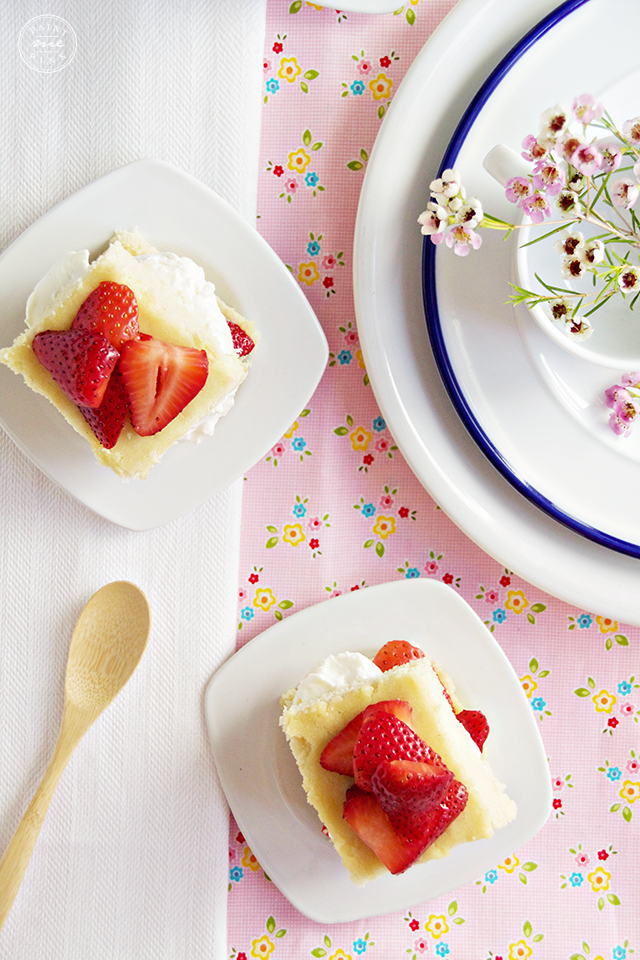 xoxo,
Norma