I can't believe it's September already! Summer was fun and full of sunny days on the beach and now our kids are back in school so its time to get back to those familiar school time routines. Early mornings and late nights are tiring me out! I get so excited though because now we get to wind down and get cozy! When I think of Fall I think of homemade soups, stews, loaves of bread, and of course everything pumpkin. That brings me to this delicious recipe! I've been dying to make Beef Bourguignon for the longest time, but never have, how crazy is that? There are so many well-known recipes that we know of but don't make! So, today I finally made Beef Bourguignon, and let me tell you it's the best stew ever!! Why did I wait this long to make it?!
If you are ready for Fall this Beef Bourguignon is hearty and tender with loads of flavor! Definitely sets the mood for those calm, cool, evenings.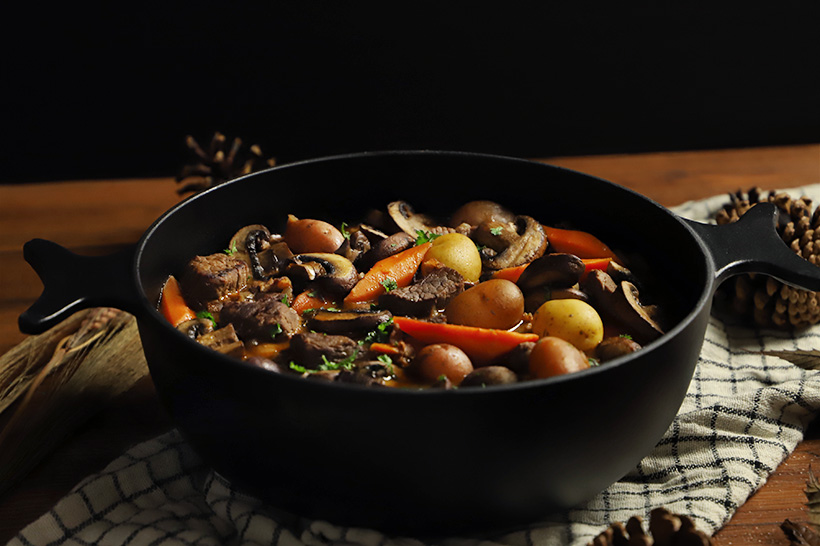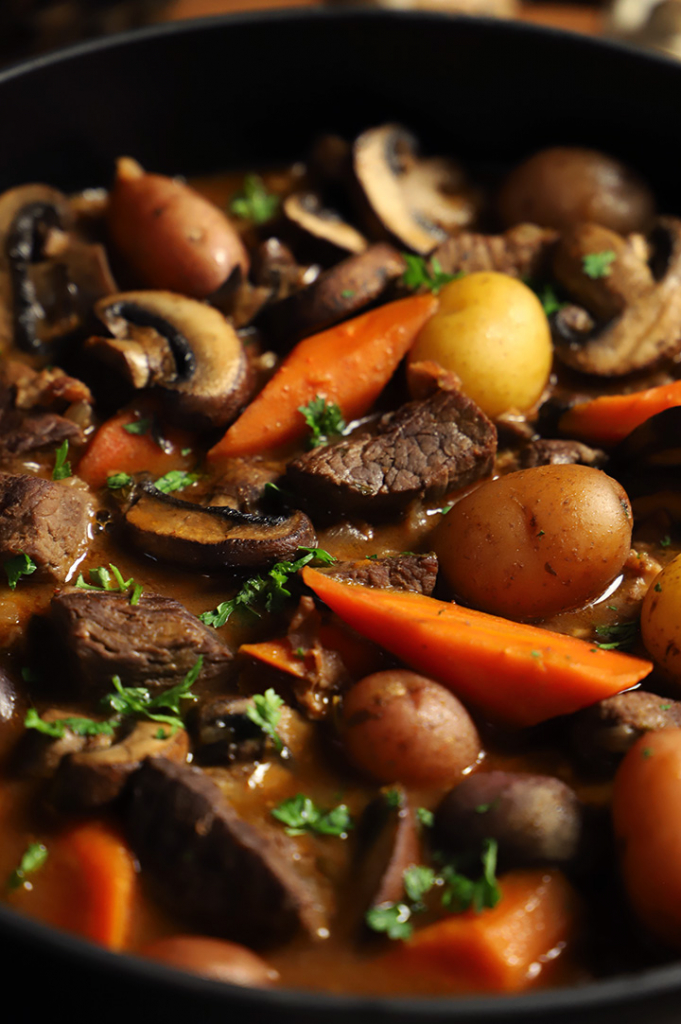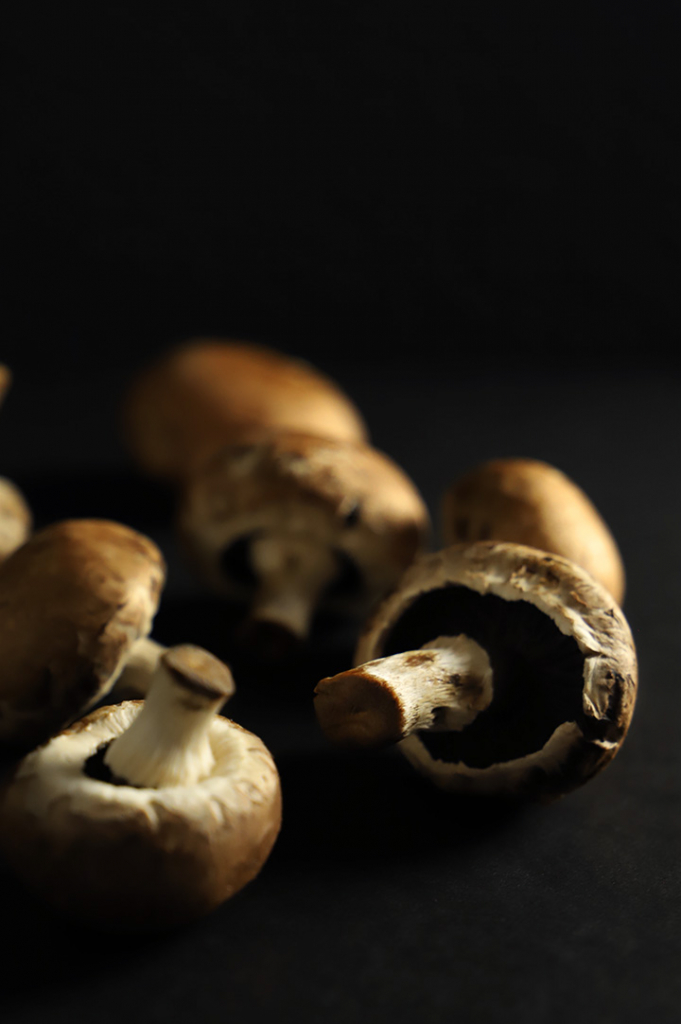 I truly love being in the kitchen. I love searing, braising, stewing, steaming, baking, roasting, broiling, and grilling. There's something about being in the kitchen and creating meals for my family that makes me happy. Sometimes it may not go so smoothly but I love the journey of creating something delicious.
"A recipe has no soul. You as the cook, must bring soul to the recipe." -Thomas Keller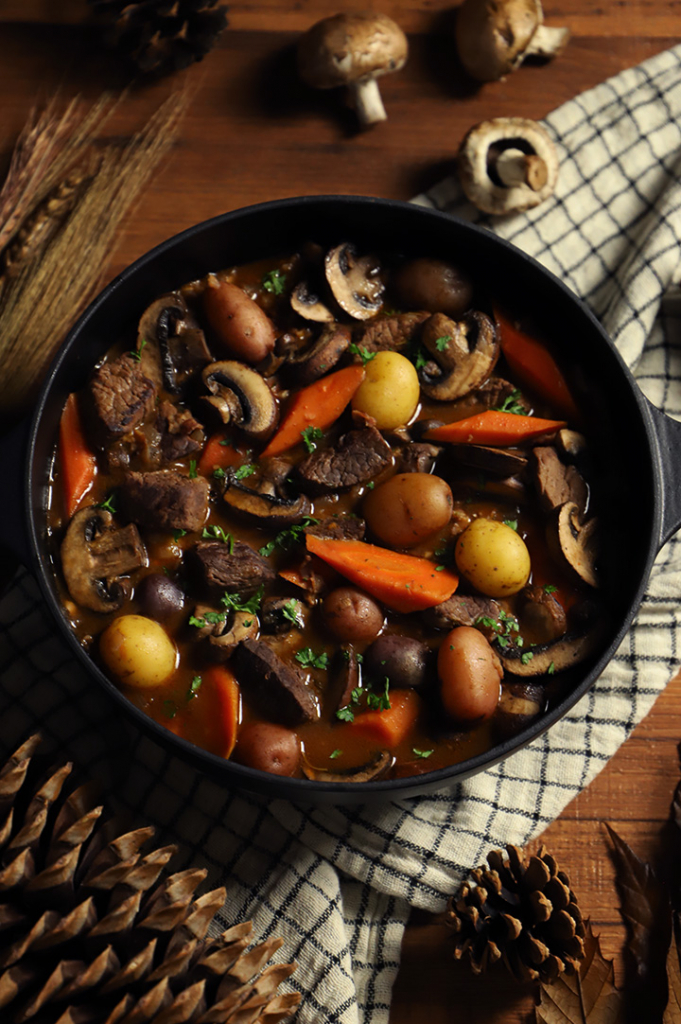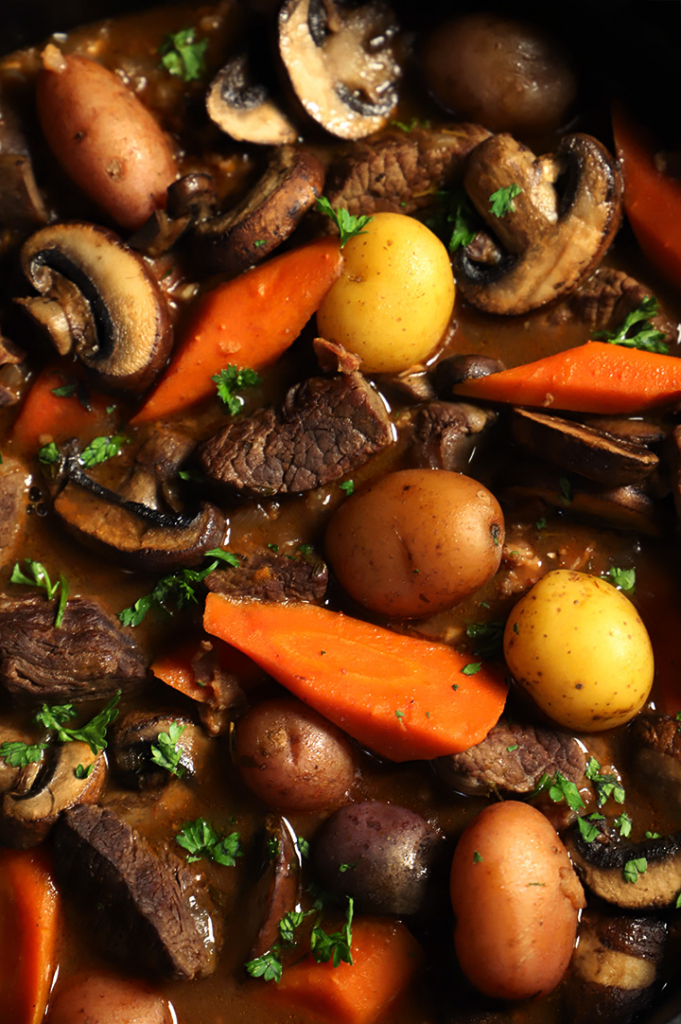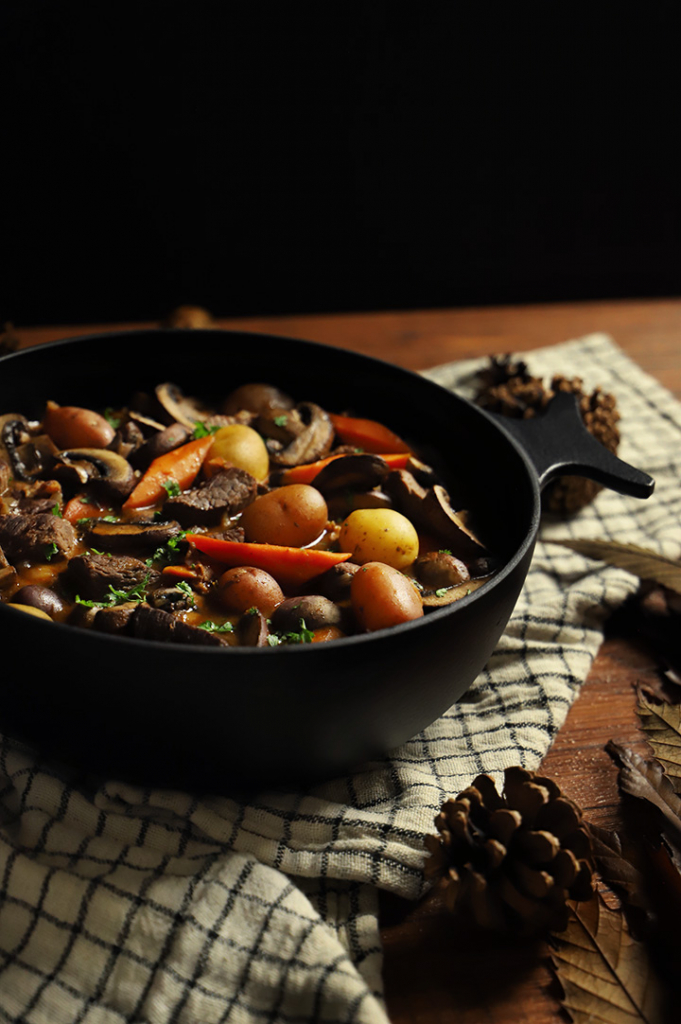 Ingredients:
6 Slices of Bacon: finely chopped
3 Tablespoon Olive Oil
3 lbs Beef Chuck: boneless cut into 2-inch chunks
3 Carrots: peeled, cut into thick slices
1 small Yellow Onion: diced
4 Garlic Cloves: finely minced
Baby potatoes: wash and clean
2 cups Red Wine 
3 cups Beef Stock
1 Tablespoon Tomato Paste
1 ¼ Teaspoon Kosher Salt
¼ Teaspoon Black Pepper
2 Tablespoons all-purpose flour
2 Bay Leaves
2 Tablespoons Unsalted Butter
8 oz Mushrooms: sliced
1 Tablespoon Parsley: finely chopped
Instructions:
Thoroughly dry the surface of the beef with paper towels. Cut into 2-inch thick cubes, then season with salt and pepper, set aside.

Heat a large dutch oven over medium heat. Add bacon and saute until crisp, about 6 to 7 minutes. Use a spoon to transfer the bacon to a paper towel-lined plate, reserving the fat in the pan.

Heat bacon grease over medium-high heat. Once the fat is hot, add beef to the pan in a single layer, work in two batches. Sear the beef on each side until browned, about 1 to 2 minutes per side, 6 to 8 minutes total. Transfer to the plate with the bacon. Repeat with remaining beef.

Turn heat down to medium and add the carrots, baby potatoes, onions, and garlic to the pan. Saute until the onions are lightly browned and tender, 10 minutes.

Add the tomato paste and saute for 30 seconds. Sprinkle in the flour, stir and cook for 1 minute. Slowly stir in the beef stock. Add in the wine, this will help the flour thicken the sauce. Add salt and pepper.

Add in the browned beef, bacon, bay leaves, and bring the liquid to a simmer for 5 minutes. Cover and carefully transfer the pot to the oven. Cook until the meat is very tender, about 1 ½ hours.

Meanwhile, prepare the mushrooms. Heat a large skillet over medium heat. Add the butter, once hot and bubbling add the mushrooms. Saute until tender and lightly browned, 5 minutes.

When the beef is done cooking, transfer the meat and vegetables to a medium bowl. Bring the sauce to a rapid simmer over medium heat. As the fat rises to the surface, use a spoon to skim off the excess fat. Reduce the sauce until it can lightly coat the back of a spoon, about 2 to 2 ½ cups, the sauce will thicken more as it cools. Taste and season with more salt and pepper as desired.

Return the meat, vegetables, and mushrooms to the pan, stir to warm. Garnish with chopped parsley.

Next time you have family or friends coming round to dinner I hope you get the chance to make this Beef Bourguignon! I'm sure it will bring out a few smiles around the table!

A huge thanks to Krista of The Happy Housie for hosting this wonderful Seasonal Simplicity Series! Make sure to check out more Fall recipes below!!

xo, Norma

Low-Carb Keto Blackberry Muffins at The Happy Housie
Goat Cheese Stuffed Figs at Finding Silver Pennies
Almond Twist Bread at Place of My Taste
Slow Cooker Apple Butter at Life is a Party

Puff Pastry Apple Tart at Modern Glam
Easy Pumpkin Dessert at Clean & Scentsible
Sweet Potato Casserole at She Gave it a Go
Easy Apple Spice Bread at Jennifer Maune

Easy Apple Muffins with Crumb Topping at The DIY Mommy
Rustic Mini Apple Galettes at Tatertots and Jello
Pumpkin Chocolate Cheesecake Bars at Maison de Cinq
Pumpkin Sheet Pan Pancakes at A Pretty Life in the Suburbs

Delicious Beef Bourguignon Recipe at Paint Me Pink
Hearty Autumnal Yam Soup at This is Simplicite
Apple Pie Chia Pudding at Cherished Bliss
Baked Brie with Blueberries and Bacon at This is Our Bliss
Salmon with Sherry and Tomato Cream Sauce at Willow Street Interiors