Halloween in Japan has been interesting, they are not into the whole decor aspect of it. In fact I don't think I've seen a Japanese home decorated with spooky things and pumpkins. So I've been having a hard time figuring out how to keep our halloween traditions and decorate our home with the limited halloween things we have. I'm a big believer on using what you have– a lot of people call this "shop your house". Which works great for me because I love decorating on a budget. We got rid of a lot of our holiday decor before moving and I brought very little halloween decor with us. I packed a few mercury glass pumpkins, black webs, tiny glittery spiders, and the darling black crows I bought at one of my local dollar stores a few years ago.
My options were very limited as you can see so I decided to use those cute little crows. This year I made my own pumpkins since the pumpkins here are SOOO expensive! Plus with all the humidity we've been having, they are just going to mold quickly. Now, I do love decorating with traditional Fall colors and it's been extremely difficult for me to decorate around our coastal decor without using traditional orange colors. I kept asking myself– should I decorate using a coastal halloween theme? Should I add orange pumpkins? Or should I go full on traditional and forget the blue color scheme? I wanted to incorporate halloween in our home without making it look to beachy but at the same time keeping the coastal vibe too… does that make sense?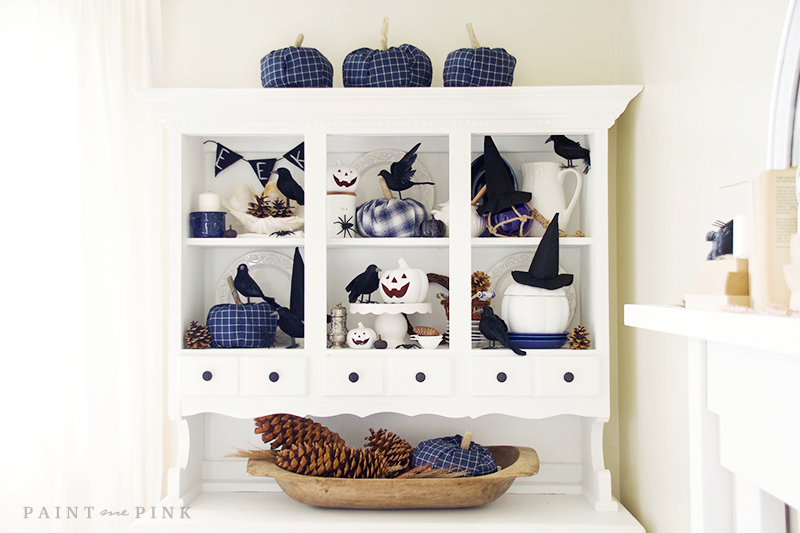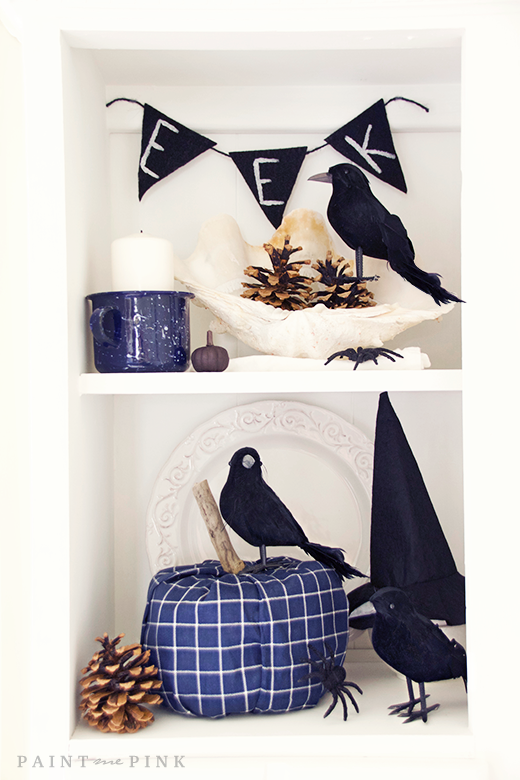 The fun part about "shop your home" when decorating is the fact that you don't have to spend much money buying new decor. Since I already had my Fall hutch decorated I simply added a few extra things to make it more halloween ready.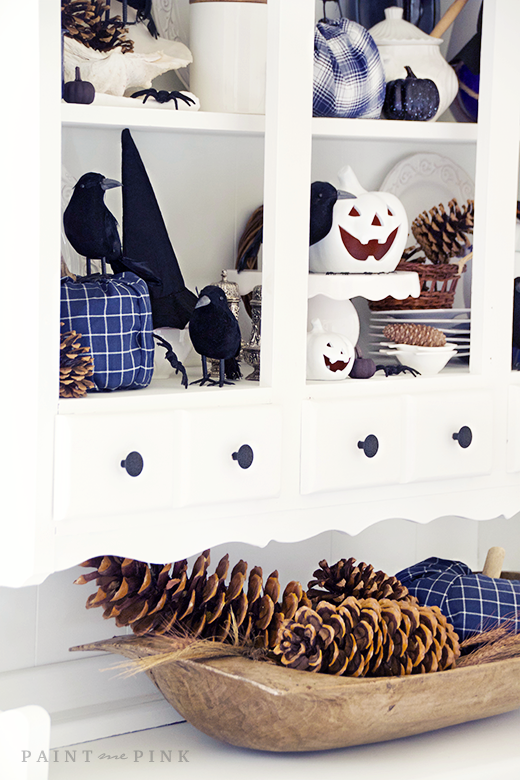 I kept everything clean and simple and decided to stick with the dark blues. I wanted the black crows to be the main focal point and I decorated around them.
I found these darling little witch hats at our local Daiso store (which is a Japanese dollar store). The hats were attached to a pumpkin banner and I simply cut the hats off.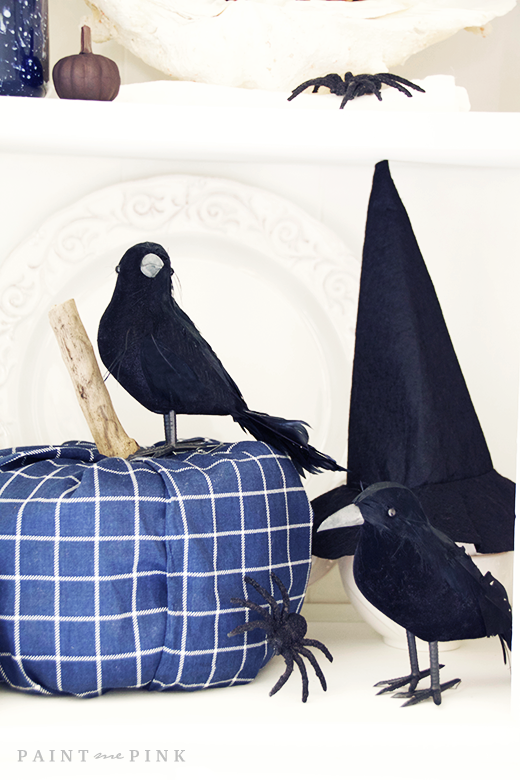 These little pumpkins were also from the Daiso store and I spray painted them white! I love jack-o-lanterns and they are a must have in our home during halloween.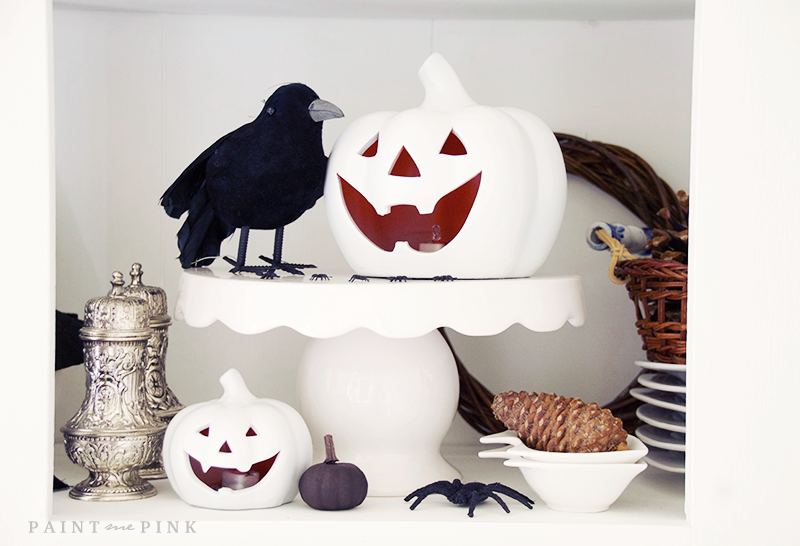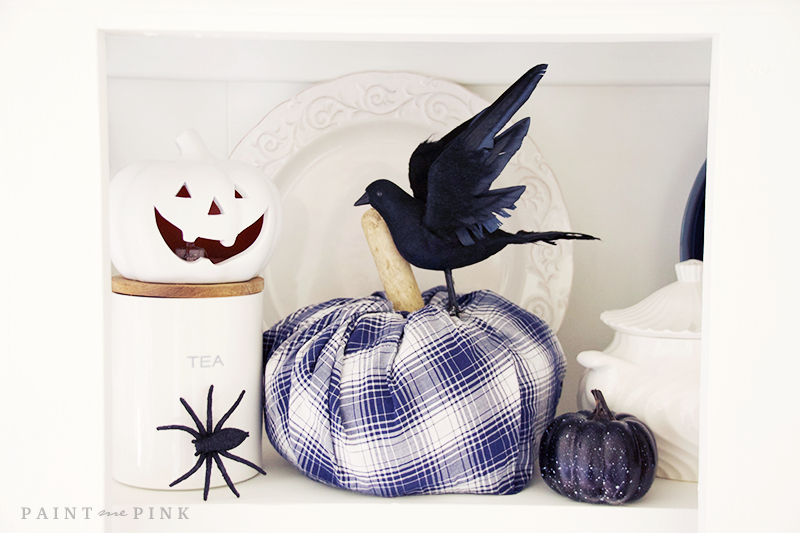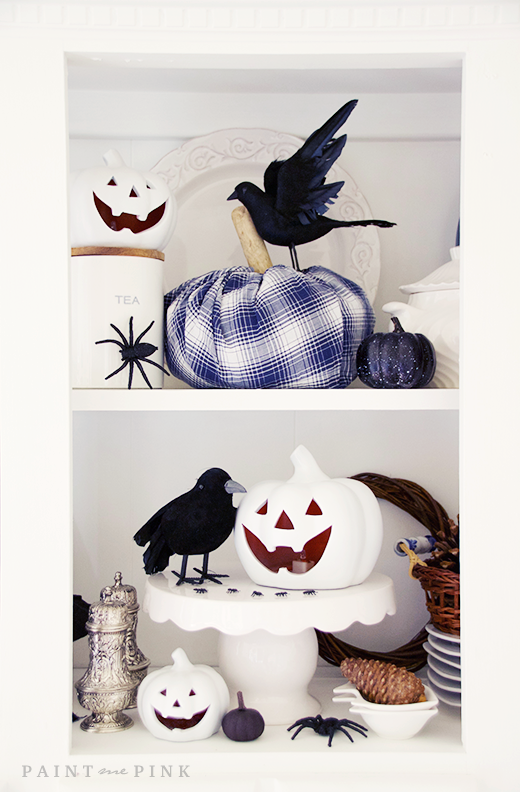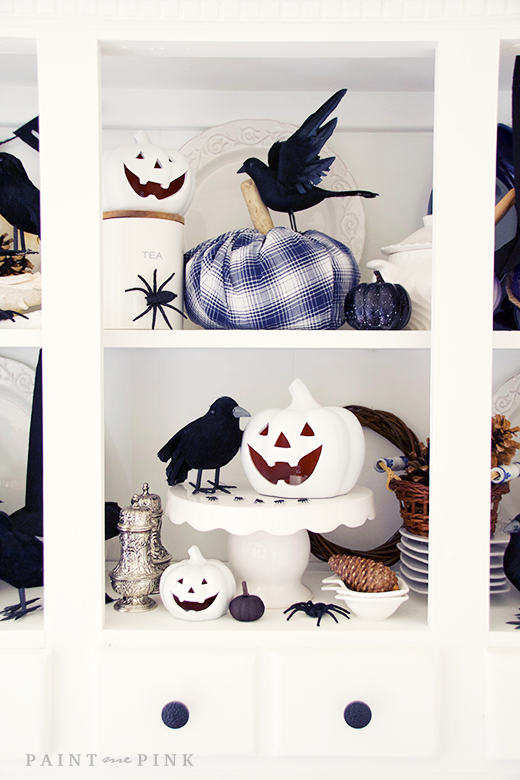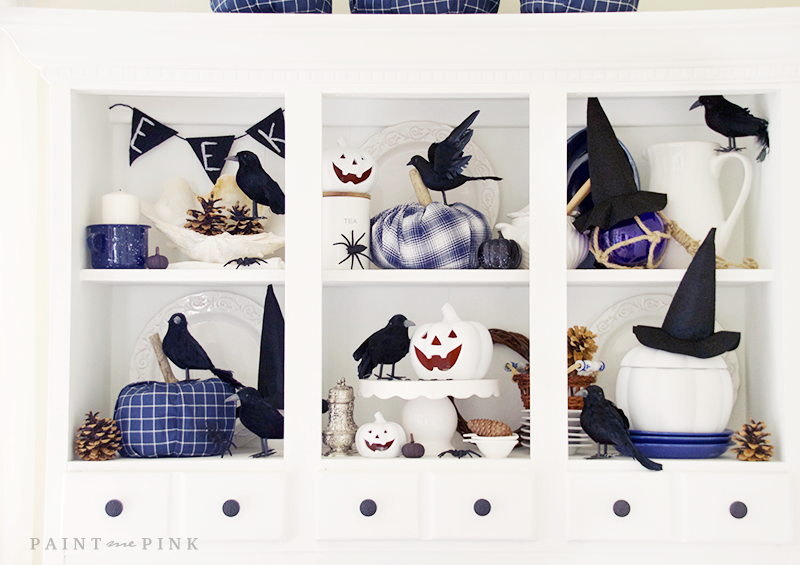 If you are looking for more Halloween inspiration check out the rest of the creative blog hop line-up below! I hope you enjoyed my simply halloween hutch decor and I wish everyone a Happy Halloween!
xoxo,
Norma
Welcome to our monthly Creative Blog Hop!
This month it's all about Halloween/Fall Projects where you'll find lots of inspiration to keep you DIYing for months!
Meet your hosts
Tammy @ Hey Fitzy | Mary @ The Boondocks Blog
Janine @ Happy Happy Nester | Carolann @ Sassy Townhouse Living
Norma @ Paint Me Pink | Sarah @ Creative Ramblings
Tara @ Lehman Lane | Michelle @ Our Crafty Mom
Sam @ Raggedy Bits | Amanda @ Life On The Bay Bush
Leanna @ Faeries and Fauna | Ashly @ Modern Glam
Katrin @ KreativK | Jodie & Julie @ The Design Twins
Kellie @ Gratefully Vintage
Grab some Halloween/Fall Inspiration