This year I wanted to incorporate more blue hues into our dining area. At first I was a bit nervous about it and wasn't sure if I would like it because I just love the traditional rustic orange colors during Fall.
Before I get started if you are stopping by from Emily's blog The Wicker House, welcome! And a big Thank You to Krista from The Happy Housie and April from House By Hoff for hosting these lovely Seasonal Simplicity Home Tours! Don't forget to check the week-long Fall inspirational schedule at the end of this post.
Let's get started! Last year around this time we were busy packing and throwing away things trying to get ready for our overseas move to Japan. I missed out on decorating for the holidays, so I'm ready to decorate this year! We didn't bring much fall decor with us and I got rid of all my orange accents including my diy jack-o-lantern jars! I know, I know.. I had no choice we were already over the weight limit and I figured I could always make them again. I did bring my pinecones though! My husband thought I was crazy when I told him that we were taking all the pinecones to Japan. I'm so glad we brought them because I haven't seen pinecones anywhere… who's crazy now eh? heheh
There were so many things I wanted to do this year since we missed out last year due to the move, but I've been so busy and my time decorating has been limited. So I decided to go simple. I also wanted to bring in more blue hues into our dining area using fabric pumpkins. I found out that where we live stores won't carry pumpkins until the end of October to November so I improvised with diy fabric pumpkins and and plastic pumpkins from our local Daiso (which is a Japanese dollar store).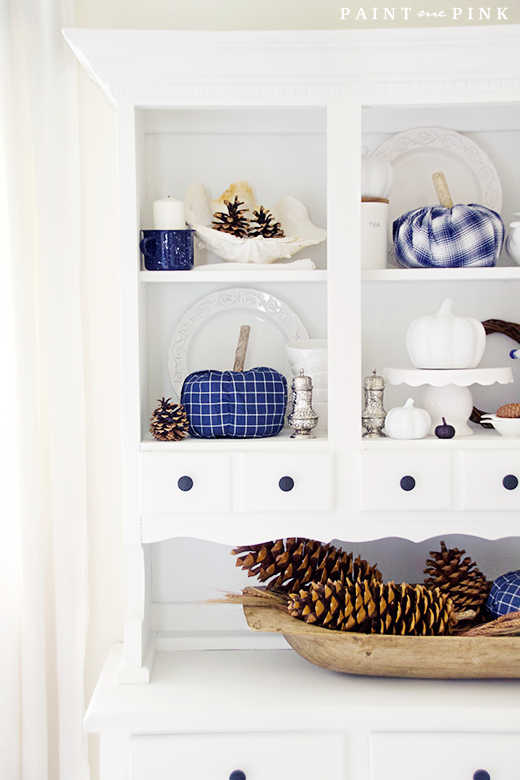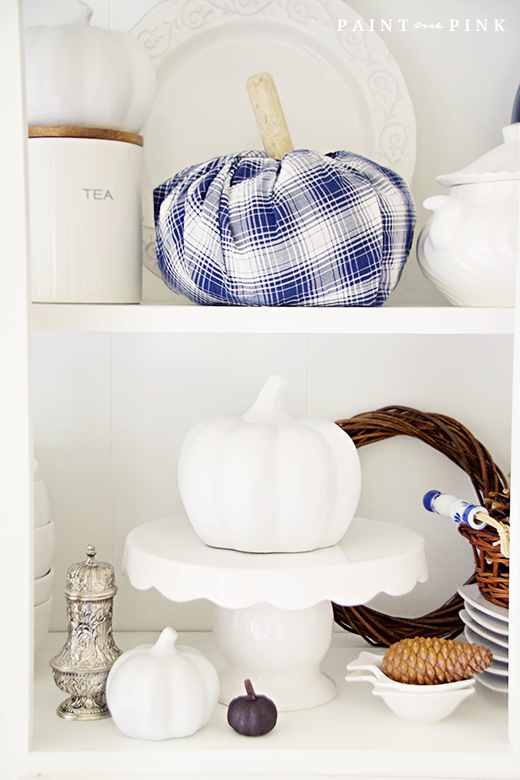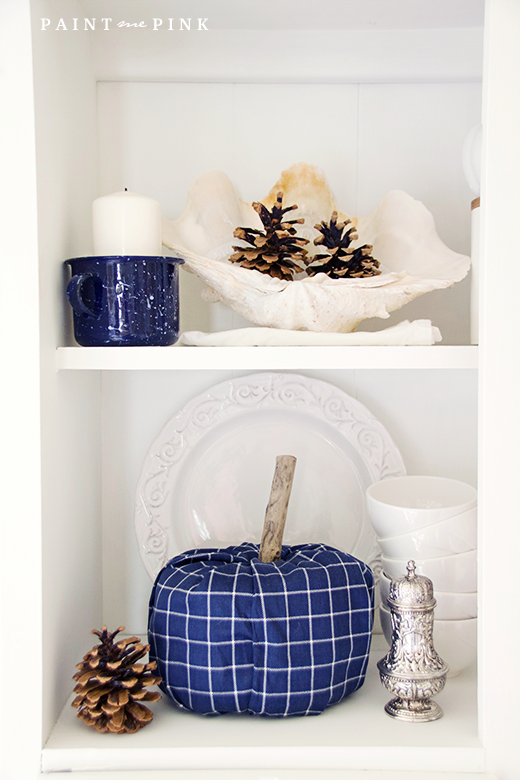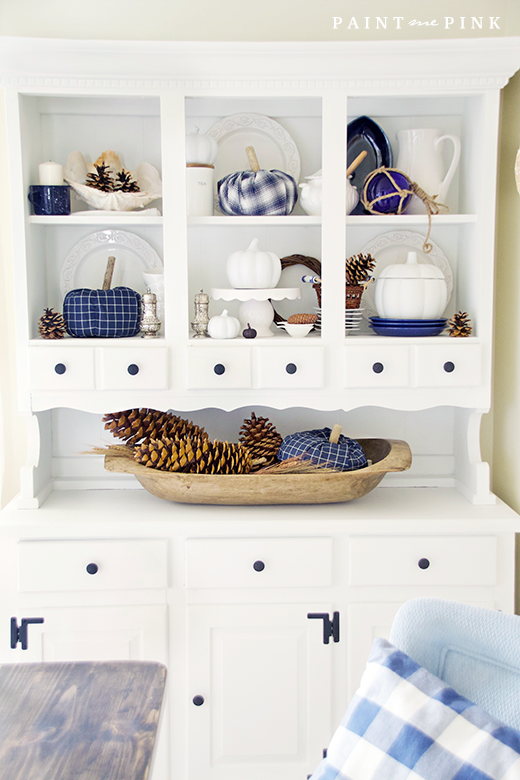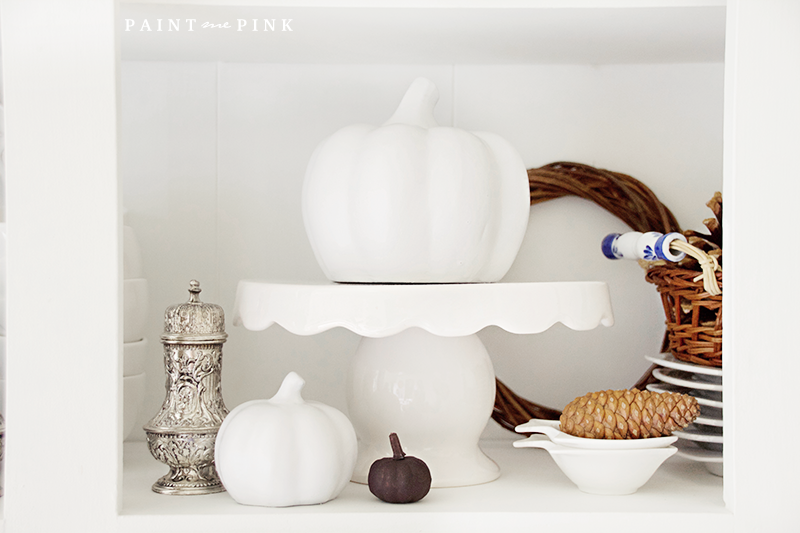 I made the fabric pumpkins using toilet paper and bedsheets! Yes, bedsheets! The fabric here is so expensive so I had to think of something thing that I could use without spending a lot of money but yet get a good amount of fabric to wrap around and create a pumpkin.
I also found these dollar store pumpkins and simply painted them white and a few little brown ones. I didn't want to go over board with pumpkins this year so I kept it clean and simple.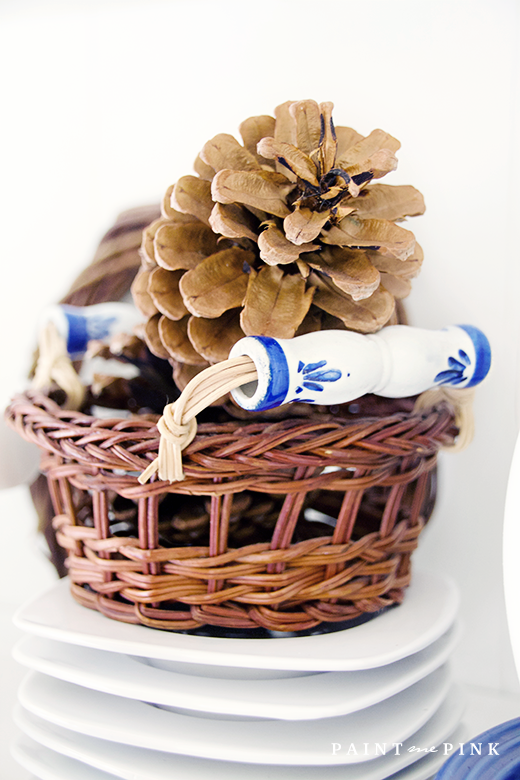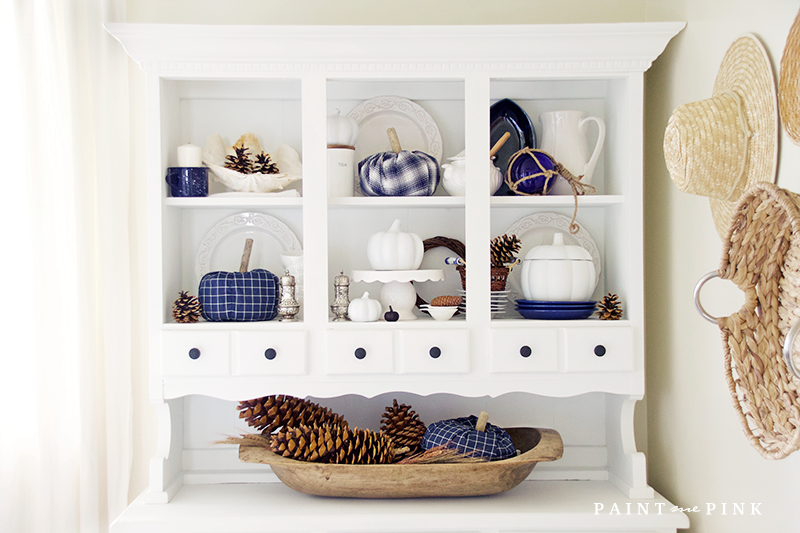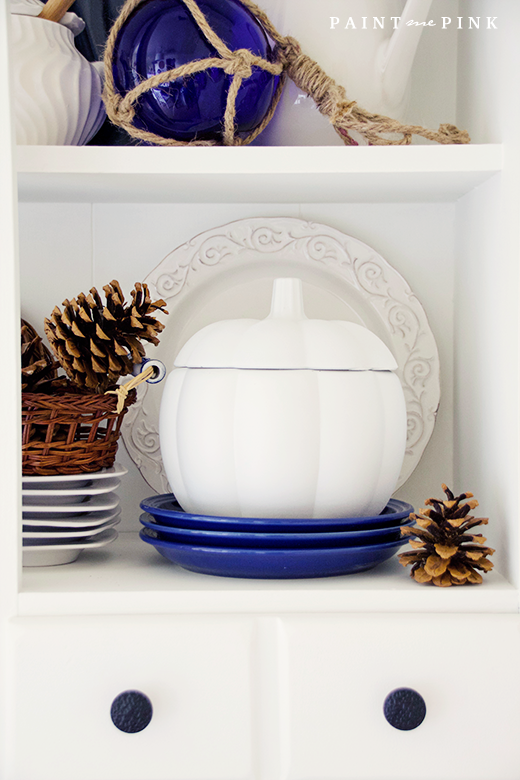 I kept a few coastal items like the ocean blue buoyant glass float with rope netting and this gorgeous foot long calm shell! This clam shell in our newest addition to our coastal decor and it's so much prettier in person. A sweet friend of mine who is a diving instructor here, finds such sweet treasure like this!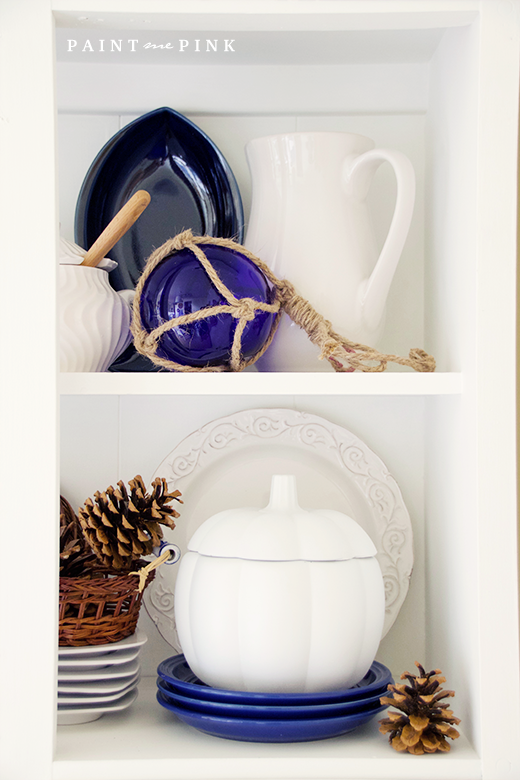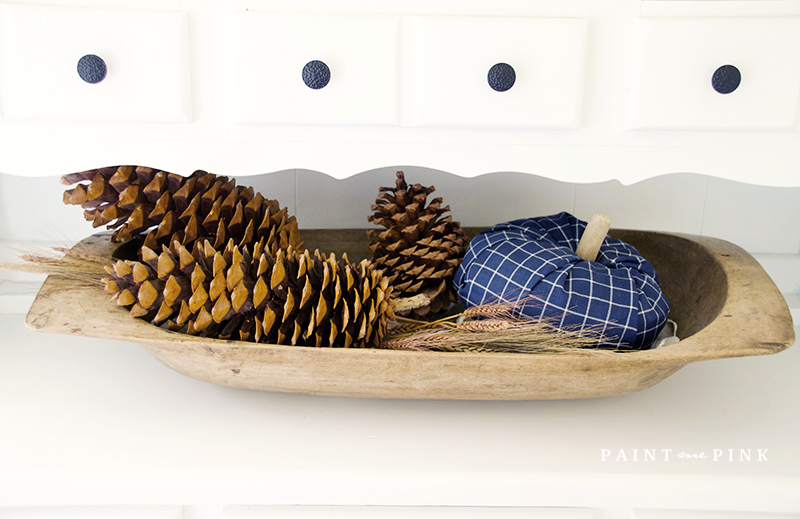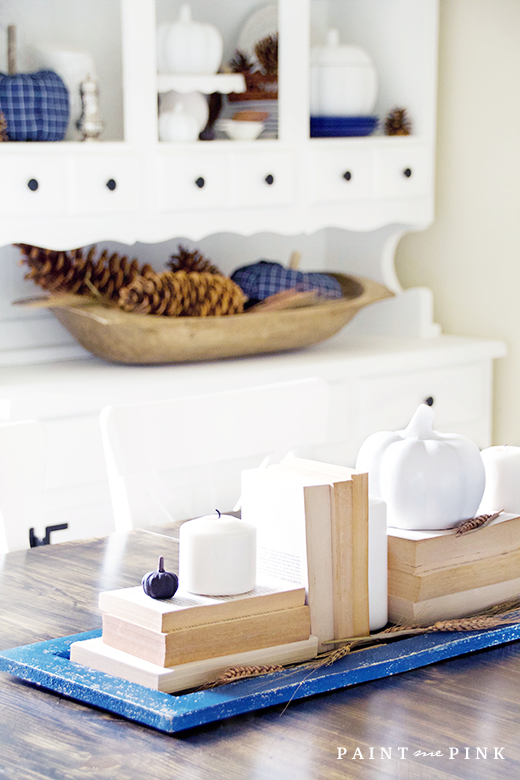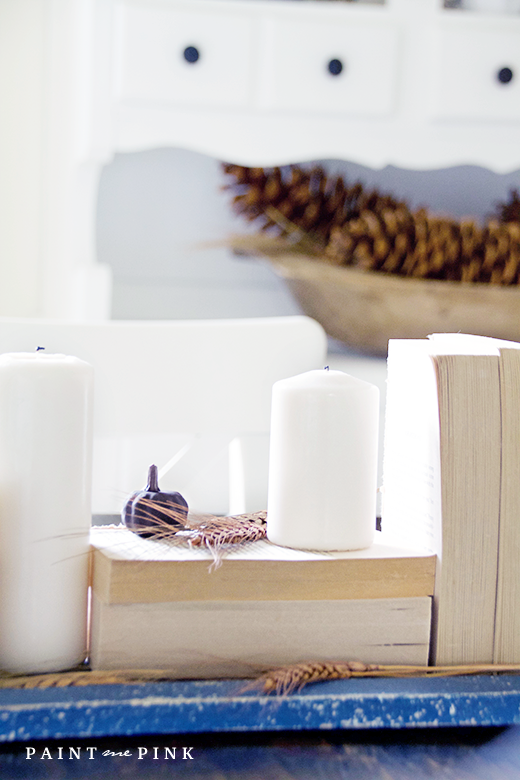 Thrift store paper books add a rustic charm to our table and it wouldn't be complete without candles.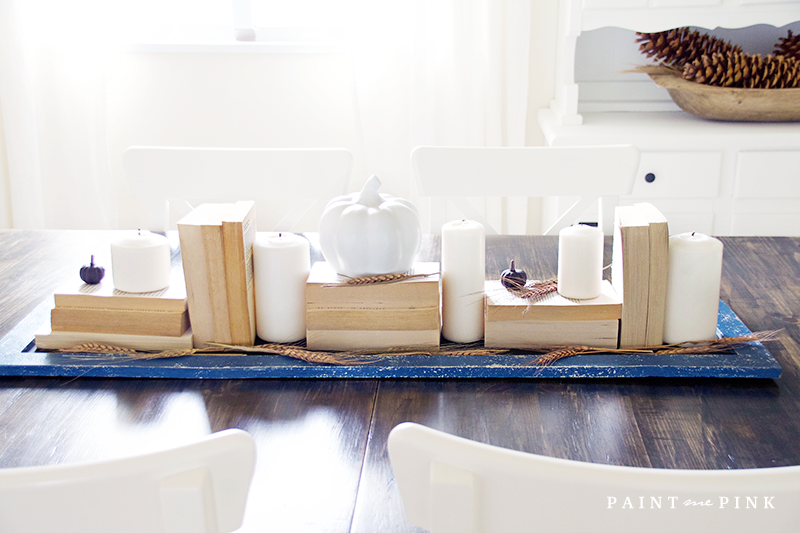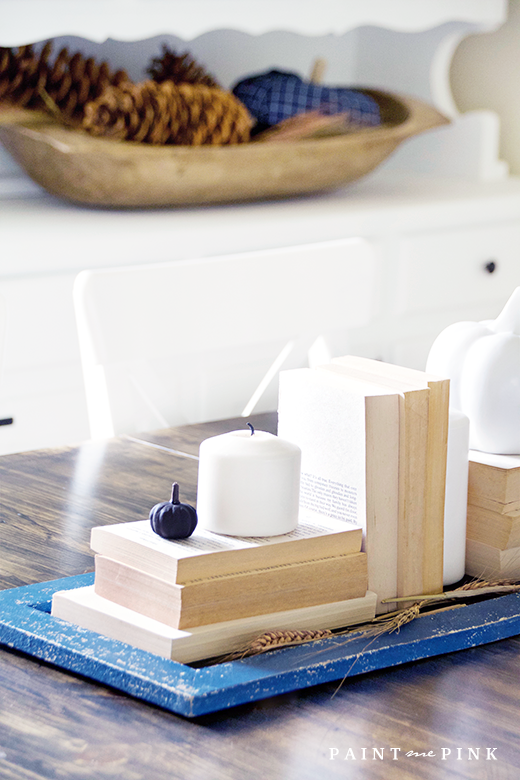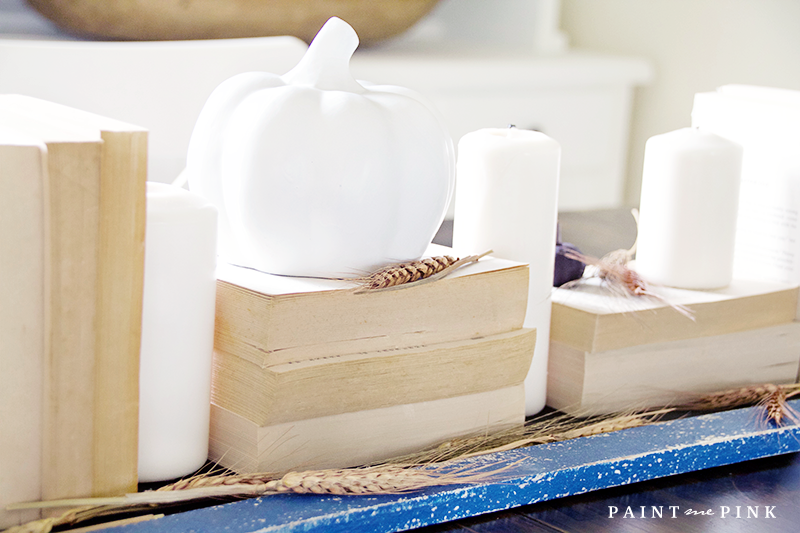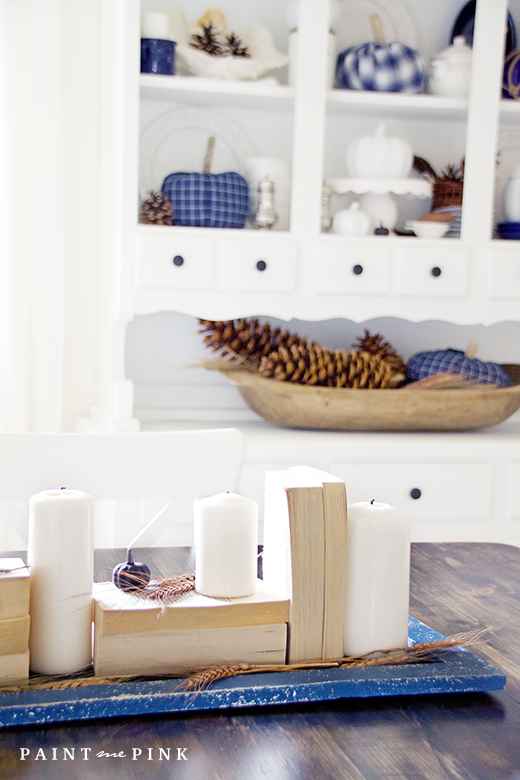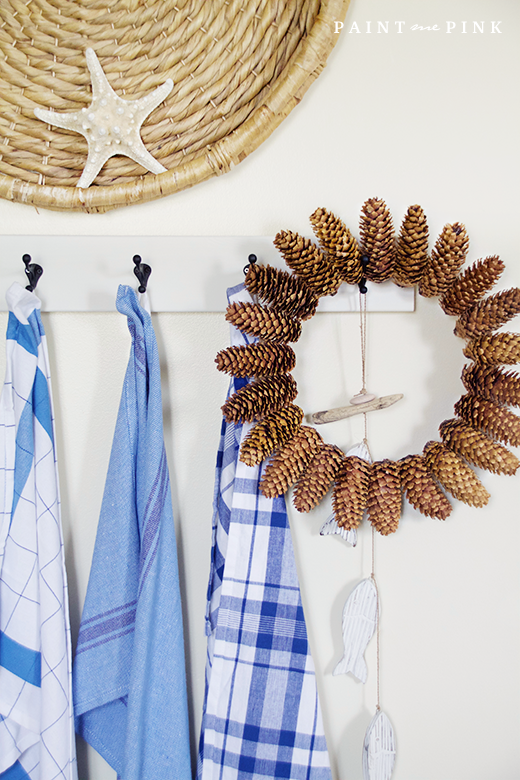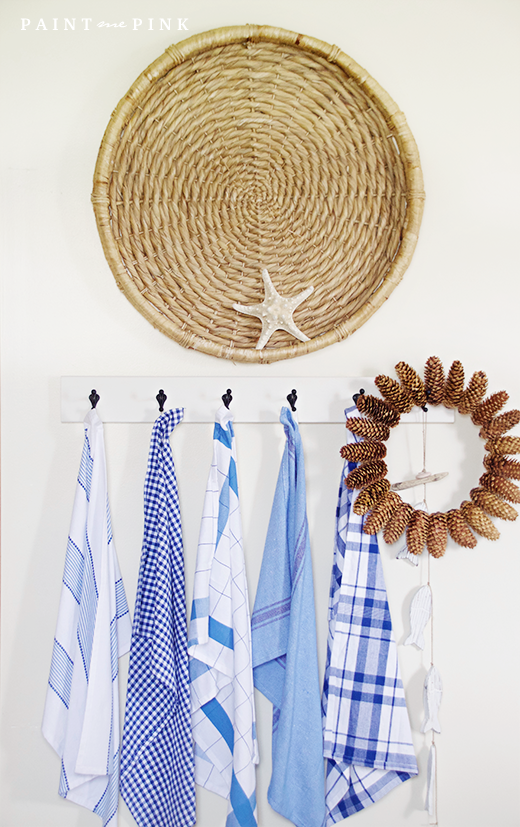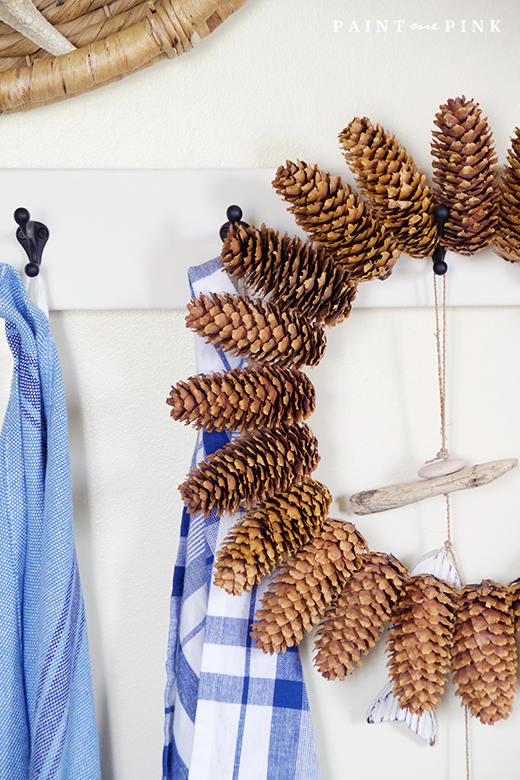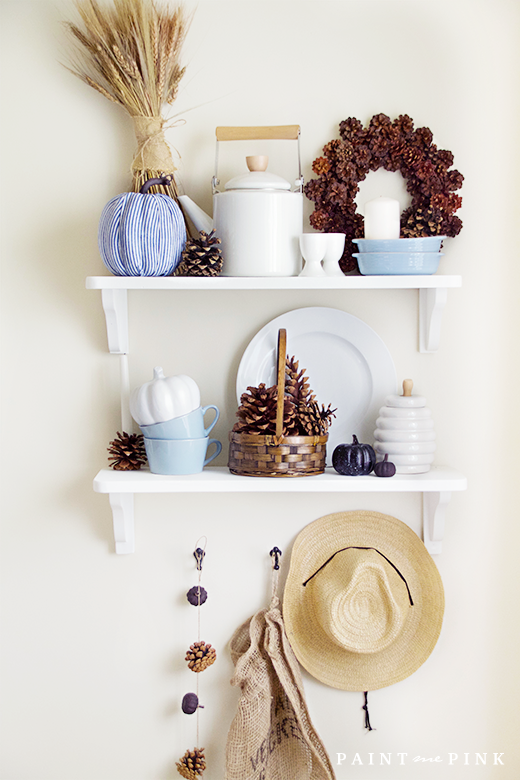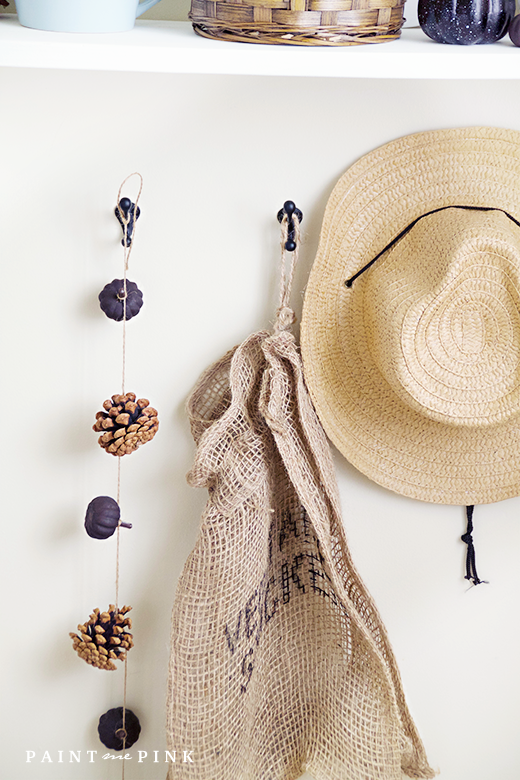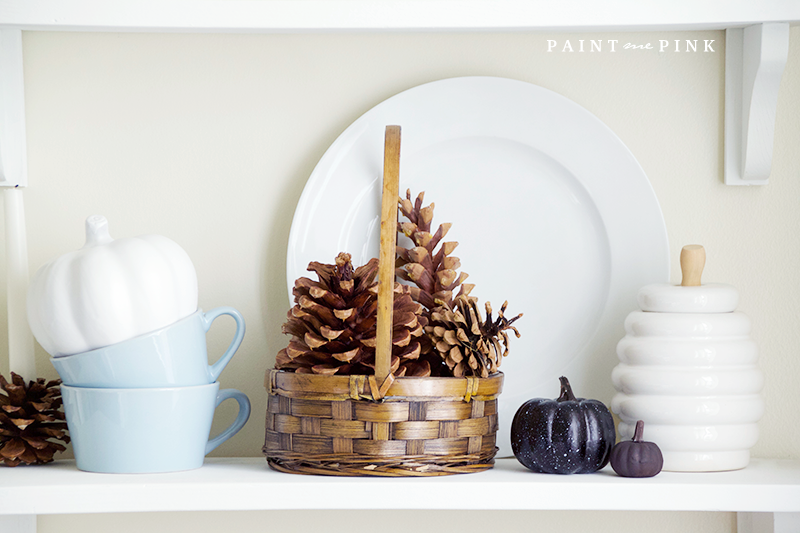 Even though it doesn't feel quite like fall yet around here, coming home to pumpkin spice scented candles and seeing pinecones and pumpkins through out our home it sure does set the mood.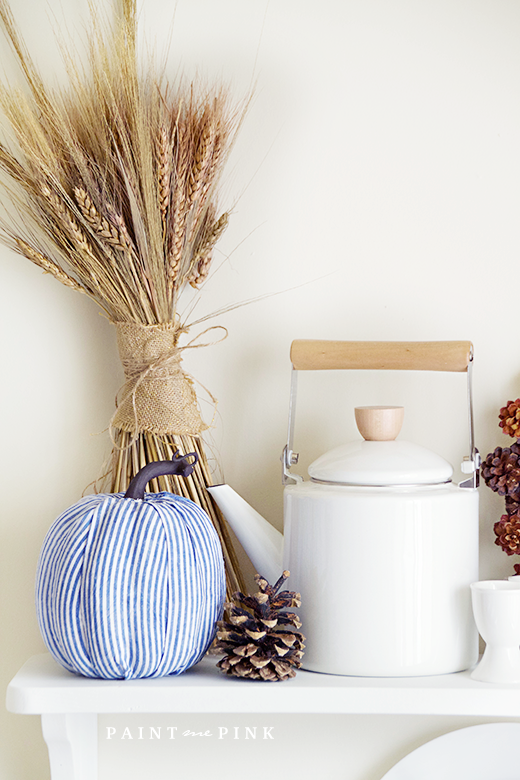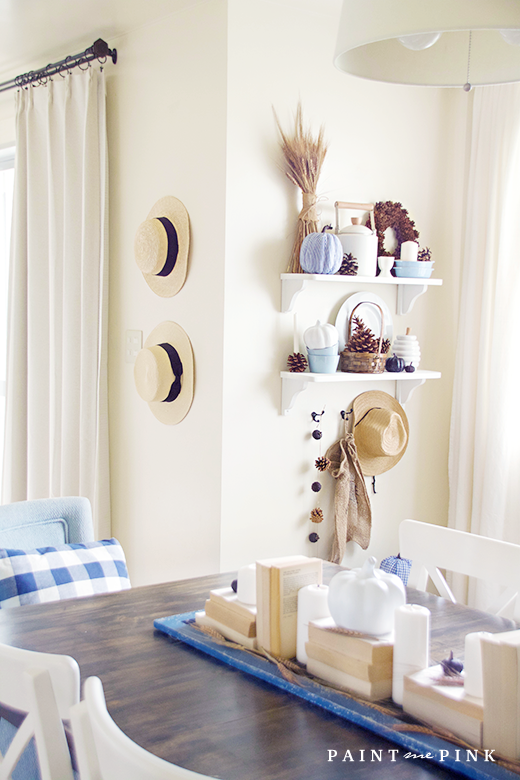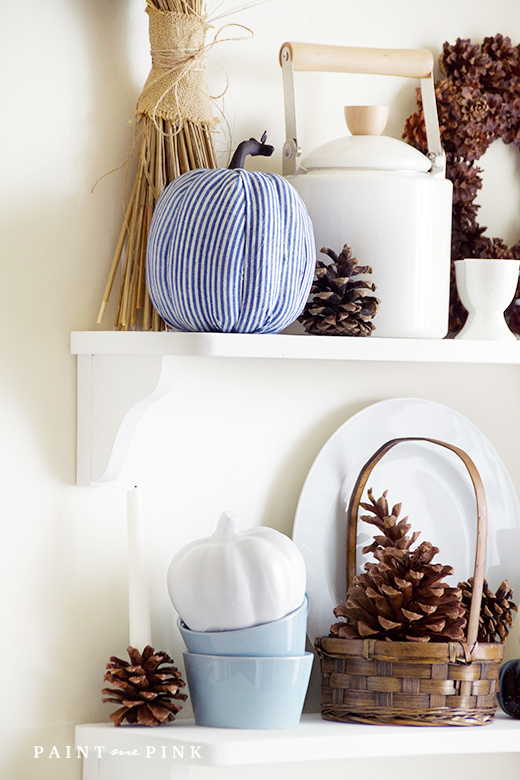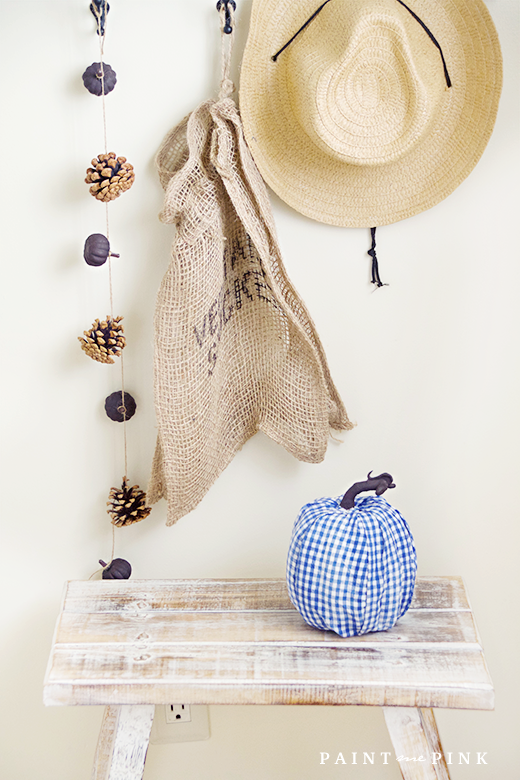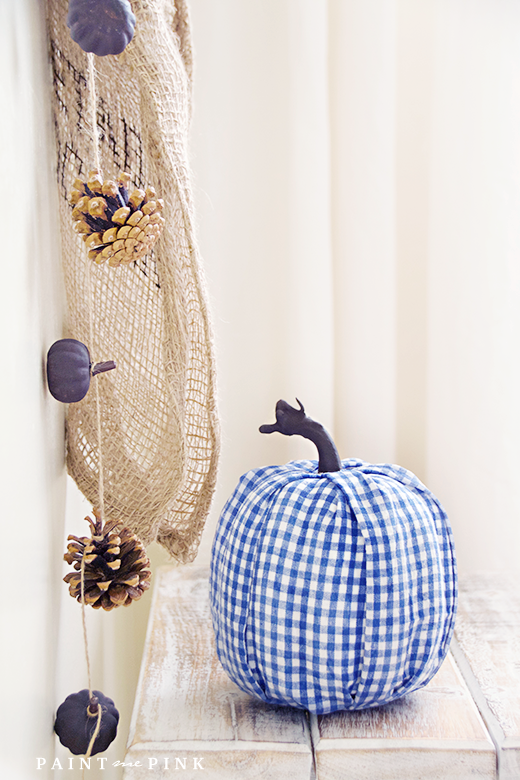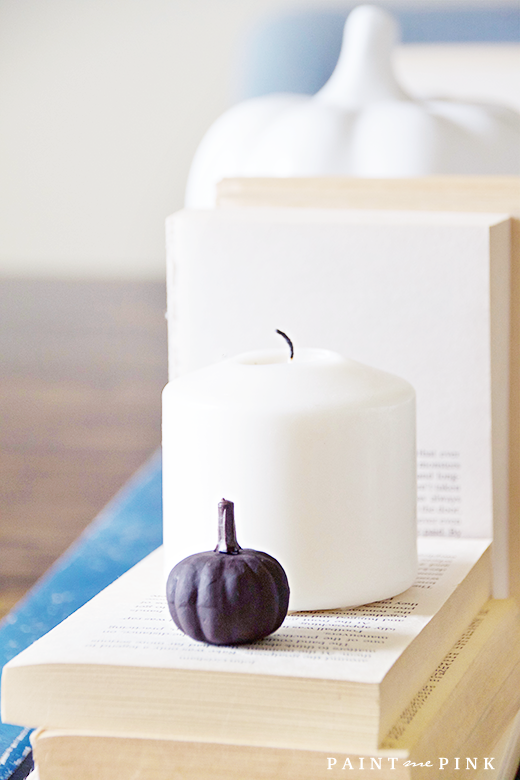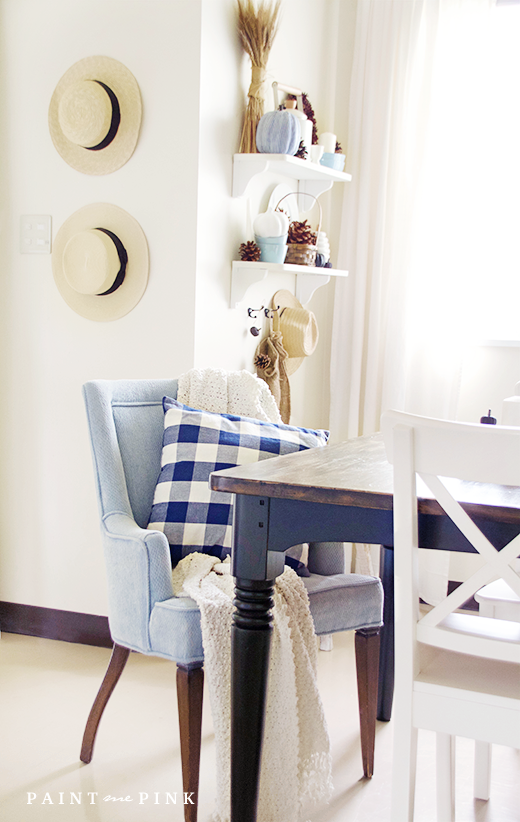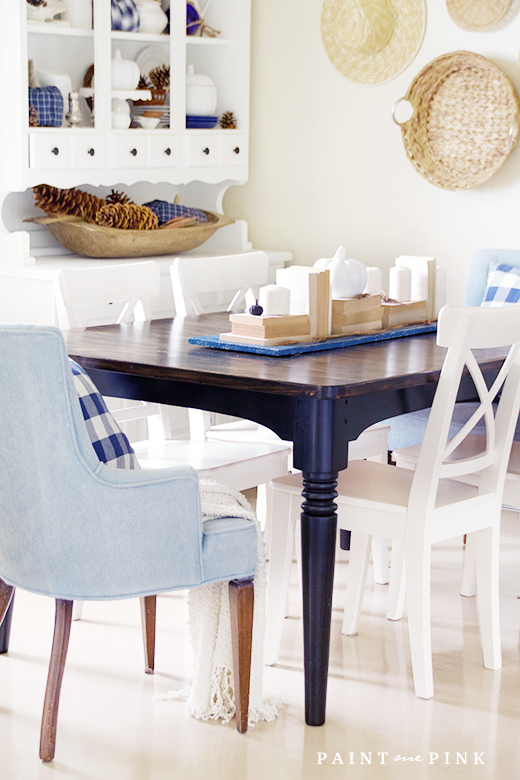 "Life starts all over again, when it gets crisp in the fall." – F. Scott Fitzgerald
I hope you enjoyed my simple fall dining room! For more fall inspiration check out the rest of this weeks line up!
Monday
House by Hoff / The Happy Housie / The House of Wood / That's My Letter / Maison de Pax
Tuesday
Nina Hendrick Design / Cherished Bliss / Town and Country Living
Wednesday
A Burst of Beautiful / at HOME with the Barkers / Place of My Taste / The Wicker House / Paint Me Pink
Thursday
The Turquoise Home / Just a Girl and Her Blog / At Charlotte's House / House 214 Design / Haneen's Haven
Friday
My Fabuless Life / Erin Spain / Robb Restyle / Tidy Mom / Paper Daisy Design