Happy Holidays my friends! It's that time of year where I go crazy over baking, I may or may not go over board on making cookies. I always start with a basic sugar cookie… you really can't go wrong and everyone loves them with or without icing. They are popular all year round and sugar cookies require only a few ingredients. Did I mention that they are super simple to make from scratch.
I can assure you, that this recipe has always given me consistent results. Since they don't spread, they maintain crisp, soft, with well defined edges which makes them perfect for decorating with royal icing.
They have a pillowy, soft texture, and are ever so buttery! They are proof that cut out sugar cookies do not need to be hard and crunchy to hold their shape.
This year I wanted to try out a stained glass effect using Jolly Ranchers. By cutting out the center of the cookie and filling it with crushed Jolly Ranchers before baking. The candy melts as the cookies bake and it creates a gorgeous stained glass effect! This is a fun and beautiful cookie you can add to your holiday baking.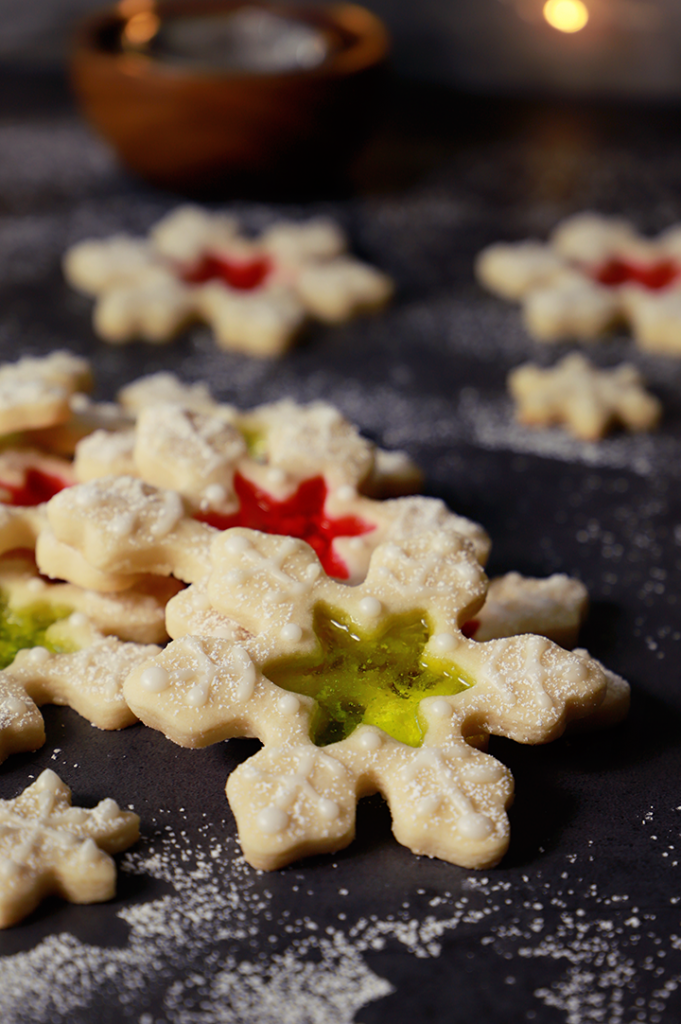 This basic recipe uses simple ingredients. When making the cookie dough it is important that ingredients are at room temperature.
It is vital to refrigerate the cookie dough for these two reasons:
After the dough is chilled, it will be less sticky and more elastic. Which means it will be easier to roll it out.
When you bake the cookies, they will keep the shape and won't spread.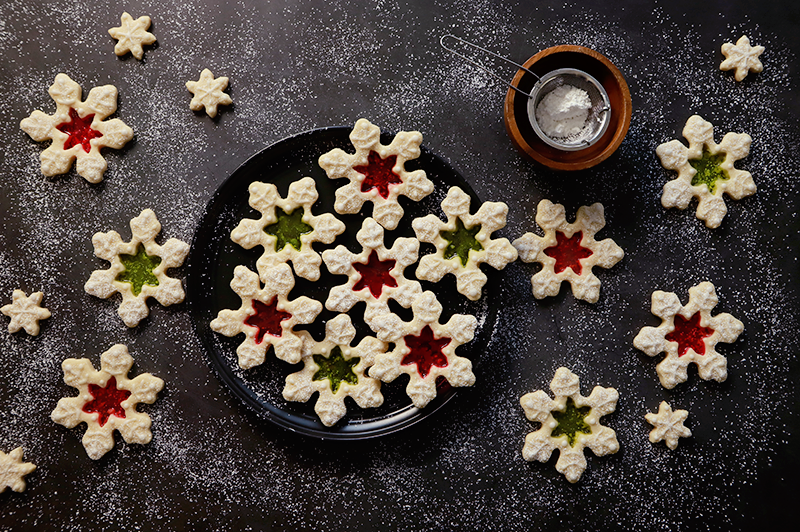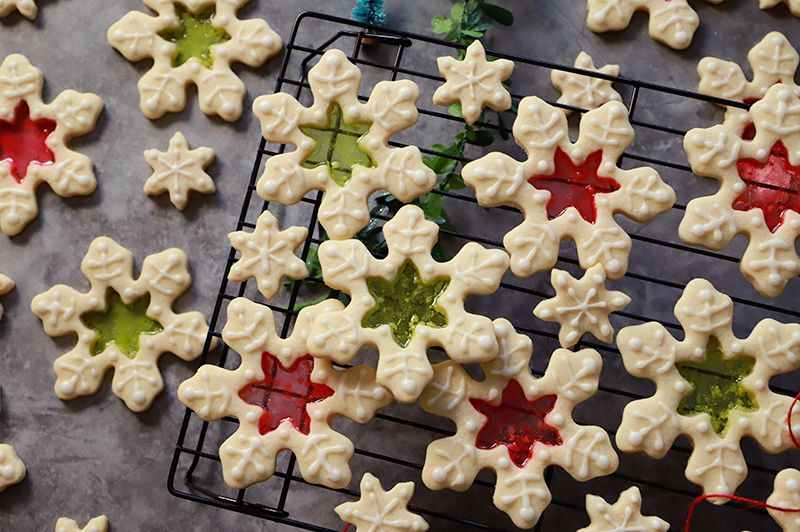 Stained Glass Sugar Cookies
Servings: 12   Bake Time: 8 mins  Chill Time: 2 hours  
INGREDIENTS
For the tea:
1 cup butter (room temperature)
1 granulated sugar
1 egg
1 teaspoon vanilla
3 cups all purpose flour
1/2 teaspoon salt
10-15 jolly ranchers
For icing:
2 cups powdered sugar
2-3 tablespoons water
INSTRUCTIONS
Preheat to 350 degrees F.

Cream the butter and sugar together until light and pale.

Add egg and vanilla, mix until well combined.

Add the dry ingredients to the wet half at a time, mixing well between each addition.

Divide the cookie dough in two and wrap with plastic wrap and place in the fridgerator and chill for 2 hours.

Once the dough is chilled, roll it out to a 1/4 inch thickness. Cut out a shape using a medium to large cookie cutter and place cookies on top parchment paper or silicone baking mat.
Place Jolly Ranchers in a ziplock bag and crush them up. Add the crushed up bits of the candy to the inside of the cookies. Make sure to distribute evenly. Bake the cookies for 6-8 minutes then let them cool to allow the candy to harden back up.
Leave the cookies to cool completely before icing.
For the icing mix powdered sugar and water in a small bowl. Whisk mixture for two minutes, until you lift the whisk and the icing drizzles down smoothly.
Transfer icing to a pastry bag to pipe onto cookies.
After icing hardens, dust the top of the cookies with powdered sugar.
TIPS
You really need a silicone baking mat for this. Parchment paper works just be extra careful when lifting the cookie.
Humidity will make the candy centers of these cookies sticky so watch out!
Make sure you wait for the cookies to cool before lifting them off the baking sheet, they need to set and firm up.
Try not to get any hard candy on the sugar cookie as it will look messy.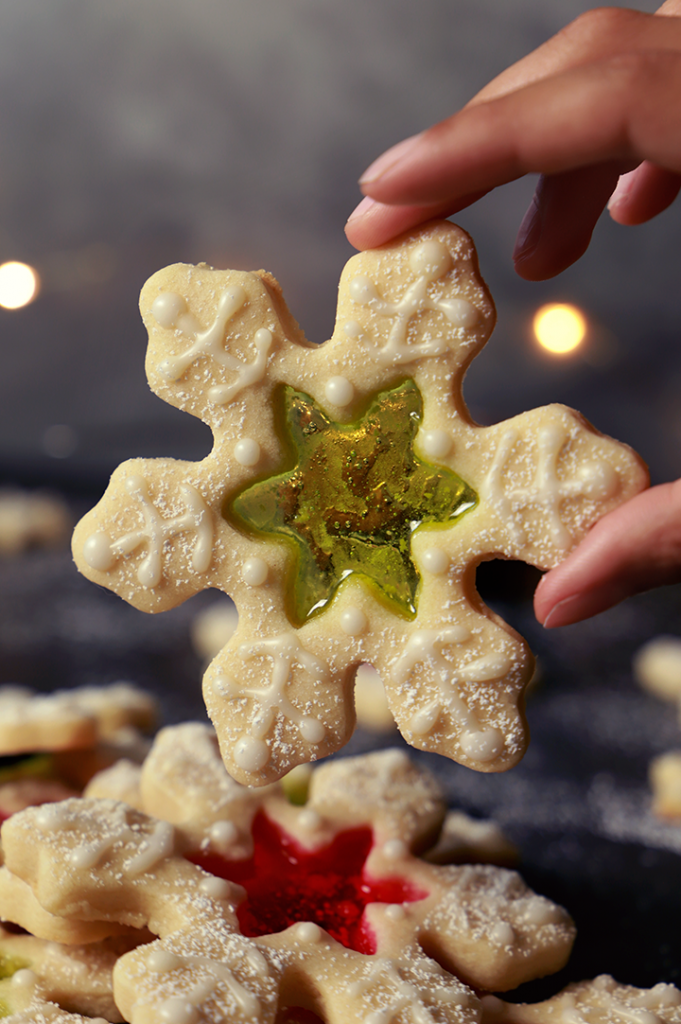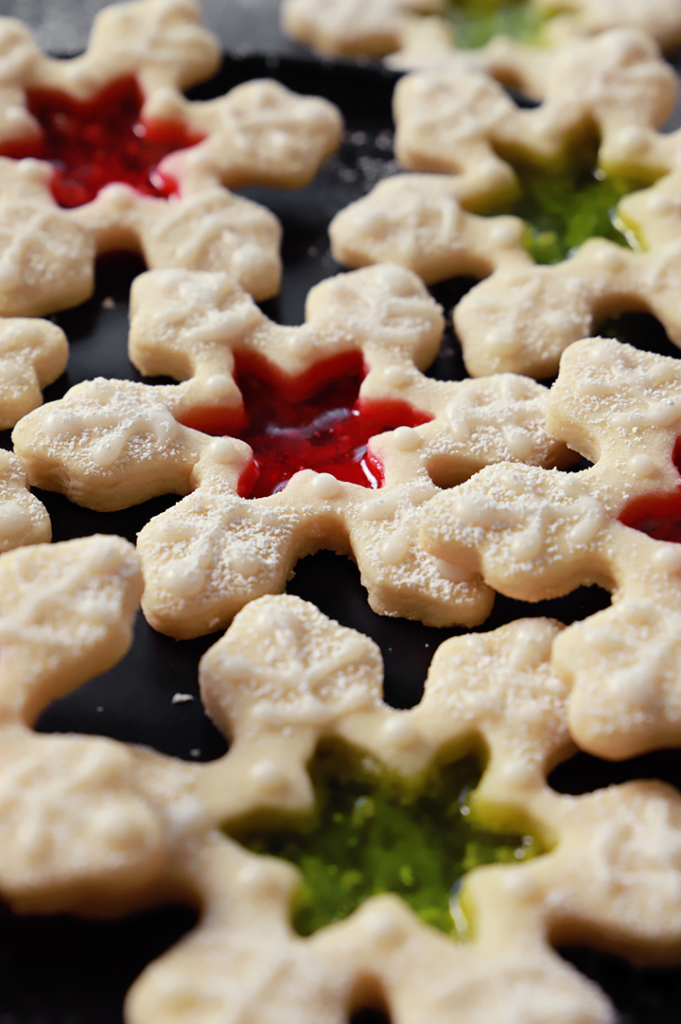 For more Homemade Christmas Cookies Recipes check out the links below or Pin for later!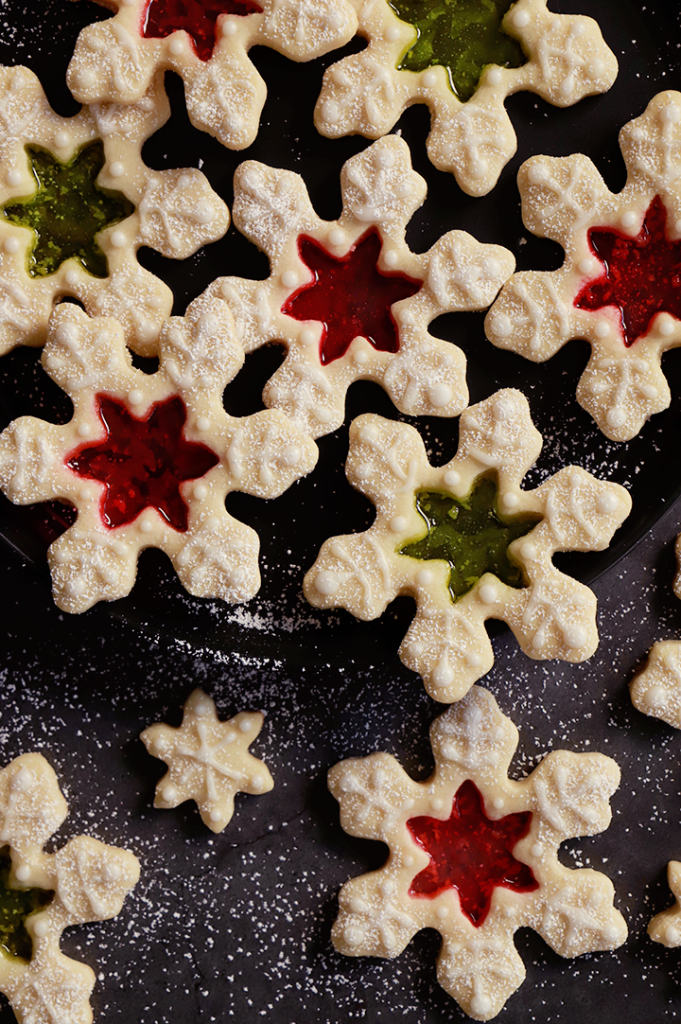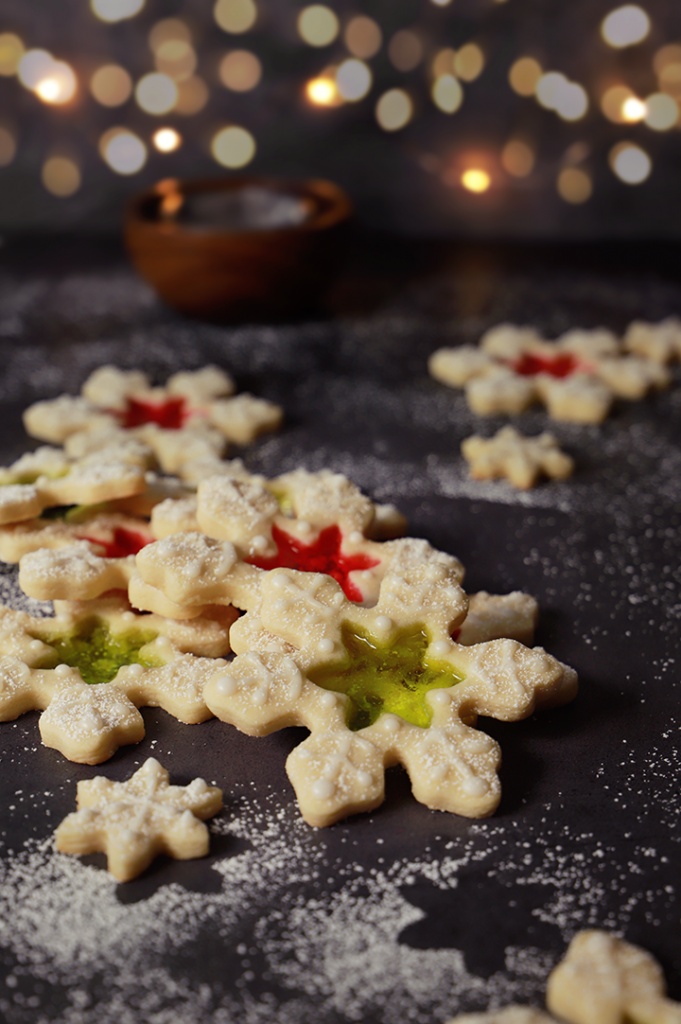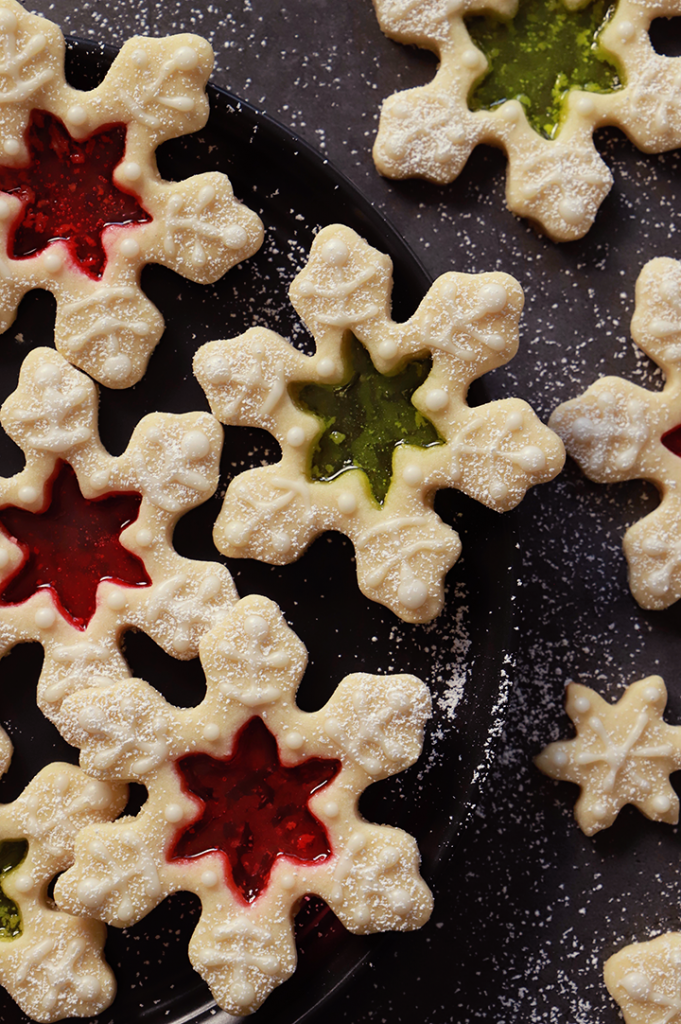 Wishing everyone a wonderful Holiday season and I hope you get the chance to try out all the delicious homemade cookie recipes below!
xoxo,
Norma
14 Christmas Cookie Recipes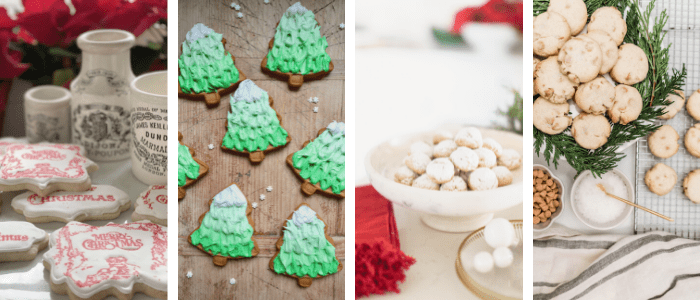 Classic Sugar Cookies For Christmas // My 100 Year Old Home
Christmas Cookie Hack // My Sweet Savannah
Mexican Christmas Cookies // Just Destiny
Salted Butterscotch Shortbread // Life Is Better At Home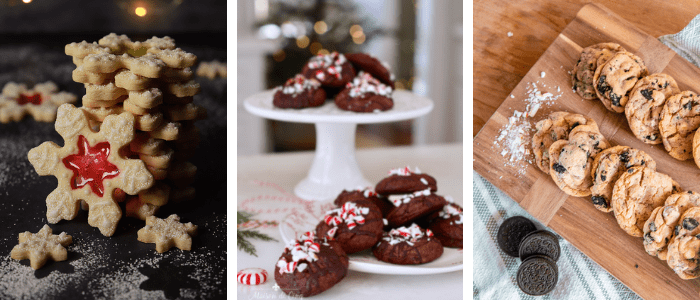 Stained Glass Sugar Cookies // Paint Me Pink
Chocolate Peppermint Crunch Cookies // Maison de Cinq
The Yummiest Oreo Cookies and Cream Cookies // Twelve On Main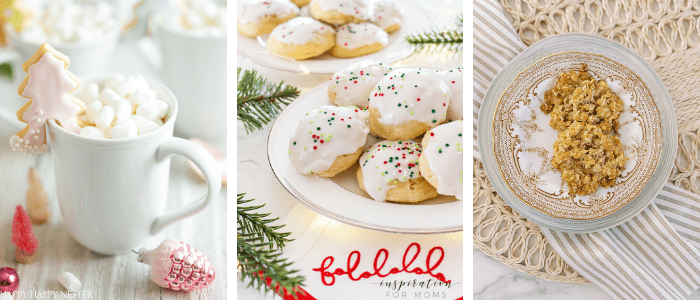 Hanging Mug Topper Cookies // Happy Happy Nester
Italian Christmas Cookies // Inspiration For Moms
Anzac Biscuit Cookies // Finding Lovely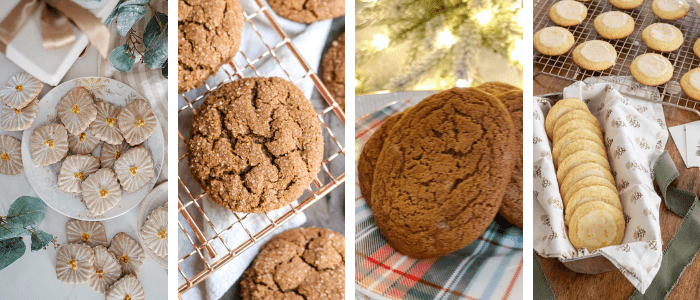 How to Make Easy, Mild Gingerbread Cookies (no molasses!) // The DIY Mommy
The Best Ginger Molasses Cookies // Modern Glam
The Best Soft and Chewy Ginger Cookies // The Happy Housie
Orange Glazed Sugar Cookies // Sincerely, Marie