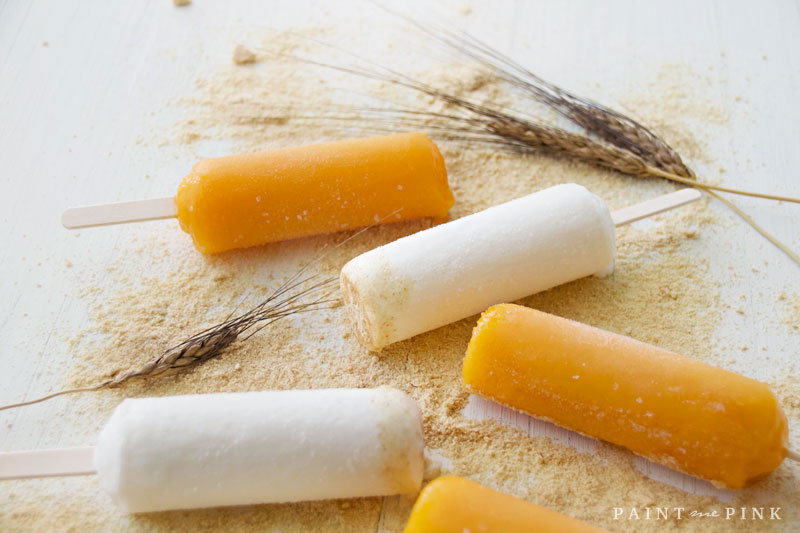 I love all the spices and foods that Autumn brings. The aroma of cinnamon, spicy clove, pungent ginger—these are some of the fall spices that make me wish for crisp days, autumn leaves, baked goods fresh from the oven and hearty soups and stews. Even though it's been raining, we even had a few typhoons hit us these last few weeks! Our temperatures are still hot and humid. With the tropical weather we live in year around, it's safe to say that Autumn doesn't exist here. We are on an everyday basis of a hot and warm weather pattern throughout the year. Not that I'm complaining, I love this tropical weather of ours.
With all the warm temperatures we've been having I decided to take on homemade popsicles! Why not?! We live on a beautiful island and no matter what time of year it is, popsicles are always a treat!
This is my first time making popsicles and let me tell you, I can't believe I waited this long to make them. They are very easy to make and they sure beat store-bought pops. Today I'll be sharing with you not one, but two homemade recipes that are perfect for Fall. There is no better flavor for the month of October than Pumpkin Pie and these popsicles literally taste like delicious pumpkin pie and cheesecake!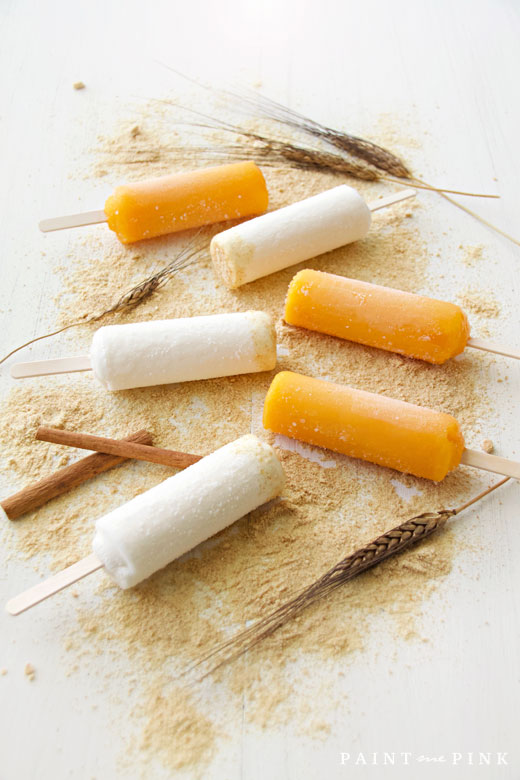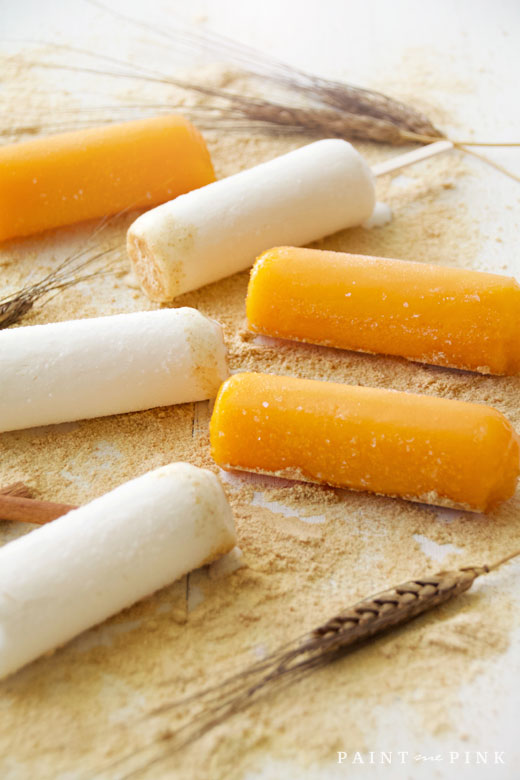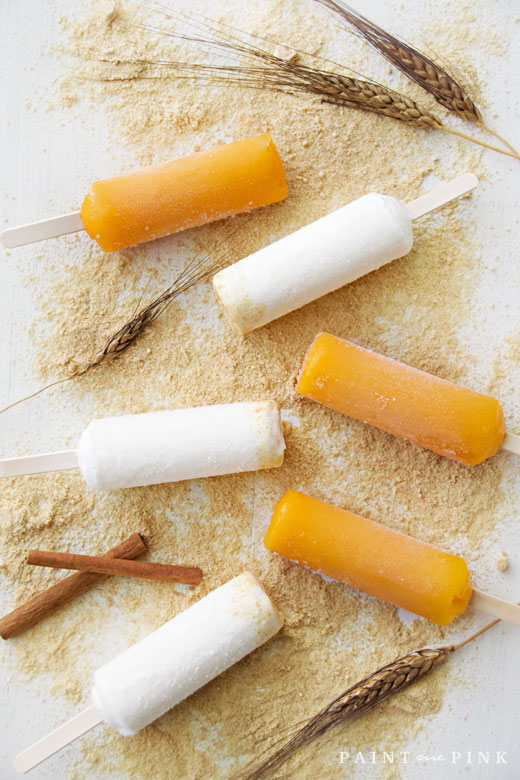 Pumpkin Pie Popsicles
Ingredients:
3/4 cup Libby's pumpkin puree
1/2 cup heavy cream
1/2 cup caramel sauce
1/4 cup brown sugar
1 teaspoon Pumpkin Pie Spice
1/4 teaspoon cinnamon
Instructions:
In a large bowl whisk the pumpkin puree, heavy cream, caramel sauce, brown sugar, pumpkin pie spice, and cinnamon until combined.
Pour mixture into your desire popsicle mold and freeze overnight.
Let them sit, at room temp for a few minutes before removing.
Serve immediately and enjoy!
That's it how easy it that? Below you will find my second recipe for the Cheesecake Popsicles.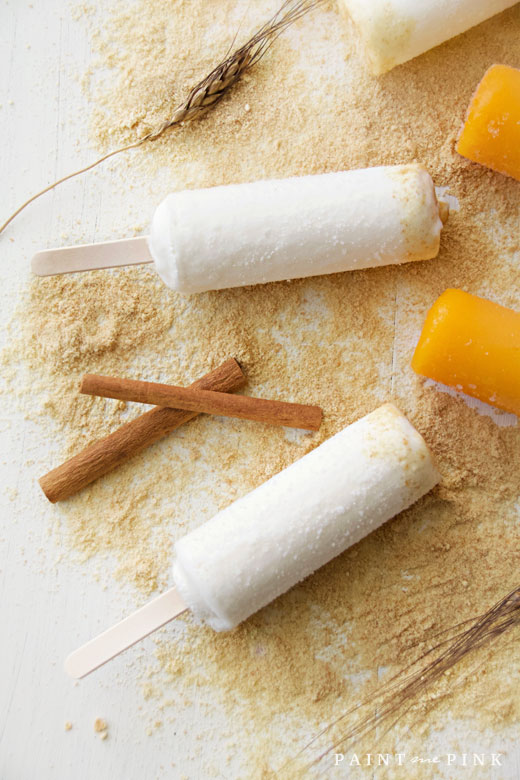 Cheesecake Popsicles
Ingredients:
½ cup sugar
⅓ cup milk
8 ounces cream cheese, softened
¼ cup sour cream
¾ cup pumpkin puree
1 teaspoon pumpkin pie spice
Instructions:
In a small saucepan over medium heat, combine milk and sugar. Make sure you get the milk just warm enough to melt sugar. Set aside to cool.
In a food processor, combine cooled milk mixture, cream cheese, sour cream, pumpkin puree, and pumpkin pie spice. Process until smooth and ingredients are well combined.
Pour mixture into your desire popsicle mold and freeze overnight.
Serve immediately and enjoy!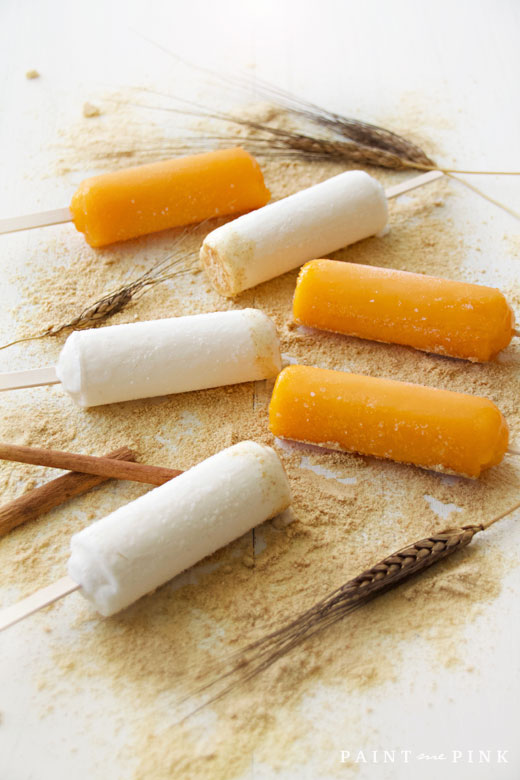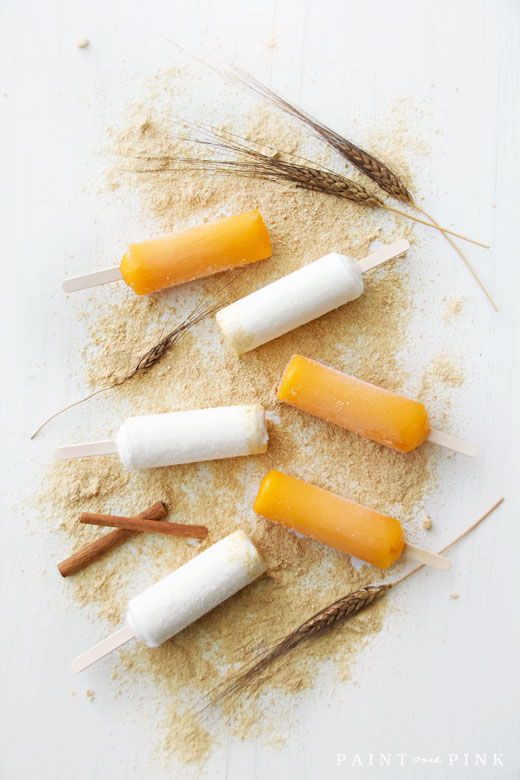 Whether you live in a hot or cold climate, these popsicles are sure to bring some Autumn flavors into your home. Don't forget to check out more Fall recipes below!! A huge thank you to Krista of The Happy Housie for hosting this wonderful Seasonal Simplicity Fall Series!
xoxo, Norma
Today I'm excited to be joining a group of 25 other bloggers who are also sharing a fabulous fall recipe with you today! Hop around to see what other delicious ideas they've come up with…
Easiest Instant Pot Chicken Vegetable Bean Soup at The Happy Housie
Zuppa Toscana Soup at Somewhat Simple
Butternut Squash and Quinoa Chili at Town and Country Living
Hearty Sausage Kale Soup at In My Own Style
Gluten Free Gnocchi with Butternut Squash, Sausage and Arugula at Willow Street Interiors
Easy Vegan Cranberry Cream Cheese Loaf and Almond Crackers at Zevy Joy
Pumpkin Sugar Cookies at Jenna Kate at Home
Mini Lemon Cranberry Cakes with Ginger Drizzle at Sincerely Marie, Designs
Absolutely the Best Homemade Peach Coffee Cake at Home Made Lovely
Gluten Free Pumpkin Bread at Taryn Whiteaker Designs
Whole Wheat Pumpkin Crepes at TIDBITS Cami
Chocolate Pumpkin Cream Cheese Swirl Bars at Clean and Scentsible
Roasted Pumpkin Seeds at Finding Silver Pennies
Pumpkin Pie French Toast Bake at A Pretty Life
Salted Caramel Pumpkin Spice Latte at Hallstrom Home
Apple Cider Margarita at Rooms FOR Rent
Instant Pot Caramel Apple Cheesecake at TIDBITS Marci
Mini Pumpkin Spice Cupcakes with Maple Cream Cheese Frosting at Satori Design for Living
Easiest Cinnamon Sugar Apple Cake at Inspiration for Moms
Whitney's Pumpkin Muffins at Amber Tysl
Cream Cheese Caramel Apple Dip at The Turquoise Home
Old Fashioned Apple Crisp at Modern Glam
Pumpkin Pie and Cheesecake Popsicles at Paint Me Pink
Mini Apple Tart with Custard at Happy Happy Nester
Pumpkin Cream Puffs at Life is a Party
Pumpkin Spice Cupcakes with Cinnamon Cream Cheese Frosting at Nina Hendrick Design Co.