Add a touch of charm this Valentine's Day with adorable handmade Heart Tea Bags!
If you are looking for a beautiful Valentine's Day handmade DIY, this one is for you. These adorable heart shape tea bags make a perfect little gift for friends, family, and loved ones or you can enjoy them yourself. They will put a smile on a loved one's face, and they are possibly the cutest thing you have seen.
If you are coming from Kristin's lovely blog White Arrows Home, welcome, I'm so happy you are here! Isn't her Valentine's Day decor beautiful?
I also wanted to thank my sweet friend Pasha from Pasha is Home from for hosting this lovely Valentine's Day blog hop. Don't forget to visit all the amazing Valentine's Day ideas that are linked at the end of this post!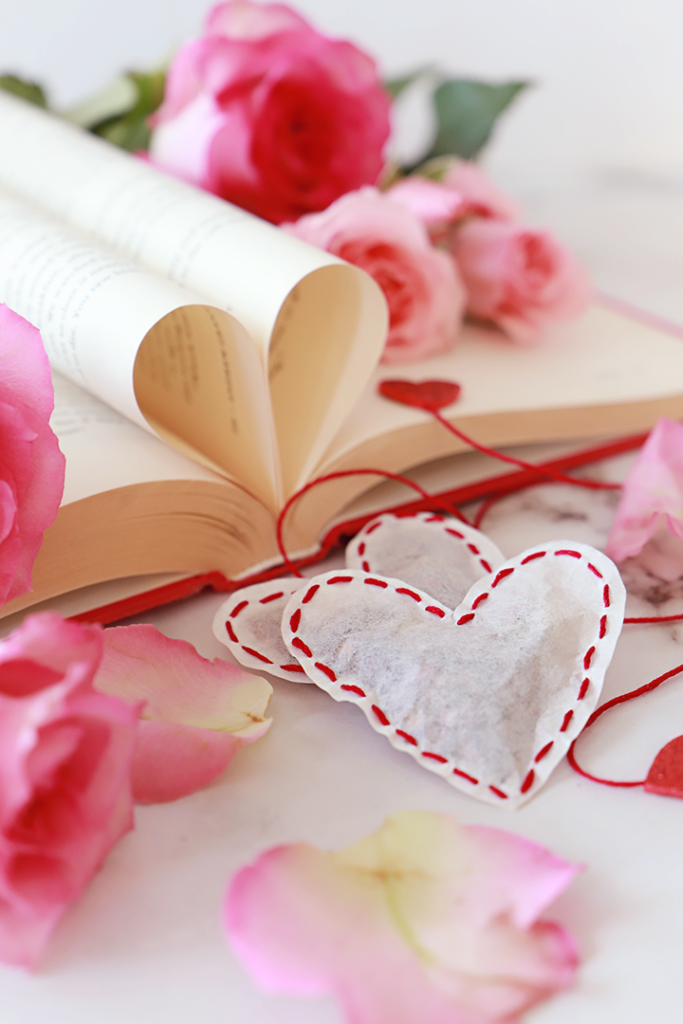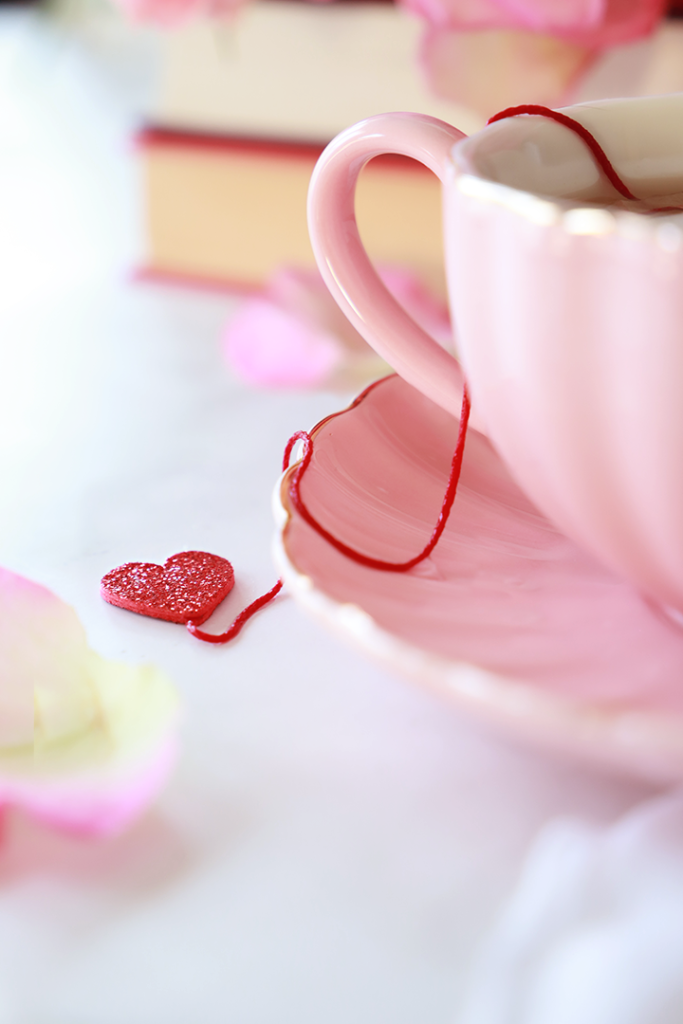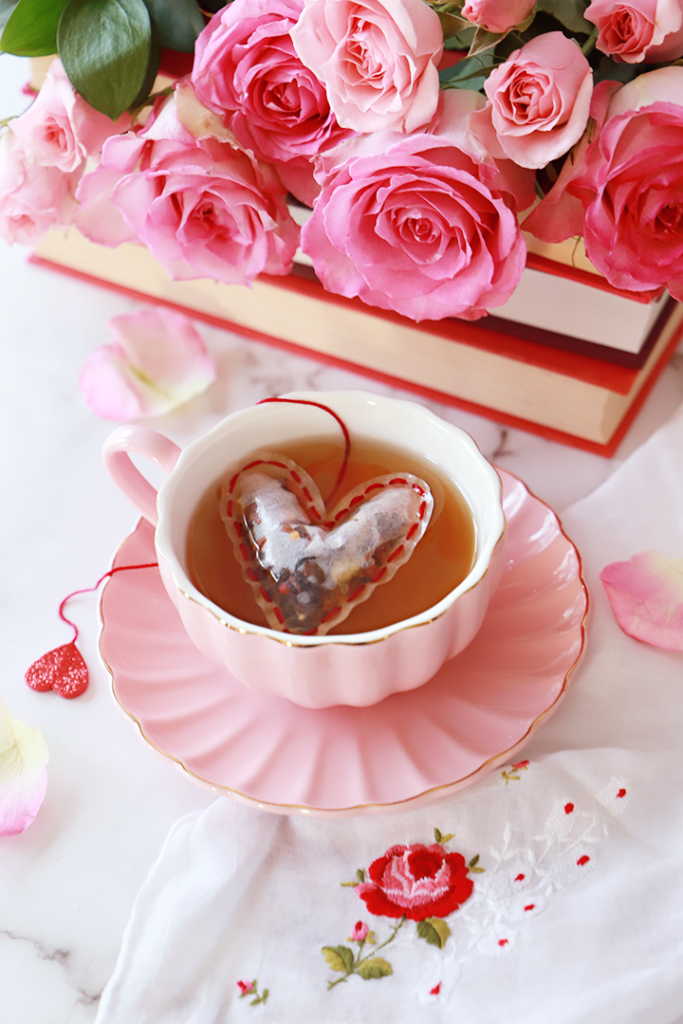 I love tea. It's the first thing I drink when I get up in the morning. There's something about the aroma that makes me want to snuggle up in a blanket. If you haven't tried loose-leaf teas, you are missing out my friend, and I highly recommend you to try it.
The great thing about these tea bags is that they are so easy to make, but they are a little time consuming. So be patient while threading the tea bag! You can also make them in any shape for any holiday or event!
You'll need:
White coffee filters
A piece of paper
Needle
Pink or red thread
Scissors
Loose leaf tea
Foam heart glitter stickers
STEPS:
Start by drawing and cutting a heart onto a piece of paper. Then trace it over the center of a coffee filter.(Tip: stack and cut several coffee filters at one time).
Layer two filters together and take your threaded needle, and push it through the top of the two sheets. Make sure you have a knot at the end of the thread and that you start the stitch on top of the heart.
Sew around the heart– always pulling the needle up, leaving a small space and pushing the needle down, closing that space. Stop when you're about 2/3 of the way done.
Scoop up a tablespoon of loose tea and fill the tea bag.
Once the tea bag is full continue stitching the heart closed. When you've reached the end tie it into a double knot. Don't cut the thread when you are done! Keep it as a tea bag holder so you don't need to attach a new one. Determine how long you want your thread to be and trim it.
Place the end of the thread in between two heart glitter stickers. Press firmly, making sure the thread is secure in between the two stickers.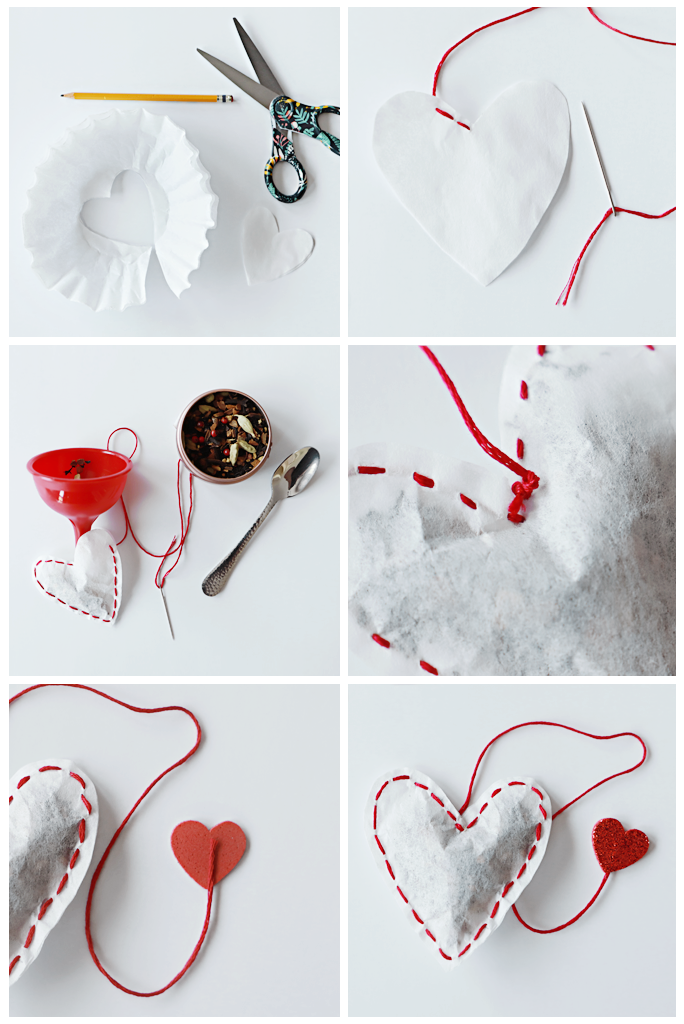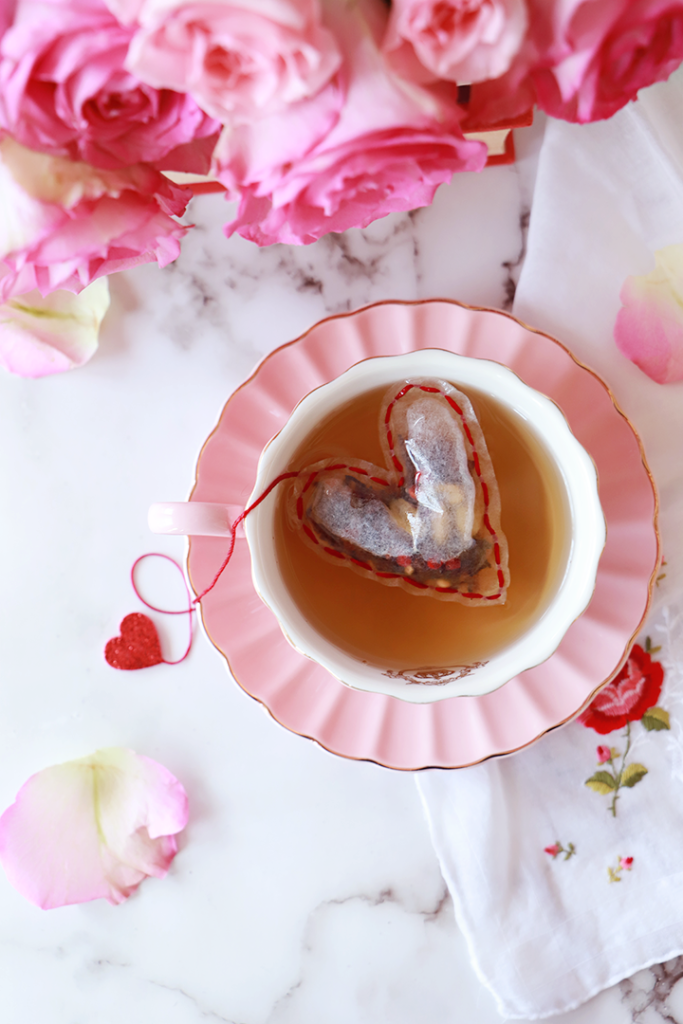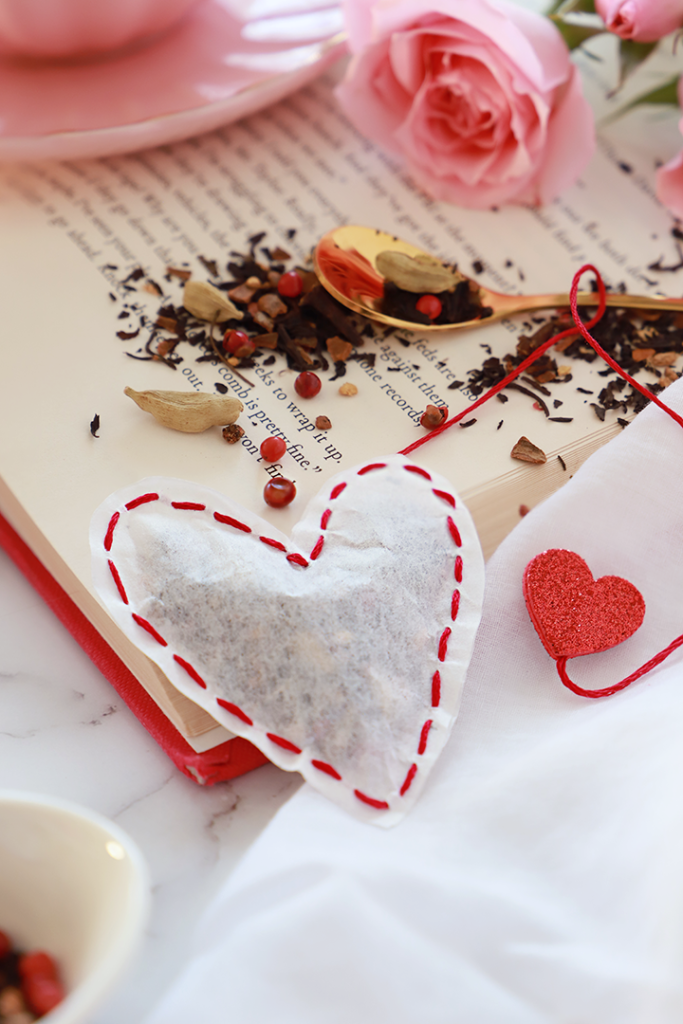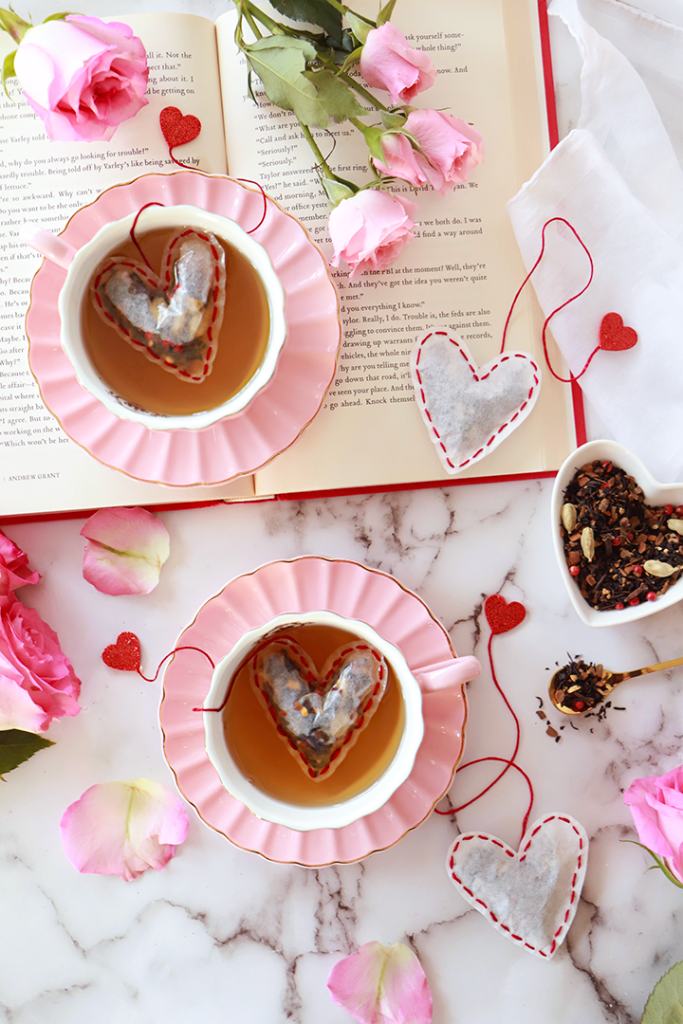 If you are looking for more wonderful Valentine's and Galentine's Day inspiration head on over to Simply 2 Moms! Don't forget to check out all the posts below or you can pin for later.
xoxo -Norma
More Valentine's and Galentine's Inspiration
How to Keep Your Valentines Day Decor Simple yet Pretty // Pasha is Home
5 Decor Ideas to Show Your Home Some Love this Valentine's Day // Shiplap and Shells
At Home Valentines Ideas // Sand Dollar Lane
Cozy Valentine Bedroom Ideas // The Pond's Farmhouse
How To Set A Beautiful Valentine's Day Table Setting // White Lilac Farmhouse
Shades of Pink Valentine's Home Tour // Willow Bloom Home Blog
Romantic Antique Table Setting with Thoughtful Design // Dabbling and Decorating
Beautiful Valentine's Decor Inspiration // White Arrows Home
Heart Shaped Tea Bags DIY // Paint Me Pink
How to Make Easy DIY Valentine's Tree Ornaments // Simply 2 Moms
How to Create an Updated Vintage Look For a Delightful Centerpiece // County Road 407
How to Make an Easy Valentine's Garland // Cottage in the Mitten
Cocktails for Galentine's Day // A Life Unfolding
Handwritten Valentine's Day Love Letter // My Sweet Savannah
Last Minute Valentine's Day Gifts // Southern Crush at Home